This site is all about Iceland, read everything about the best things to see and do in this beautiful country and especially along it's famous ring road.
Note: The origin of this is our German travel website about Iceland and we are translating the content from there. One article at a time and as quick as we can!
Everything you need to know about Iceland
From sightseeing to personal travel reports, road trips and much more: We provide the best information about Iceland. Tipps around topics like driving a car in Iceland, road conditions, speed limits. All the information comes from us traveling to Iceland ourselves frequently and is held up to date all the time.
Driving a car in Iceland
We give you all the information you need to drive a car in and around Iceland, comfortably and safe. What is the best car to rent? Where do you get the best deals? What route should you take and how much time will you need? What are the road conditions? Where is the nearest gas station? Will you be driving a paved or a gravel road? What about speed limits and can you maybe even use the bus instead of renting a car?
Sightseeing in Iceland
Read about the most beautiful places in Iceland, which there are tons of. Which are the points of interest you mustn't miss? From scuba diving to hotpots in Iceland. How to take pictures of the northern lights and much more.
We have a list of the very best hot springs in Iceland.
We have an extensive list of waterfalls in Iceland, with picture, videos and a map. This way, you won't miss a single one! Read everything about Þingvellir national park, the famous place right at the start of the Golden Circle.
Useful tipps and information for your Iceland journey
We collect the best travel reports about Iceland for you. You can read about how to spend a day in Reykjavík and how to spend a week in Iceland. We compiled a packing list for you, with some items you wouldn't expect to be useful maybe. Information about Icelands wildlife and plants. Mistakes you should avoid when going to or traveling in Iceland and lots of tipps and tricks that will make your trip amazing!
When is the best time to travel to Iceland for example, what is the season that you should come and when can you avoid the big crowds?
Iceland experts
We really want to bring you the most interesting infos about Iceland, right from the most knowledgable people. That's why we talk to experts frequently about different topics like volcanos, scuba diving, bicycling around Iceland, work & travel and many more topics.
Pictures of Iceland
We found some great photographers who take amazing pictures of Iceland, both on Instagram and other platforms. On every Friday, you can find a new picture with a story here and of course you can follow us on Instagram for pictures and stories from Iceland.
There are many ways to stay up to date with our content: Like our page on Facebook, follow us on Instagram and subscribe to our Newsletter to never miss new content.
Our travel guide as an E-Book and our Iceland App
After spending several weeks in Iceland, including 3 months of working as a scuba diving guide in Reykjavík, I decided to put together a travel guide in the form of an E-Book that includes everything you need to know without being bloated. Our travel guide aims to be compact and straight to the point!
During my travels I was constantly looking for an app that provides me with the information I want / need and actually helps me discover the country. I did not find that for a long time and then we decided to create the Iceland App. It aims to be a local in your pocket, guiding you through the country like a tourguide. You should definitely check it out!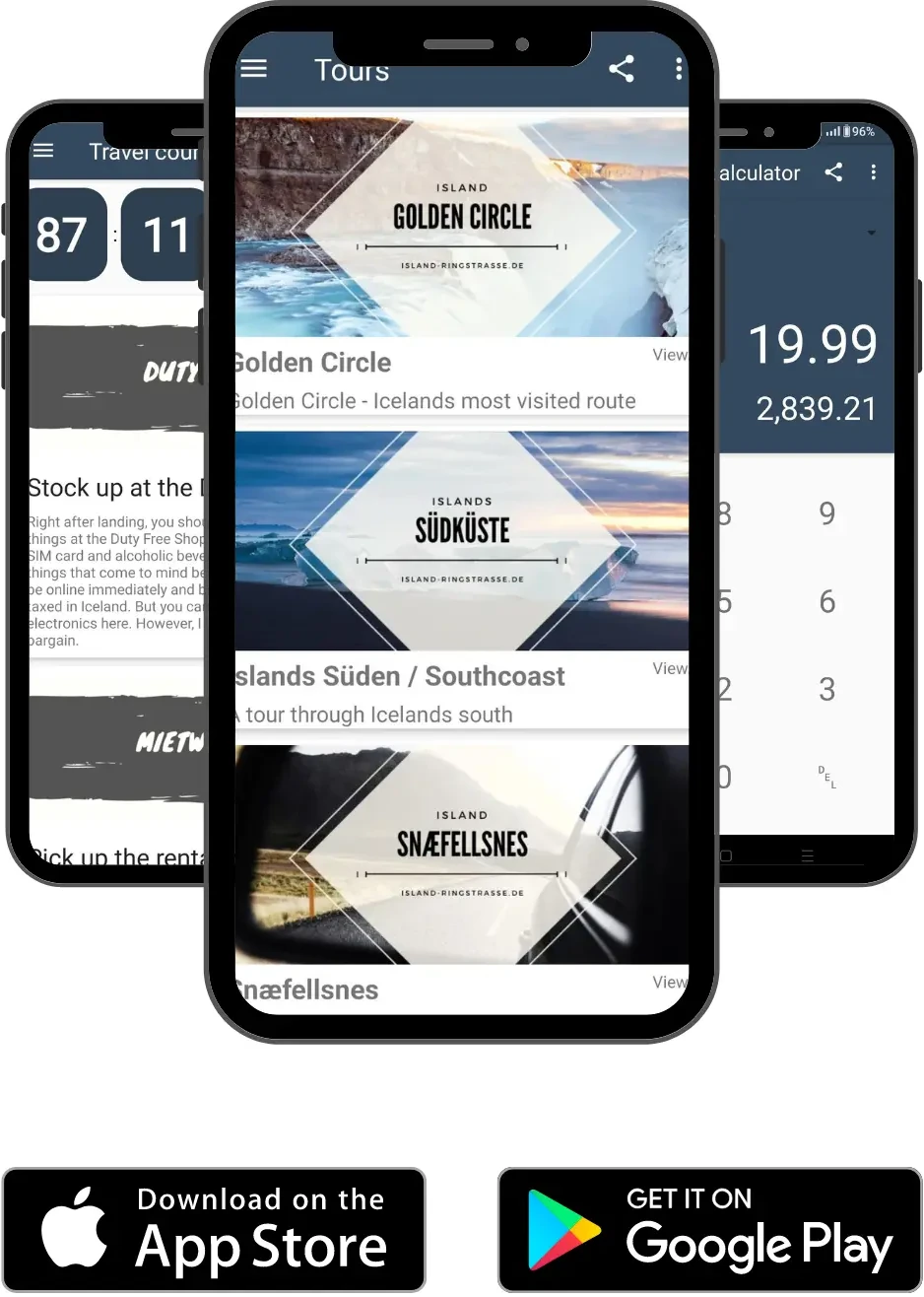 Note: The origin of this is our German travel website about Iceland and we are translating the content from there. One article at a time and as quick as we can!