The Golden Circle in Iceland is the country's most popular route, offering the best sights in a single day trip. It includes everything that one must see in Iceland, from historical sites to hot springs, waterfalls, and sometimes even the Northern Lights. Millions of tourists visit this route every year to marvel at these attractions. If you are interested in the Golden Circle, you have come to the right place, as after reading this text, all your questions will be answered.
Here we go…
Golden Circle in Iceland: Key Information
Gullni hringurinn is the Icelandic name for the Golden Circle. This route does not have a deeper historical significance; it was established as a marketing term by various providers and has become increasingly popular over the years. The main facts are:
Length: Approximately 300km
Sights: 3-30
Duration: 4 – 12 hours
Season: Year-round, both in summer and winter
These details are likely only helpful in context, as one can design a tour along the Golden Circle as they wish. There is no set route, so one can make the tour as short or as long and with as many stops as they desire. In the summer, a tour can theoretically last all day because the sun rises early and sets late, and the roads are free of snow. In the winter, however, a tour may be affected by external factors such as the short duration of daylight and snowfall. The Golden Circle is located in the Icelandic highlands, and it often snows heavily here.
Typically, guided tours last between 6 and 8 hours, of which about half is pure driving time, and 6-8 sights are visited at 3 locations. These tours are offered as standalone or combined tours with other activities: For example, those who go snorkeling or diving in Silfra can upgrade their tour for a small fee and then visit the Golden Circle. One can also combine horseback riding tours with a visit to the Golden Circle, as well as helicopter flights. At the end of the article, I will present various guided tours.
All Sights along the Golden Circle
In the vicinity of the Golden Circle, there are several famous and lesser-known sights. Which sights belong to the Golden Circle is a matter of interpretation and is not defined anywhere. I assume that you, as a reader, want to gain the most comprehensive overview possible, and therefore, I will present as many as possible. You can then decide for yourself which ones you want to visit and which ones you can skip.
Reykjavík as the Starting Point of the Golden Circle
For most of us, the journey begins in the capital city. Most providers have their offices here, and many offer hotel pick-up services, so you will be picked up directly at your accommodation. If you are traveling by rental car, you may have picked it up at the airport or can rent one here. It is a bit cheaper, and the rental car companies are located centrally in the old harbor.
You should not stay here for too long. A day tour of Reykjavík is recommended as a separate activity.
From here, take the road 41 (by the sea) or directly from the old harbor, take the road 49 and then continue on the Ring Road (1) towards the east, always in the direction of Mosfellsbær.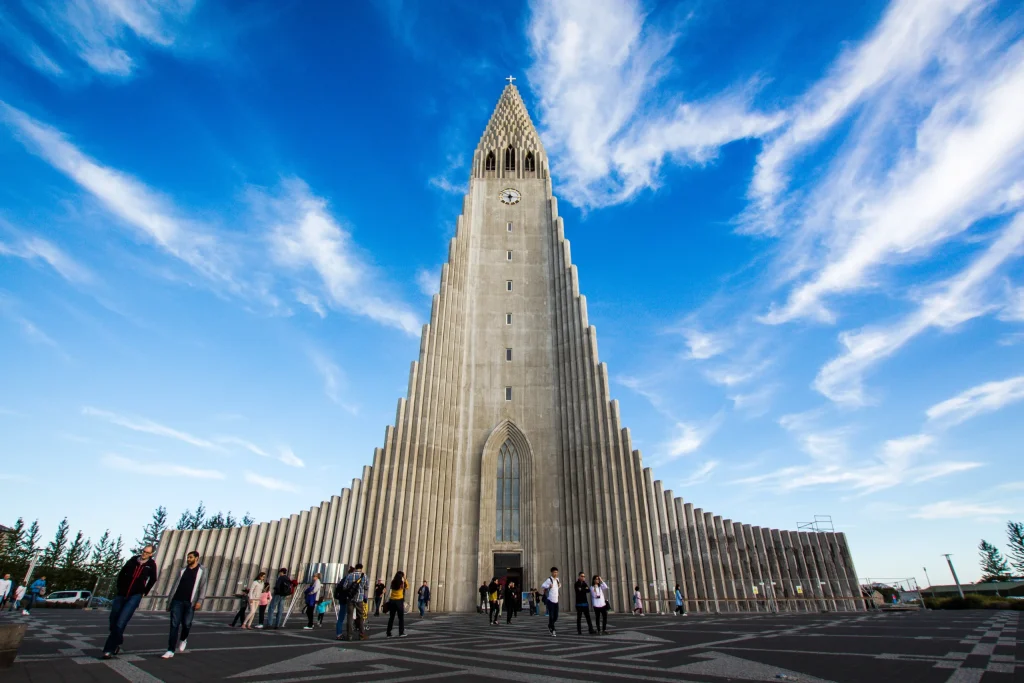 The Laxness Museum: Literary Stop on the Golden Circle
The first stop can be – but doesn't have to be – made after a few kilometers on road 36 at the former home of the writer Halldór Laxness. Those interested in literature can learn more about the Nobel laureate here.
Most people will not want to stop here, and few tour providers do.
Þingvellir National Park on the Golden Circle
For most people, the first stop will be the Þingvellir National Park, which has several great sights. Just before the park entrance, there is a visitor center (not to be confused with the information center). From here, you can start your exploration and slowly leave the North American continental plate. After a few meters, you will be standing on geological no man's land, as the Eurasian continental plate is a few kilometers further southeast. These facts are explained in detail on information boards along the way.
From here, go to the assembly site where in 930 AD, the Alþing, the first parliament of Iceland, met to discuss laws, make decisions, and enforce judgments. Near the Öxará river, which was diverted to provide drinking water to the assembly site, the first settlers met for centuries until 1798. Many memorable decisions were made here, and few places in Iceland are as historically significant as this one.
The small waterfall Öxarárfoss and the church Þingvallakirkja round out the visit.
Those who want to can snorkel and dive in the clear glacial water of the Silfra fissure here, a unique experience that I highly recommend to everyone.
Strokkur, Geysir, and Kerið: Geothermal Sources of the Golden Circle
From Þingvellir, continue eastward along road 36 until you turn onto roads 365, 37, and finally 35. Here, there are a few more sights that we will discuss later, which can be visited on the way to or from the main attractions.
First, we will go to the next famous sight of the Golden Circle: the Strokkur geyser. Geysers are extremely rare combinations of a hot magma chamber and a body of water above it. The heat of the magma heats the water so much that large steam bubbles form, leading to more or less regular eruptions in which boiling water is thrown several meters into the air. This happens regularly at Strokkur: every 5-10 minutes, you can see a water column rise up to 100 meters in the air, often visible from a distance.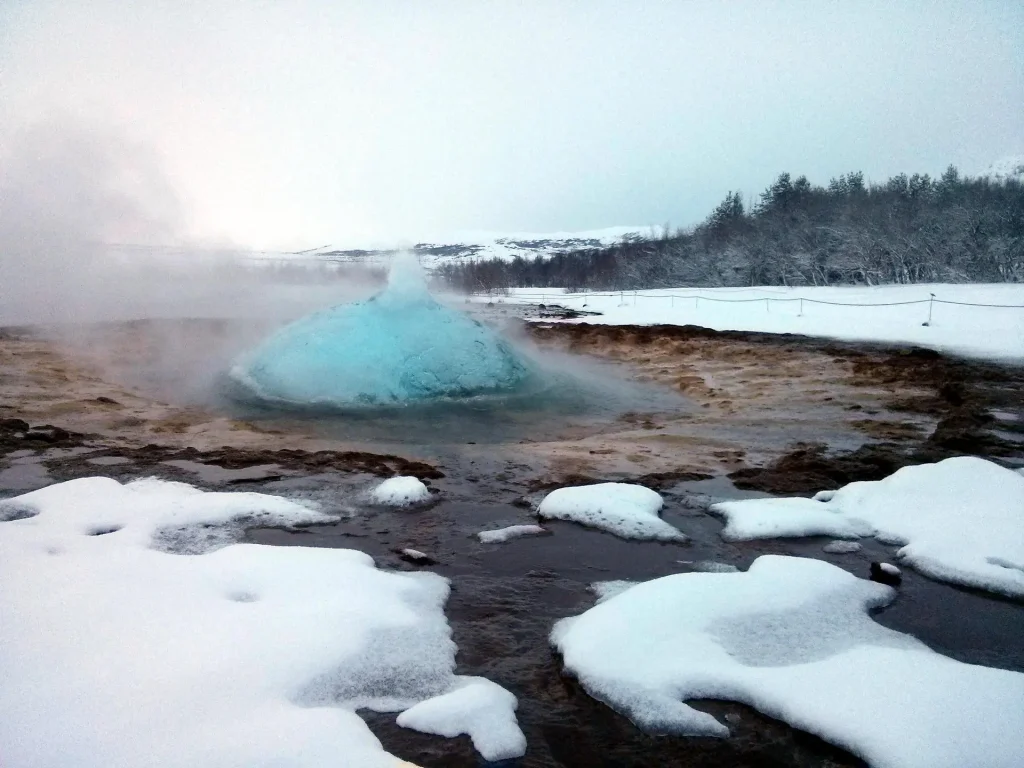 Not to be confused: Strokkur and Geysir, because Strokkur is a geyser, and Geysir is the Geysir. The little brother of Strokkur is essentially the mother of all geysers and the namesake for his fellow species around the world. Examples include Old Faithful in Yellowstone National Park and also the geyser in Germany (Andernach).
Both are located in the Haukadalur geothermal area, which also has two small natural hot springs. However, neither of them is suitable for bathing.
For the return journey, if it goes via the southern route, you can also plan a visit to the volcanic crater Kerið. This 50-meter-wide and about 7-14-meter-deep lake is located in one of the five volcanic craters in the surrounding area. The land is privately owned, and the visit costs 400 ISK (3-4 €). It is not a hot spring, which leads to the lake freezing over in winter. However, in summer, the water has a great color.
Gullfoss and Brúarfoss: The Waterfalls of the Golden Circle
Just a few meters from the geothermal area, a few minutes by car along Route 35 to the east, we come to perhaps the most famous waterfall in Iceland: Gullfoss. In winter, this waterfall often houses rainbows within its canyon, and in winter, at low temperatures, it often looks like a wall of pure ice.
Gullfoss drops over 30 meters, distributed over two levels, and unleashes tremendous forces in the process. This prompted savvy entrepreneurs to plan a hydroelectric power plant for power generation many years ago. Icelandic woman Sigríður Tómasdóttir opposed this and even threatened to throw herself into the river if the power plant was built. Fortunately, it never happened, and so you can explore this magical place in all its beauty today. Please stay on the designated paths and follow the barriers. The slippery rocks are particularly dangerous in winter.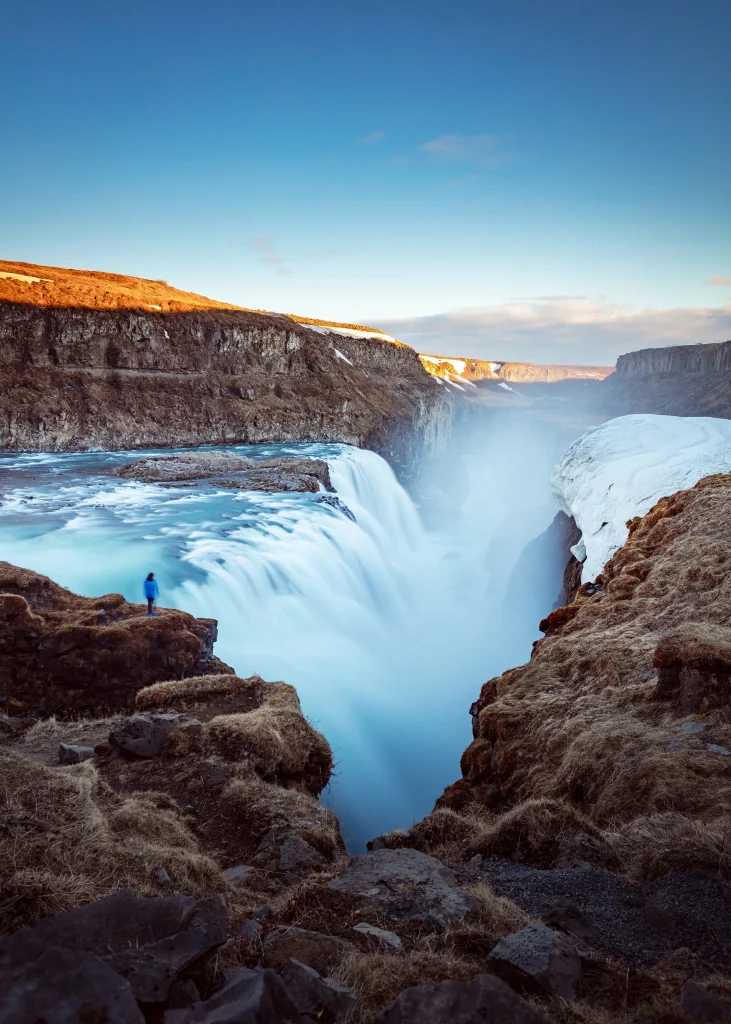 By the way, Gullfoss translates to "Golden Waterfall" and could well be the namesake for the route we are currently traveling.
On the way back from here, there is another beautiful waterfall, Brúarfoss. The "Blue" waterfall, as its name translates, is located about 25 km or half an hour's drive from Gullfoss directly on Route 37. A short walk over a bridge, and you are there. The blue colors in which the waterfall shines are unique, and on sunny days, you can take great souvenir photos at Brúarfoss.
Fontana, Gamla Laugin & Reykjadalur: The hot springs of the Golden Circle
A little further back to the west, you'll find the first hot spring of the Golden Circle, where you can actually bathe: Laugarvatn Fontana. The small spa on the Laugarvatn lake offers several pools, saunas, and even delicious lava bread. It is baked overnight in the nearby geothermal area and is comparable to gingerbread. In winter, you may even be able to watch the Northern Lights while bathing, as the spa is open until 10 pm.
About 40 km away from here, you'll find a secret lagoon: Gamla Laugin. The Secret Lagoon is probably best described as a slightly more natural and less luxurious version of the Blue Lagoon. You should book in advance, just like at Fontana, as there are simply too many visitors. Once you're there, you can relax in the large pool. Changing rooms and showers are available, and there are snacks such as sandwiches.
In the far south, and perhaps no longer part of the Golden Circle by some definitions, you'll find Reykjadalur, a very special hot spring: a geothermal river in a valley full of steam. Near the small town of Hveragerði, there is a valley where hot springs and mud pots bubble and steam at every turn, with an ice-cold stream flowing through the gorges. However, at the top of the mountain, there is a passage where the cool river is heated to a pleasant temperature by boiling hot water. This has made Reykjadalur one of the most popular places in the whole country.
Back in Reykjavík, there are many great swimming pools that are often open late into the night, so if you don't want to fill your day too full, you can also go for a swim in the evening.
A map of the Golden Circle
On this map of the Golden Circle, I've marked all the places and attractions, hot springs, and other points of interest that you might want to visit. I hope it helps you plan your perfect trip.
Golden Circle Tours
In addition to exploring the Golden Circle on your own, which I'll discuss in detail in the next section, tours along this route have proven to be pleasant and helpful for many people. Especially in the winter months, you can avoid driving in an unfamiliar and potentially snowy environment. Professional tour operators can also take you to great sights that a regular rental car may not be able to access.
From my own experience, I can say that the weather in this region should not be taken lightly, and if there is snow, you should avoid using a regular passenger car. With an all-wheel-drive vehicle, you should at least be experienced and have already driven in snow.
If you decide to book a guided tour of the Golden Circle for these or other reasons, I can recommend the following tours:
The tour that includes a visit to Laugarvatn Fontana is ideal if you're looking for an alternative to the Blue Lagoon or have already been there.
Snorkeling in Silfra with a guided tour is a fantastic experience because you get unique insights into how special this region is.
The classic tour is great for those who don't have much time or don't want to strain their budget. All the important sights are included!
I've personally taken all these tours, and I even led the Silfra tour myself, so I can highly recommend them. Please say hello from me if you go snorkeling or diving in Silfra!
Self-drive the Golden Circle
Few routes in Iceland are as suitable for self-exploration as the Golden Circle, especially in the summer. The roads are well-maintained, regularly cleared in winter, and the route is quite popular so you'll rarely be alone.
Of course, this route is not walkable. With over 300km to cover, even though it's technically feasible, I wouldn't recommend it. Cycling the route is also not ideal, and assuming none of my readers arrived with their own helicopter, I'll focus on all aspects of a road trip with a rental car…
The Perfect Rental Car for the Golden Circle
In another article, I outlined how to find the perfect rental car for Iceland. Here's a summary:
In the summer, you can explore the Golden Circle with any car. None of the roads are F-roads, there are no rivers to cross, and even in the rain, you have nothing to worry about here! All of the places mentioned in this text can be reached with a Nissan Micra as easily as with a Land Rover. The roads often have small and large stones, so appropriate insurance for windshields and rock chips is always recommended in Iceland. Whether you have it or not, keeping a safe distance from the car in front is always a good idea!
Please don't stop to take photos, and if you do, please only do so in designated parking areas! As a guide, I have often witnessed visitors putting themselves in really dangerous situations just because they stopped in the middle of the road to take a nice photo. I know it's tempting, but please don't do it!
In the winter, it's a different story: if there is no snow, none forecasted, and you're lucky… then the route is relaxed even in the winter. However, there's no guarantee and even if you set off in sunshine from Reykjavík, it could be snowing at Gullfoss, like in the Alps. The waterfall is only at an elevation of 200m but that's nearly 200m higher than Reykjavík, which can make all the difference. If there's snow, it's better for a normal car to stay put. I speak from experience: I drove visitors to Þingvellir every day for three months in the spring of 2015 and often saw more cars in the ditch than on the road. If you're accustomed to driving in snow and consider yourself a safe driver, it's entirely possible to go on your own tour with a suitable vehicle (4WD, SUV, good tires…).
You can learn how to find an affordable rental car in my article about car rentals in Iceland.
Which route to take along the Golden Circle
There is no fixed route that describes the Golden Circle. However, two routes are particularly recommended:
The north route leads from Reykjavik to the north and then east, along the Thingvellir National Park, Laugarvatn, and towards Gullfoss. This is also the fastest way from the capital to the area.
The south route, which I would recommend for the return journey on an extended day trip, leads from Gullfoss along Route 35 (or 30) southwards, past the Secret Lagoon (the 30 leads here) to the Ring Road (1) and from there past Reykjadalur back to Reykjavik.
The second route is also suitable if the first one is closed. Bus drivers have often told me how they had to take this route and could only ensure that their guests returned home safely via this way.
Preparation is everything: Weather and road signs on the Golden Circle
If you're heading towards Gullfoss, please prepare yourself. There are a few things you should check before your trip and some useful information for the journey itself:
Check with the Icelandic Meteorological Office to see if snow, storms, or anything else that could cause you problems is forecast. Then check the road conditions in Iceland and see if any roads are closed and what the webcam images look like. If you already have a strange feeling here: leave the car and spend a day in Reykjavik instead.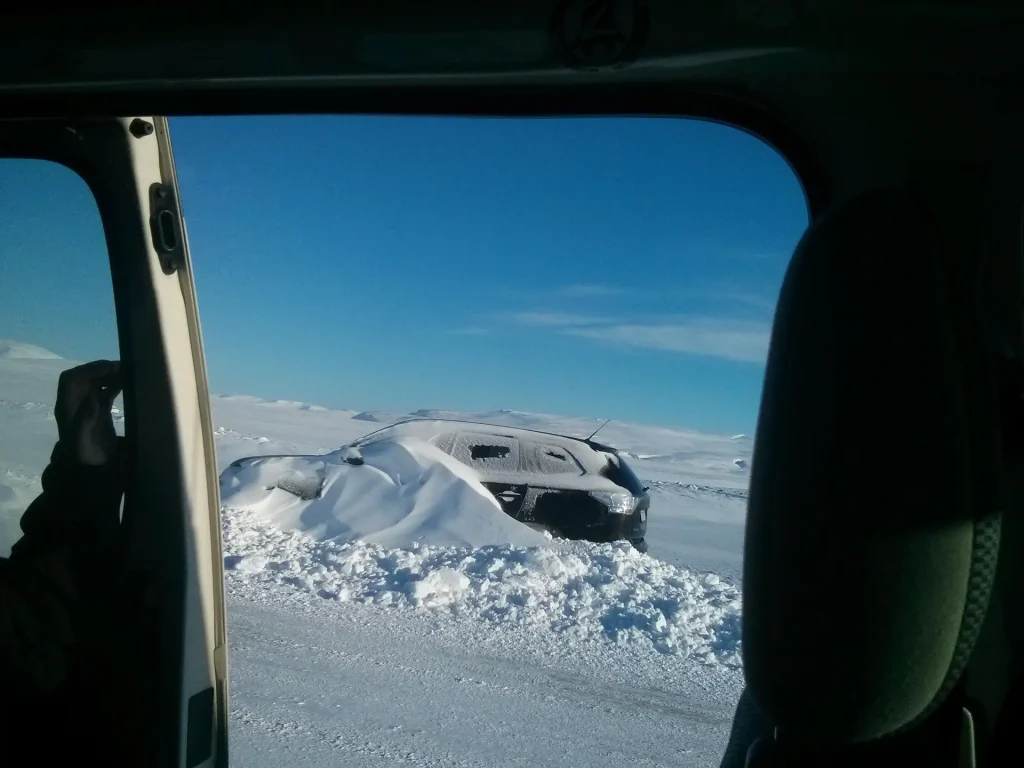 If you're already on the road, here are two important tips: First, in Iceland, those driving on the inside of the roundabout have the right of way. This is important because you'll be driving through many two-lane roundabouts on your way there. So if you're on the outside, always check your rearview mirror. Secondly, you'll see yellow poles along the roadside in Iceland. These have reflectors and there is an important detail to note: if you see only one reflector, everything is fine. But if you see two, you're on the opposite lane! In a snowstorm, this knowledge has saved my butt once, I hope you won't need it at all!
Hotels & cottages: Overnight stays on the Golden Circle
If you're planning a longer stay on the Golden Circle, there are various options for overnight stays. In addition to hotels and cottages, camping is also an excellent option. Here are a few nice options I've put together for you.
Hotels on the Golden Circle
First and foremost: The ION Hotel in Thingvellir National Park. This unique luxury hotel is sure to please you and make your trip something truly special.
The Gullfoss Hotel is located halfway on your round trip, directly at the Gullfoss waterfall, where you can stay in 35 rooms.
Campsites on the Golden Circle
There are over a dozen campsites in the immediate vicinity of the Golden Circle. Most of them are only open in the summer months. On this page, you'll find a good overview.
The campsites in Thingvellir and Laugarvatn are particularly recommended. I would be happy if you also have a recommendation and write it in the comments!
Cottages on the Golden Circle
The most beautiful way to spend the night on the Golden Circle is in the many beautiful cottages in the area. Many Icelanders who live in Reykjavik have small wooden cabins here where they spend a few weeks in the summer. Due to the large numbers of tourists, they often decide to rent them out these days and use the money to explore the world. They usually use AirBNB where you can find beautiful summer houses.
Conclusion about the Golden Circle in Iceland
Wow, that was a lot of information about Iceland's most popular travel route. I hope it helps you get the most out of your Iceland vacation and have a really good time.
While you're on the road, I'd like to recommend the Iceland App to you. It not only has many helpful features about Iceland but also a guided tour along the Golden Circle. I worked as a guide for divers in Iceland for three months and occasionally accompanied tours along the Golden Circle. What I learned about the sights in Iceland, I share with you in the form of audio comments there. So it's like I'm sitting in the car right next to you and telling you something about your trip 🙂
I hope the information helps you. If I forgot something, you find an error, or you want to tell me something else, I would be very happy to receive comments. Otherwise, I wish you…
Have fun in Iceland!