The Westfjords (Vestfirðir) Islands are one of the last areas of the country where you can experience the rugged and natural side of the land. Located far north, in close proximity to the Arctic Circle, you will find dozens of small and large fjords that give the region its name.
I visited the Westfjords for the first time in October 2017, during my sixth or seventh trip to Iceland. In my opinion, the Westfjords are not a region to just briefly visit and may not be ideal for first-time visitors to Iceland. The roads can be challenging, and the weather can be unpredictable.
In this article, I will provide you with a detailed report of my trip and assist you in your preparations.
Let's get started…
Attractions in the Westfjords
The Westfjords themselves are already a sight to behold. As soon as you enter the southern or northern parts of the Westfjords via Route 60 or 68, you will realize what a gem this small region of the country is. The proximity to the water brings a sense of tranquility, while the mountains that continue to rise throughout the journey make you feel insignificant.
In addition to the fjords, the landscape, and the sea, the region has other attractions to offer. Exploring all of them would take weeks, if not months, and my road trip lasted only a few days. Therefore, I can only provide a tiny glimpse, my personal highlights.
Waterfalls in the Westfjords
I use the plural here because there are truly many waterfalls. There seems to be a waterfall around every corner, some big and some small. It may not be worth stopping at every single one, but slowing down a bit is definitely recommended.
However, at the end of the day, there is no need to beat around the bush: there is only one waterfall in Iceland that you absolutely must see in the Westfjords: the thundering, roaring, and raging Dynjandi. In fact, the translation of its name already describes its nature, as you can hear and see it from afar. Dynjandi itself is the largest waterfall in a series of waterfalls located in this little corner of the bay.
Dynjandi is a phenomenon that can be described, but words can only inadequately capture the experience. With a width of nearly 30 meters, the river plunges into the depths and fans out to an impressive 60 meters. Countless small steps divide the streams into finer and finer cascades, eventually gathering at the foot of the mountain in a large basin. From there, the water gathers again, cascades down the many small waterfalls, and then disappears into the sea a few hundred meters further.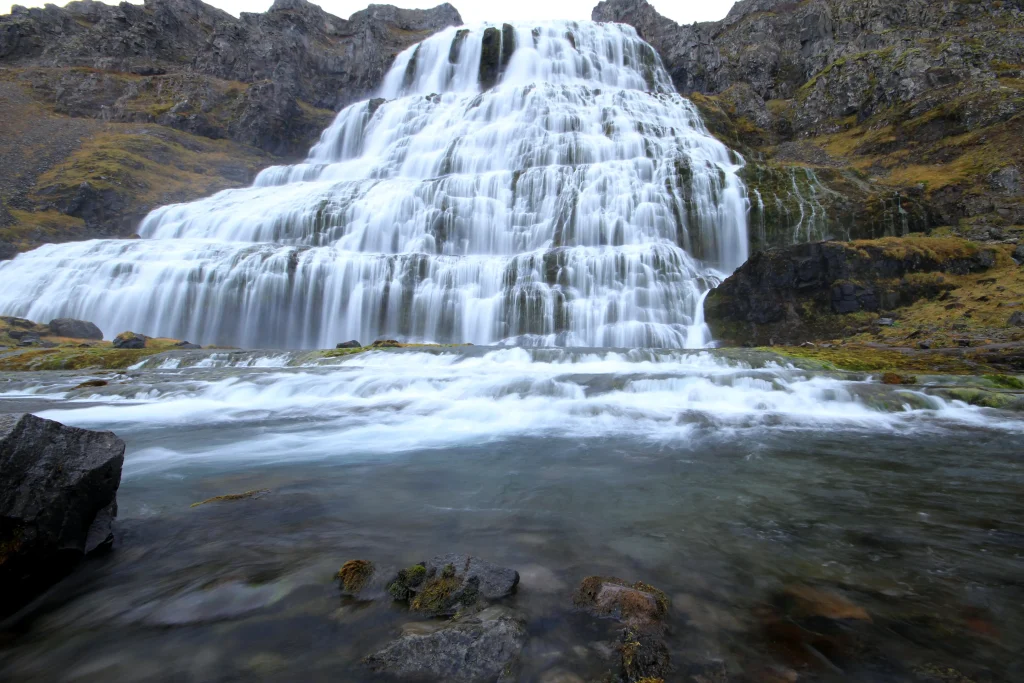 On Google Maps, a camping site is shown in this area. However, a traveler told me that it doesn't actually exist, and a supervisor informed them the next morning that camping was not allowed there. The entire area is definitely under nature protection, so it's advisable to set up your tent or park your van elsewhere.
Another small highlight I encountered later that day on Route 63 was a nameless waterfall (at least one I could assign a name to; someone mistakenly uploaded a photo of Dynjandi to Google Maps in its place). This lovely little waterfall reminds me a bit of Seljalandsfoss, especially because of the water's color. It is light blue at the base due to all the air bubbles and then becomes quite dark as it flows relatively shallow. If you're feeling adventurous, you can even walk behind the waterfall or right next to it. Be careful, though, as it can be slippery, and you might get wet!
Latrar Air Station: An abandoned NATO radar station in the Westfjords
The Latrar Air Station was built in 1992 on Mount Bolafjall near Ísafjörður and was operational for only 14 years until it was decommissioned in 2006.
The system was primarily used to monitor and prevent illegal drug trafficking and was part of the American-Canadian North Warning System. The facility was replaced by a new station near Keflavik Airport but remains in excellent condition and provides a great backdrop for photos.
From here, you can enjoy breathtaking views across the mountain ridge, into the fjord, and far out to sea. The birds nesting here are true acrobats and often perform impressive flight maneuvers in the strong winds around the cliffs.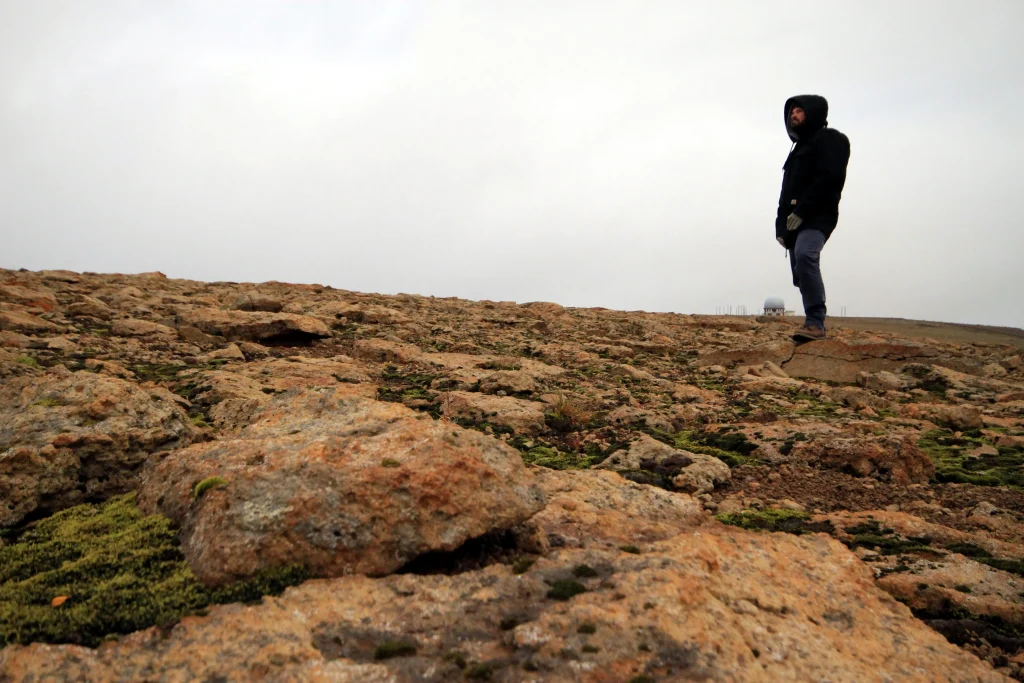 Arctic Foxes: The Arctic Fox Centre in the Westfjords
The Westfjords are home to Iceland's only indigenous land mammal, the Arctic fox. If you want to learn more about these fascinating creatures, a visit to the Arctic Fox Centre in Súðavík is highly recommended. I had the opportunity to speak with Midge, who manages the center, and learned many interesting things about these little bundles of fur. The exhibition is small but packed with intriguing details, and at the end, you can observe the two remaining Arctic foxes in the outdoor enclosure.
These foxes are there to stay because they were unfortunately affected by a change in the law that now prohibits the release of hand-reared animals back into the wild.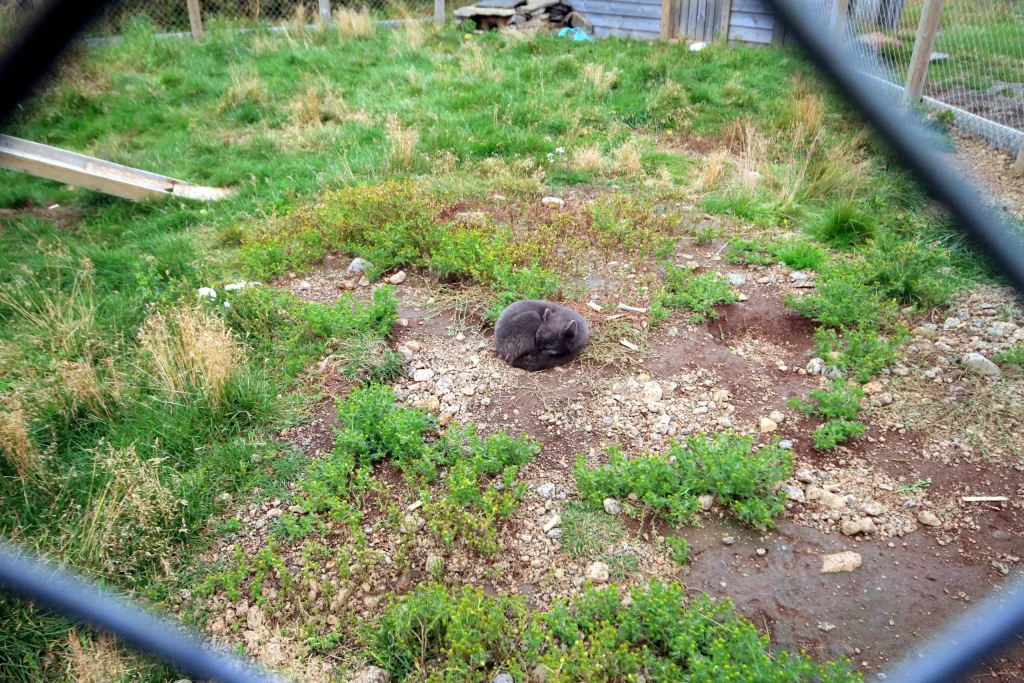 Rauðisandur – A Lonely Beach in the Westfjords of Iceland
The small beach of Rauðisandur is located at the southernmost tip of the Westfjords, at the end of a rocky and quite bumpy road (Route 614). The journey takes a while, and if you easily get seasick, make sure to buckle up. However, once you arrive, the adventure is worth it because the view over the fjord and the beautiful Atlantic Ocean compensates for the slight hardships. You can take a wonderful stroll here and enjoy the tranquility. Relatively few visitors come to this place, so it's not crowded.
Apart from a small church and a few farmhouses, there isn't much here. And that's just how we like it. We recommend taking a long walk along the coast. Unfortunately, a bit too far for a hike, to the west of here, lies Látrabjarg.
Látrabjarg – The Puffin Cliff
Stretching for almost 15 kilometers and rising over 400 meters high, Látrabjarg is one of the largest bird cliffs in Europe. During the summer, hundreds, if not thousands, of birds nest here. Puffins, in particular, have become so accustomed to humans that you can get quite close to them. This allows for fantastic photos of these adorable creatures without the need for a huge zoom lens.
The cliffs are relatively easy to reach via Route 612, but the drive should not be underestimated as the distance is quite long. The condition of the road is okay, but it is important to drive slowly and cautiously. It's recommended to decide whether you prefer to visit Rauðisandur Beach or the cliffs and plan your time accordingly.
The Shipwreck of Garðar BA 64 in Iceland
The shipwreck of Garðar BA 64 is a popular photography subject in the Westfjords, comparable to the airplane wreck in the south of Iceland. This is the oldest steel ship in Iceland and has been lying on the beach for several years, gradually rusting away. The combination of an engine and sails made the ship one of the best vessels for whaling during its heyday, around the same time as the Titanic.
With some caution, you can explore the ship from above and inside. The smell of motor oil still lingers, and rusty hands are part of the experience.
The Most Beautiful Places and Towns in the Westfjords
The Westfjords are relatively sparsely populated, and there aren't many towns or cities. That's part of the charm for me, as it drew me to this region to escape civilization at least a little.
Up here, life is slower, simpler, and more relaxed than in the southern West. However, there are a few areas where towns or small cities have formed, as well as regions that are worth exploring.
Ísafjörður: The Largest "City" in the Westfjords
For most people, Ísafjörður will be the destination when traveling to the northwest, as the small town serves as the hub of the region.
Around 4,000 people live in this small community, mostly working in fishing or education. There are major fishing companies that primarily catch shrimp. Additionally, there is a music school and a university where you can study marine and coastal management. I had the opportunity to talk to some students, and I must say: if you're currently studying or planning to, consider doing a semester abroad and see if Iceland has something to offer you.
Various tour operators are also based in the town, offering activities such as kayaking, whale watching, horse riding, mountain biking, and hiking. From here, you can also book or embark on excursions to Hornstrandir.
Sandafell: A Small Mountain with a Great View
On my way to Dynjandi, I made a stop at Sandafell and briefly hiked up to its summit. I was there in the evening with overcast skies, but I'm sure on a clear day, you can enjoy beautiful sunrises or sunsets from here!
You can drive relatively far up the mountain and then it's only a 5-10 minute walk to the top, so you can easily include this stop even if you're passing through.
Hornstrandir: The Nature Reserve of the Westfjords
The Hornstrandir Nature Reserve covers large parts of the northernmost peninsula of Iceland, making it one of the most remote areas from civilization in the country. Here, nature is abundant!
Unfortunately, I didn't make it there, so it remains on my to-do list for a future trip.
One reason might be that there are practically no roads leading to the area. As far as I know, you can't reach it by car. If you want to come here, you'll have to take a short boat ride across the fjord and then explore on foot.
Hornstrandir offers one of the best opportunities to encounter wild Arctic foxes, as they have chosen this place as their home. Various bird species also frequent the area, so don't forget your binoculars!
There are a few campsites, two of which have toilets.
Fishing and Diving in the Westfjords
To my surprise, the largest group of visitors here are anglers. The Westfjords seems to be a special place for anglers from around the world, and my host Einar told me about tourists who have been regularly renting his house for several weeks for fishing expeditions for decades. I'm not an angler myself, but I was amazed when Einar came home with five huge codfish, which he cooked and shared with me and a friend that same evening. It gave me a sense of what makes this sport so enjoyable. The next day, we spent a few hours on his small boat in the fjord, enjoying the serenity of the sea.
Diving is more my sport, so I was delighted to learn that there are some fantastic dive spots up here. I contacted Simbi, who runs a dive center in the Westfjords, and had the opportunity to join him for a day of collecting scallops. Along with a few fish, many shells, and a jellyfish, the highlights included a whale graveyard and a fantastic drift dive that essentially swept us right into a hot spring. It's truly unbelievable what a diving paradise Iceland is!
Camping and Hiking in the Westfjords
For hiking in the Westfjords, Hornstrandir is the place to go. There are no paved roads up here, so you have the whole area to yourself. There are plenty of campsites, and the Iceland app can help you find them.
The nature up here is relatively untouched, and I want to make a significant contribution to preserving it that way. So, here's the raised finger: Please camp here responsibly and always aim to be a sustainable tourist in Iceland! If you've seen the campsites on the south coast, you'll know what I mean. Please help keep this area beautiful!
Getting to Iceland and the Westfjords
I arrived in Iceland by plane at Keflavik Airport. I flew from Frankfurt, and the flight took about three and a half hours. WOW air is usually the most affordable airline and covers major destinations in Germany. Another great option to visit Iceland is through the Iceland Stopover* offers, where you can incorporate a short visit to Iceland into your trip to North America, for example.
For onward travel, I chose to rent a car because I wanted to explore other parts of Iceland after the Westfjords, and I enjoy the flexibility of having my own vehicle. Alternatively, you can travel by bus or take an domestic flight to the north.
Traveling by Car to the Westfjords
For me, it was clear that I wanted to explore the Westfjords by rental car because I love to explore areas on my own and have maximum flexibility. I compared different car rental providers on Guide to Iceland*. This platform mainly lists local and smaller providers to support local entrepreneurs, and they offer a price guarantee: If you find the same car at a lower price from another provider, they will adjust the price accordingly.
Tunnels, Gravel Roads, and F-Roads in the Westfjords
For my trip, it was clear that I needed a vehicle with good ground clearance and four-wheel drive. I wanted to be comfortable on the road and also keep the option open to drive on F-roads.
The majority of my journey took place on paved roads. From Reykjavík to Ísafjörður, the entire route is on excellent asphalt. The surrounding areas of Ísafjörður are similar, with a few small exceptions.
Things got interesting when I started taking detours towards the south, such as to Dynjandi waterfall, the Garðar BA 64 shipwreck, or the cliffs of Látrabjarg. In particular, the road to Dynjandi is unpaved and was in quite poor condition in some places. I had to get out of the car 2-3 times to move larger rocks out of the way to prevent others from driving over them. Numerous small and sometimes larger potholes made for a bumpy ride. At that point, I was truly grateful to be traveling in a 4×4 SUV in Iceland*, allowing for a more relaxed journey.
The burning question: Is it necessary? I believe so, but officially, it's not. I felt sorry for those driving in regular vehicles or even campervans ahead or behind me, and I also consider it dangerous because a missed pothole can cause much more damage to a small car than to a properly cushioned SUV. It's worth noting that driving on F-roads is officially prohibited, while everything else is subject to your personal assessment.
I'll say it again: Please don't skimp on your car when traveling in the Westfjords! And don't skimp on insurance either: Choose the comprehensive package and especially the "Sand and Ash" option, as paint damage or windshield breaks due to flying stones are not uncommon!
By the way, I didn't end up driving on F-roads during my entire trip because it wasn't necessary for my route.
Traveling by Bus to the Westfjords
Buses from Reykjavík and other places in Iceland also travel to the Westfjords. I couldn't delve into this topic further as it would have exceeded the scope of my research. There are apparently two bus connections per day in the summer, while buses do not operate in the winter as far as I know.
Domestic Flights to the Westfjords
An option that I wasn't initially aware of but found interesting is flying from Reykjavík (not KEF airport) to Ísafjörður. The cost is around 100€, and the flight takes no longer than 1-2 hours, making it a much faster and more relaxed option compared to driving. While it wasn't suitable for me as I was looking forward to the road trip experience, those visiting for fishing or planning day trips from Ísafjörður, for example, might find it beneficial to explore this option further. It's also possible to rent a car for the Westfjords directly in Ísafjörður.
Hot Springs in the Westfjords
I will only mention a few hot springs here and instead offer some well-selected swimming pools as an alternative. I've seen what the hot springs in the south of the country look like on this trip, and I would be surprised if you still want to visit them here. So I'll leave it up to you: You can easily find the hot springs with a little research, but I'll leave it to you to decide if and how you want to get there.
Based on recommendations from some Icelanders, I visited a few hot springs but then decided to use swimming pools in the long term. They are better equipped for a larger number of people and are also environmentally sustainable and good for the whole country.
Please: If you visit hot springs and find litter or people misbehaving, please do the same as I did: Pick up 1-2 things lying around and dispose of them, and kindly remind people how to behave in these places. Your karma account will get extra points! 🙂
Pollurinn Hot Pot in Tálknafjörður
I was here in the autumn, and the pools were relatively dirty, but they are likely better maintained in the summer. This small hot pot is equipped with a changing cabin, and the water constantly flows from the nearby hot spring through the small pools, allowing the pool to regenerate quickly.
From here, you have an incredible view of the nearby fjord and the mountains in the background. It's a real hidden gem, so please be especially considerate. 🙂
Patreksfjörður, the most beautiful swimming pool of the trip
The swimming pool in Patreksfjörður is located on a small hill, offering an incredible view of the fjord right in front of you. A small pool with four lanes and two hot spots give you a nice sense of size and smallness, and right next door is the sports hall where schoolchildren may do their exercises. The entrance fee is about 900 ISK.
Flateyri Pool: Bathing at the Foot of the Mountains
The small town of Flateyri was my home while I was in the Westfjords, and I used it as a base for my day trips. In addition to its incredible history (the town was hit by an avalanche that buried large parts of it a few years ago), the town also has a beautiful small pool to offer.
You can relax in a shallow basin and enjoy a great view of the surrounding mountains. The opening hours vary, so it's best to check beforehand to find out until when the pool is open. Generally, evenings are not the best time to visit.
Winter in the Westfjords
An interesting topic: What is it like in the Westfjords during winter?
I can't speak from personal experience, but I worked in Þingvellir for three months during winter and have also done several trips to Iceland during the winter season. I would not recommend traveling to the Westfjords in winter, or only doing so with heavy-duty equipment and extremely good preparation. By heavy-duty equipment, I mean a proper off-road vehicle like a Land Rover or a super jeep. I experienced a harsh winter in the western region, and I can't even imagine what it's like up in the Westfjords when roads are already being closed in the southwest, and visibility can be as short as an arm's length.
I talked about this topic with my host, who, in typical Icelandic fashion, said it's not that bad. However, he also mentioned that he always keeps supplies in his house during winter in case he can't leave for a few days. Those who have grown up there are familiar with these conditions. Visitors might be completely overwhelmed by this situation.
So, I definitely advise against traveling to the Westfjords in winter unless you know exactly what you're doing. If you're unsure, it's better to plan your trip for another time.
Conclusion: The Westfjords of Iceland
The Westfjords of Iceland are one of the last areas in the country, perhaps even in the world, that offer such a unique experience: remote, natural, and fragile. That's why I'm going to say something that you might not expect: Please don't come here!
Please don't come if you're looking for an adventure. Please don't come if it's your first time in Iceland. Please don't come if you need photos that make you look like an adventurer.
All of that can be experienced in the south and west of the country, which are well-equipped to handle the number of visitors who come here every year. The Westfjords are not.
But come to the Westfjords if you are a responsible and sustainability-minded traveler. If you prefer tranquility over adventure and if silence gives you more than excitement. Then you're in the right place, and the Westfjords will do you good, and you will do good for the Westfjords!
Enjoy your time in Iceland!