Icelands Ring Road is well equipped with tourist features, landmarks and all other kinds of points of interest. Waterfalls, glacial lagoons, black sand beaches and bizarre lava fields are just a few of the amazing spots to see on Icelands number one road.
The attractions include beautiful small towns and fascinating landscapes. Some of them are located directly next to the road, some just a few feet away at the coast and a few are hidden deep inside the highlands in the center of the island. The ring road is the ideal starting point for every trip, no matter if you're going south, east, west or north. A typical journey will lead you from Icelands capital Reykjavík north past the Snæfelsness peninsula and past the west fjords to the northern parts. Akureyri and Myvatn, then onward to the east with beautiful fjords and lonely landscapes. Then down south, where the waterfalls and glaciers are. Along the way you'll find dozens of hotpots, pools and other things to see.
In this article, we will try to give you an overview of the most beautiful places along the ring road, in several categories. Let's go…
The most beautiful waterfalls in Iceland
Right in the south and most likely your first stop in Iceland: The beautiful Seljalandsfoss waterfall. You can't miss it as it's well visible from the ring road when you're coming from the west. The waterfall lies majestic within a mountain range and falls some 20–30 meters into a small pond of water. You can even walk behind the fall, but you should be wearing proper clothes that are waterproof!
Just next to this gem you can find it's little brother Gljúfrafoss. This waterfall is embedded into the mountain and hides in a small cave. You can walk in but the same goes: You should wear waterproof clothing (and be aware of electronics).
A few kilometers further east on the ring road you will find Skógafoss waterfall. This one is quite big and falls from more height and a wider river. Again, you can't miss it and it's really quite a sight: When the sun is shining, we'd be surprised if you only saw one rainbow. The place is usually full of them when the lighting is right. You should also consider walking up to the platform as you can see the whole landscape from there.
And then there is Svartifoss. The black waterfall lies on the outskirts of the Vatnajökull national park and is embedded into hundreds of beautiful rows of basalt stone. The right lighting turns this place into a wonderland for photographers but since that is rarely the case, it will always be a challenge to take a really outstanding picture here. Easy the have an outstanding experience though.
Far in the east, you will find Dettifoss, the king of the waterfalls in Iceland. You need to do a small detour via road 864 but it is definitely worth it. This is the strongest waterfall in Iceland and with the energy it has, it could easily sustain one of the cities in the area.
A little further Nord, you can find Goðafoss, the waterfall of the gods. This is where you want to be very early or very late: Sunrise and sunset are amazing here! The name stems from the fact that figurines of gods were thrown into the waters when Iceland converted to christianity in the Middle Ages.
Far in the western fjords you will find the mighty Dynjandi. This places is crawling with small waterfalls, all fed by the stream that Dynjandi sources. The waterfall can be seen from far away and heard as well: The noise it makes is shattering and very impressive!
The tiny towns along Icelands ring road
Driving against the clock, you will likely visit the small town Vík at first. This tiny town is famous for it's black sand beach which comes from volcanic eruptions. It is an amazing place to stop, smell the salty air and explore the beach as well as the town itself. You should drive up to the small church and enjoy the view. There are some guesthouses, hotels and restaurants in Vík.
A little further to the east you will find Höfn. It is east of the glacial lagoon Jökulsárlón, so it makes for an ideal stopping point if you're on a road trip around the island. It is surrounded by glaciers and for that reason, features a glacial museum which is really worth checking out.
Up in the north you can find the Mývatn area, which feature geothermal areas, natural hotpots and landscapes that will make your camera very happy. Grjótagjá is one of those hotpots and it is in fact so hot, that you should not bathe in it. As an alternative, you can check out the Mývatn Nature Baths which is also a great alternative to the Blue Lagoon in the south-west. The area is full of wildlife: Sheep, geese, horses. So please drive slowly.
Way up north you will find the small town of Husavík. This place has a lot of history and you should check out the museums. But the one thing that probably brings you here is whales. You can see them in the small museum and learn everything about them, but more importantly: You can jump onto a ship and go out into the wild to actually see them. Humpback whales, Minke whales and sometimes even the mighty blue whale can be see from the vessels and depending on the season and your luck, they put on quite a show. Puffins can be seen as well, but mostly in summertime. Bring binoculars and a tele zoom lens if you have them!
The capital of the north: Akureyri. This is Icelands second largest city (4th if you count Reykjavík suburbs), with some 20.000 people living and working up here. You can find a botanical garden, some museums and nice architecture up here. If you're on a road trip, this is the place to go shopping and rest for a day or two and explore the city or the nearby fjords. There is a small airport in Akureyri as well, so if you're just interested in the north and east, it can be a great option to get here by plane instead of a rental car.
Scuba diving in Iceland
It is probably not the first activity that comes to mind when one thinks about Iceland. But: This country has some of the most amazing dive sites on the planet.
Silfra is the most well known place to snorkel or scuba dive in Iceland. It is a crack in a lava field that lies just in the ridge between the two continental plates of North America and Eurasia. The water comes from a glacier that is about 50km away and gets filtered over the course of many decades through fine lava stones. The result: Crystal clear water with visibilities of 100m and more. You can just pop the regular and take a sip, it's delicious!
Way up in the north, near Akureyri, you can find another world class dive site that is a little less known: Strytan. The hydrothermal hot vents of Strytan are a once in a lifetime dive and this is the only place on the planet that let's you do it. Those vents are usually thousands of meters deep and could never be reached by recreational divers. Here, you can see them at around 14m or you can go to the deeper vents and have a deep dive to 70 and more meters (if you have the right certification & equipment).
There are a lot more dive sites in Iceland to check out by the way!
Golden Circle: Icelands best places in one trip
The golden circle is a tourist route in the western parts of the country. From Reykjavík around the Tindfjallajökull glacier and back, that's basically the route you take but there is no official rule or something like that. You can take detours along the south for example or even into the highlands.
There are many guided tours around the Golden Circle in Iceland but you can also do it as a self driving tour every easily. Have a look at our Iceland App, which features a tour with audio guide.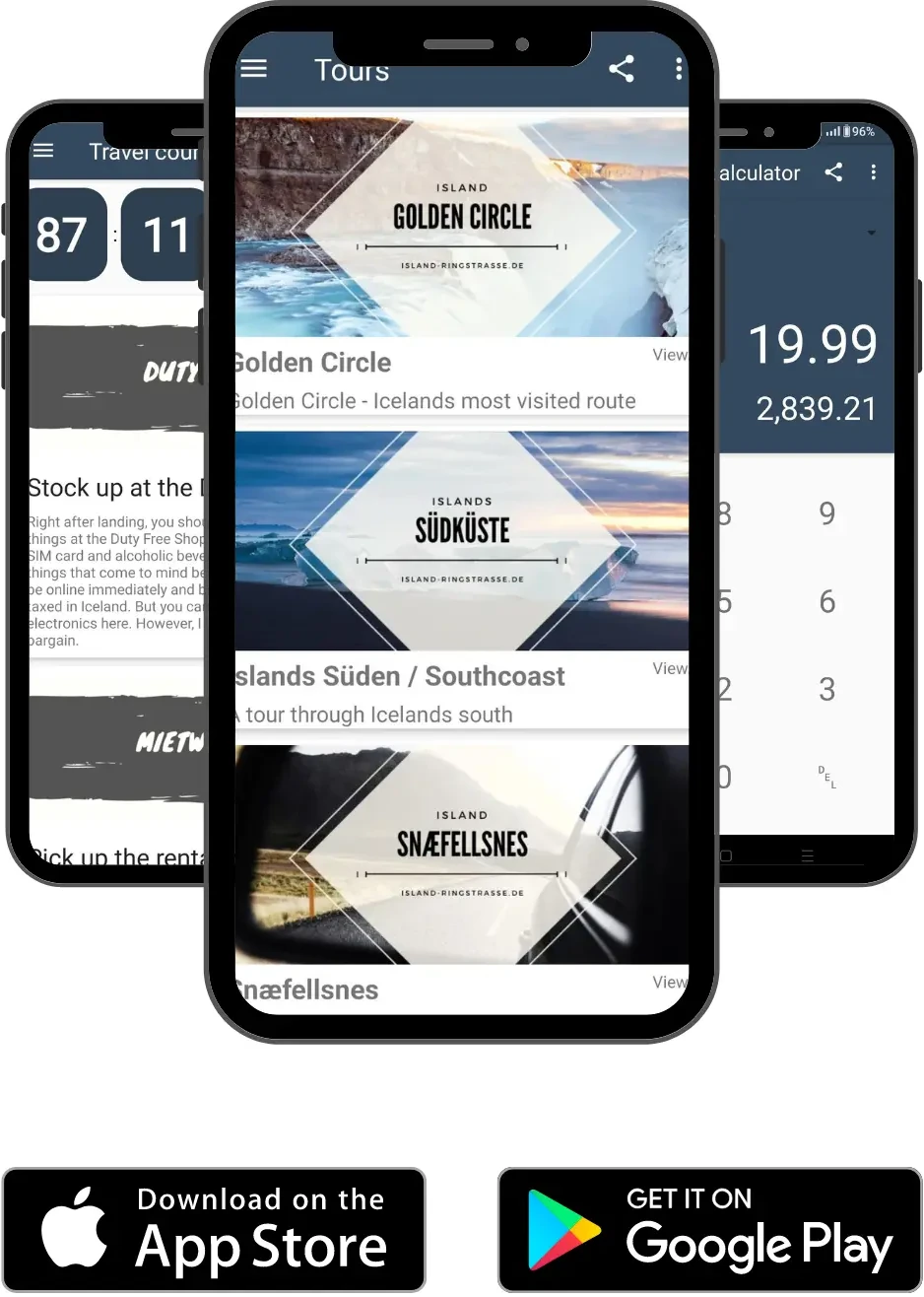 The first stop is usually Þingvellir national park, where the tectonic plates of North America and Eurasia drift apart. You can walk through the ridges and canyons here to get a glimpse of how the whole area is constantly moving and developing. It is here, where the first settlers met on a regular basis, forming the very first parliament: Alþingi. Only a few hundred meters away from Silfra.
Afterwards the route brings you to Strokkur, the most active Geysir of the country. It spills a column of hot gas and boiling water several dozen meters into the air. Every 5–15 minutes, for years and years. Right next to it you can find the original Geysir, which gave all the others in the world their names.
A little further east you arrive at the last stop of the tour: The waterfall Gullfoss. It is one of the larger ones, falling over 30m over two steps and transporting more than 100.000 liters of water per second. Multiple times, plans were made to build a hydrothermal power plant here, but it never happened. Especially due to one brave Icelandic woman. Her story is written down on the info signs all around the waterfall.
You can do a lot of small detours in the area, especially if you're on a self driving tour: Bruarfoss, Fontana, several hotpots and many more sights can be found: Just make sure you have the timing right, especially in winter when days are short!
Hotpots, lagoons and pools in Iceland
Iceland is boasting with natural and man-made hot pots and swimming pools. It would surprise us if you could do a proper round trip without accidentally falling into one, actually 😉
The one that some of you may already know and that Iceland is pretty famous for: The Blue Lagoon. This man-made place is not really a hotpot but a luxury spa. You can book several different packages from basic to super luxury. You can soak in the mineral rich waters on your way from or to the airport, because it is located very close to Keflavik. That makes it an ideal place to spend the last hours in Iceland before getting on your plane to go home.
If you like it a bit more natural, the Secret Lagoon (Gamla Laugin) might be for you: This big pond of water is infused with hot water from nearby hot springs but can still sustain a larger number of guests. You don't get the spa-treatments as in the Blue counterpart but snacks and drinks are available. It is located fairly close to the Golden Circle.
Right on the route of the Golden Circle you find the Fontana Spa, which again is man-made but the hot water comes from natural sources. The place is rather small in comparison and thus should be booked in advance. Many tour providers offers stops here, included in their Golden Circle tours.
Far up in the north you can find the Myvatn Nature baths. They are a perfect alternative to all the lagoons in the south-west, because far less travelers actually make it that far up north. The area is worth a stroll or two as well: You can find geothermal areas, all-natural hotpots and nice hills & mountains here.
Random interesting places along the road
There are plenty of amazing sights all around Iceland and quite a lot of them can be found by just looking left and right of you.
The plane wreck on the south coast is just one of them. You can't see it from the road, but that makes it a bit more special anyway. The Douglas Super DC–3 crashed here over 40 years ago and was never picked up. The engine and communication systems were removed but the carcass of the plane was just left behind. Today it makes for a spectacular background in images and photographers come here to take amazing photos. It is well worth the 45–60 minute hike: You have to leave the car at the street as the plane is on private land and the owner couldn't keep up with all the cars anymore.
Also in the south, you will find Dyrhólaeyjarviti. A small light house that was rebuilt into a hotel by Icelandair. This is one of the more special places, where you can spend a night on your trip around the island.
A bit further east you can find the Fjaðrárgljúfur canyon. Over 100m deep and over 2km long, the canyon winds it's way north into the highlands and offers spectacular views. Especially on sunny and cloudy days.
On the west side of the country you can find the Snæfellsnes peninsula, which is called the miniature Iceland for a reason: You can find most of what is called an attraction in Iceland, in some form or another: Waterfalls, Hotpots, Geothermal areas and caves. You should visit the Vatnshellir cave, which is basically the place that Jules Verne describes in his books that were inspired by the countryside in these lands.
Map of sights in Iceland
We put some of the most interesting sites in Iceland on a map for you. This is by far not complete, but it should give you a good overview and we hope it helps you plan your trip.
Sights by region in Iceland
We want to give you a brief overview of Icelands regions here to help you plan your trip. A lot of travelers will do either a round trip or stay in the south-west. We hope this helps you a bit with deciding which way to go, where to stay longer or shorter and make the most of your journey.
Sightseeing in the west of Iceland
The western regions of Iceland are the most established ones: Here you will find most people, lots of hotels and a lot of sightseeing.
This is where the Golden Circle lies, where you can find the Blue Lagoon and many more places. There are still some rather quiet areas and hidden places here too, like the Bruarfoss waterfall and the Snæfellsnes peninsula.
Sightseeing in the south of Iceland
The southern regions are full of waterfalls and glaciers, so this is the region to go if you want to experience what makes this country an island in the North Atlantic.
Here you will find Jökulsárlón, the glacial lagoon. Right next to Vatnajökull national park and waterfalls like Seljalandsfoss, Skogafoss and Svartifoss.
You will find several hotpots, like Reykjadalur and the famous Seljavallalaug swimming pool.
Small towns like Vík and Höfn will make for excellent overnight stops and can be explored too.
Sightseeing in the east of Iceland
The East of Iceland is far quieter than any other part of the country: Most people stay near the ring road here and drive up to the north quickly. That's what I'd suggest on you first trip or if you just don't have the time. But if you have the time, it's worth researching this area a bit more.
A good starting point, also if you're just staying overnight, is the small town Egilsstaðir. From here, you can do small trips to a lot of nice places. Another good place to stay is Þórshöfn which is a good starting point to explore the east fjords. You won't find many tourists here.
Sightseeing in the north of Iceland
The North of Iceland is all about the ocean: You will find many small fishing towns along the coastline and the capital of the north, Akureyri, ist just one of them.
The one activity you want to do when you're up here is whale watching: The northern fjords are the perfect place for this and are full of all kinds of whales: Humpback, Minke and sometimes even Blue whales can be found in the cold waters in this part of the country. The best place to do this is probably Husavík, a town that is famous for great whale watching experiences.
The Westfords are a region on their own, we still want to name them here: One of the leas inhabited areas of the country and full of beautiful places. You need some time to explore this, so we suggest to skip it if you're doing a road trip around the country and have two weeks or less.
Sights by season in Iceland
Basically, Iceland has two seasons: No snow and lots of snow, a.k.a. summer and winter. What's the best time to go to Iceland very much depends on your personal preferences. We still want to give you an overview of what to do in which season top help you make the most of your trip to Iceland.
Sightseeing in summer in Iceland
It will be relatively warm and dry in summer. That means, you will have around 10–15°C usually and it will rain 2–3 days per week. It can be 20°C and more and you can have two weeks without any rain but I wouldn't plan like that 😉
The best things to do in summer are the things you do outside: Hiking, Climbing, Horse riding, bird watching and the like.
You can climb up mountains like Esjan and Snæfellsjökull, or go hiking in areas like Landmannalaugar. During summer most animals get a bit more active, so if you want to go whale watching or see puffins, June to August are the best months to come here.
You'll get another freebie on top: Long days. In June, the sun barely sets at all so you can have midnight walks, swims or whatever you want to do.
Sightseeing in winter in Iceland
Winter time means snow and short days: Sometimes you will have less than 4 hours of sunlight and even then the sun will be hiding behind clouds. But it's still the only time of the year that gives you the opportunity to see northern lights in Iceland.
Another thing that is a bit nicer in the cold months: Hotpots. There is nothing nicer than jumping into a hot pot of water while there is snow around you and maybe still falling. Hiking up into the Reykjadalur valley through snow and hopping into the warm river is an experience like no other.
In winter time you will also see waterfalls in a completely different form: Some of them seem to completely freeze over. You will still hear the water falling though and that makes for an absolutely fantastic setting.