An Iceland vacation and the big question: What mistakes should I avoid and how can I prevent missing out?
Having gained experience from many trips to Iceland, I have learned a lot about what can go wrong, and to prevent this from happening to you, I share my tips for a perfect vacation in Iceland!
Inappropriate clothing for Icelandic weather
You'll hear it often enough, but that doesn't make the folk wisdom any less true: "There's no such thing as bad weather, only bad clothing!" This applies not only to our beautiful North and East Sea, but also to everywhere else in the world where it often rains and the weather is constantly changing.
The weather in Iceland is, as it often is on islands: windy and rainy. Due to its location in the north, it is often very cold, which combines with the wind to create a bad feeling on your skin. Even though Iceland has the best weather forecasting measures in my opinion, nature often plays tricks on technology, and the sunny day announced could turn out to be cool and lightly rainy.
When flying to Iceland, you cannot prepare for specific weather. However, it is not too difficult to prepare for anything that might come your way. Here, the onion principle and the right selection of clothing help. In our packing list for Iceland, you'll find further hints and suggestions.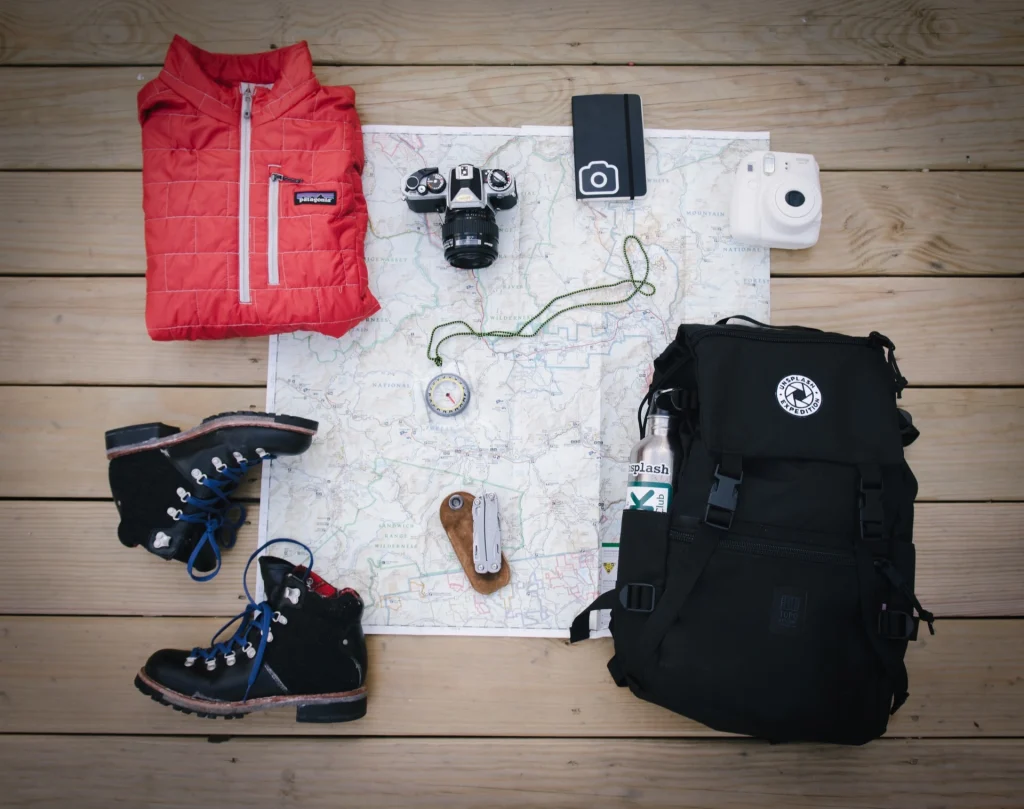 The onion principle consists of three layers: insulation, warming, and keeping dry. The outermost layer of your clothing is solely for isolating you from rain and wind, so it can be very thin. Jackets made of Gore-Tex are particularly suitable for this purpose. The second layer is used to keep you warm, for which fleece jackets are particularly suitable. And the innermost layer is used to transport sweat away from your body so that you stay dry. The most common mistake made here is to wear cotton underwear and undershirts, which can become saturated with sweat and then make you feel cold. Instead, it's best to take functional underwear, which can also be worn while skiing.
The onion is ready. Then put your feet in beautiful, thick Icelandic socks and both in good, waterproof hiking shoes, and off you go!
Vacation in Iceland on a small budget, without a financial cushion
Icelandic travel has become cheaper, much cheaper! Today, you can get cheap flights to Iceland at many, many places on the Internet, and on the island itself, you can find inexpensive accommodation in Iceland with AirBNB, for example. Therefore, travelers with a small budget increasingly opt for an Iceland trip, and sometimes they are disappointed because they had to exceed their budget or couldn't enjoy the trip.
How much an Iceland trip should cost depends heavily on personal needs. If you want to drive a comfortable SUV, stay in nice hotels with a restaurant and swimming pool, and also like to visit a luxurious spa, you can easily spend €3000 or more per week. For my first trip to Iceland, I had a budget of about €1200 for seven days, if I remember correctly. However, I have also heard of people who got by with much less than €1000 for a week in Iceland.
I still think there is not much to talk about: Iceland is expensive. You can and must prepare for it if you don't want to lose your desire to travel. In the above-linked article, you'll find important guidelines for the cost of various goods, services, and so on in Iceland. Those who realize that their budget is not sufficient when they add everything up should be realistic and change their plans if necessary. Those who can and want to will most likely be able to save on rental cars and accommodation. However, one should also definitely ask oneself whether one really wants this.
Iceland is a unique country and for most people, it's a once-in-a-lifetime experience. Those who try to save money in the wrong places will regret it later, so it's better to spend a few extra euros and possibly delay the trip for a few weeks, rather than end up frustrated.
The wrong rental car for Icelandic road conditions
While I was in Iceland for diving, we passed by the Yaris graveyard every morning on the way from Reykjavik to Silfra. During winter, there were sometimes more than 20 cars next to the road in deep snow. The vacationers in them often had to write off their cars for the rest of their trip because many of them couldn't be salvaged, and even if they could, the cost would be too high. Therefore, the cars often remained there until the snow melted and were then collected. One is tempted to write about an "expensive experience," but these cars are not there because the drivers were reckless. It was simply the weather conditions that got the best of them.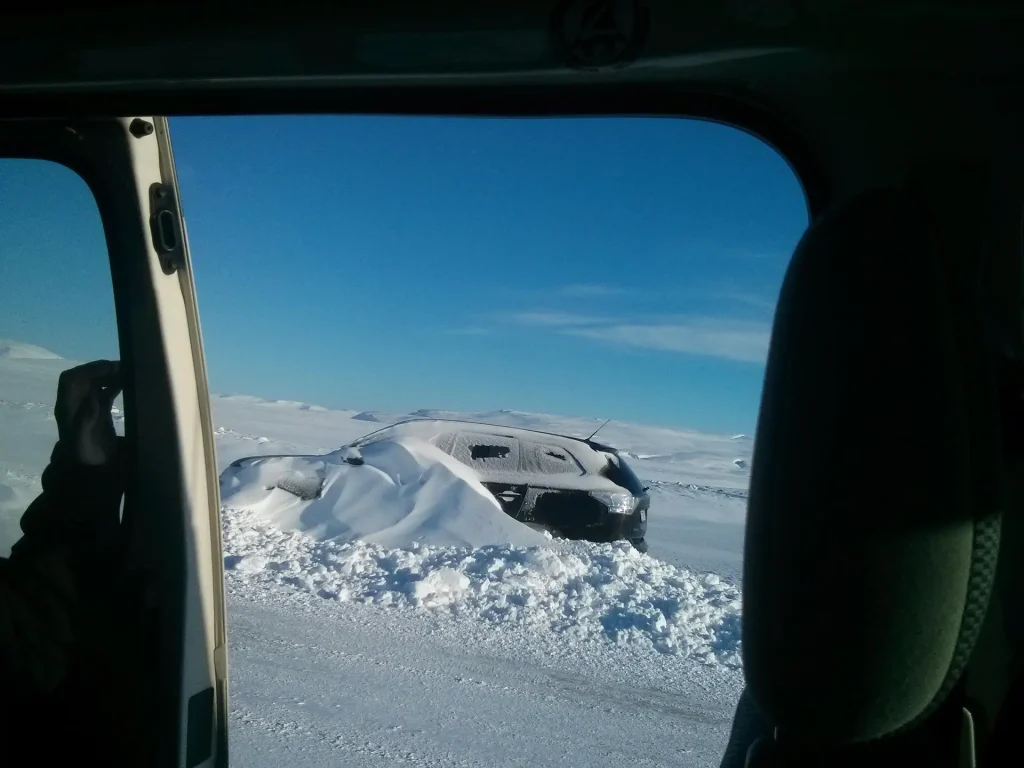 If you rent a car in Iceland in the depths of winter and opt out of all-wheel drive, you have to accept that the car may not be able to transport you safely on certain days. Ideally, you should leave it parked. This leads to frustration because you often had something specific in mind, and now you have to change your plans. My tips regarding rental cars for Iceland are:
Definitely rent an all-wheel drive vehicle with high ground clearance in winter. Most car rental companies offer Opel Captivas, which are sufficient for normal winter conditions, and if it gets worse, you should probably leave the car anyway.
In summer, you don't need all-wheel drive or an SUV or 4×4 unless you want to travel on F-roads. Small cars are often practical here. However, my favorite car for road trips in Iceland has always been a Chevrolet Cruze wagon simply because the driving comfort is pretty high. Ideal in summer, good until the first snowfall in winter.
The most important tip from my perspective: have an alternative plan and don't be sad if you have to use it. Sometimes the weather simply ruins your plans, and then you have to stay at home. Treat yourself to a walk or visit a museum. Enjoy some delicious food or go to one of the swimming pools.
Poor planning for self-guided day trips
Here, too, it almost always comes down to clothing and rental cars. For example, if you're planning a day trip to the north, you should know that the Ring Road passes through a few mountains here and there may be snow at higher elevations while the coast is still completely dry. If you want to travel in the south of Iceland, you should be aware that there are often heavy storms here and be prepared accordingly.
In my opinion, the most important thing is to carefully check the weather forecast and adjust your plans accordingly. It's also important, as always, to have alternatives and emergency plans: a warm blanket and a thermos of hot cocoa are never a bad companion on road trips in Iceland. Knowing where the next shelter is when you venture into remote areas is also important. Personally, I always feel a bit safer when I can be mobile online in Iceland, so I can get weather and road information at any time.
Good preparation can save you a lot of stress and occasionally even keep you out of tight situations. Our overview of tours in Iceland might be helpful in this regard. If you set out relaxed and can't be rattled by anything, you'll arrive relaxed too!
Club and party vacation in Reykjavik
Although Reykjavik has a nightlife, it is probably not comparable to other European capitals. Here, you mainly find pubs and bars, nice restaurants. You won't find a club like you might find in Berlin, Paris, or Stockholm in Reykjavik.
By the way, you can find a bar hopping tour with the most beautiful bars in the city and many other tours, information, and helpful functions in the Iceland app.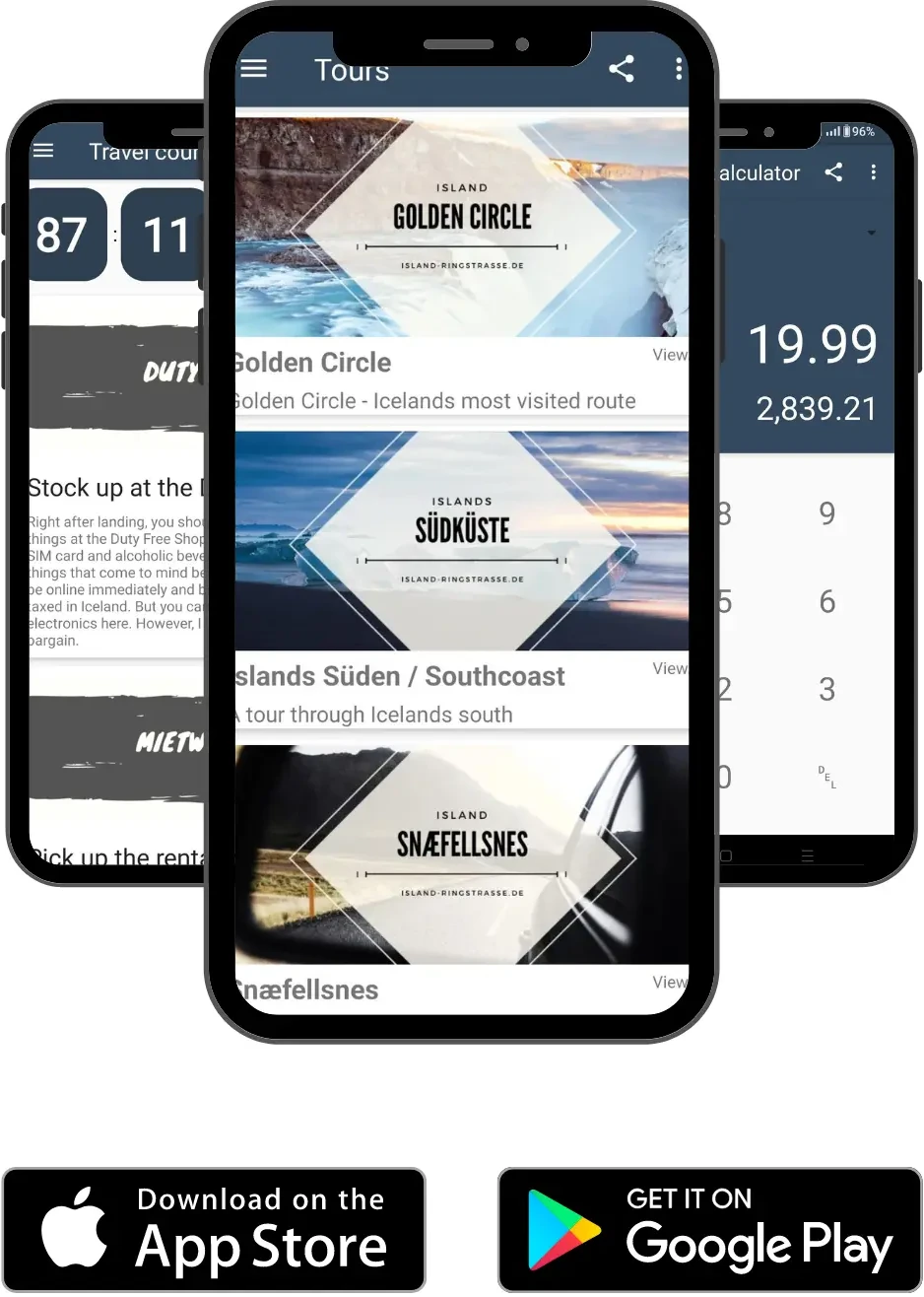 Those who want to spend a few nice evenings in Reykjavik will also find plenty of options here. However, those who come with the expectation of a party capital will be rather disappointed in my opinion.
Those who leave Reykjavik will be glad to find any opportunity to go out. In almost all small towns or villages, there is at most one pub and a snack bar. Often, the supermarket is connected to the local gas station, and there is often no dance floor in the accommodations 😉
Overwhelmed by (other) tourists
Especially from die-hard Iceland fans, returning visitors, and long-term travellers, I have heard this point the most in recent weeks: there are too many tourists around. Often, at the well-known hot spots, you see so many cars, campers, and buses parked that you don't even want to get out. I felt this way for the first time when I was at the Blue Lagoon. For me, it's the epitome of the excessive tourism in Iceland, and I never tire of discouraging people from visiting it. It certainly has its justification for existence, provides jobs for many Icelanders, and is also a great place. However, it doesn't represent what Iceland means to me, which is why I don't think you're missing out if you don't go there.
It's different with places like the Strokkur Geysir: it's a must-see in Iceland for me, and everyone who flies to Iceland should come here. Tours along the Golden Circle are very popular with tourists, whether it's during a stopover or a normal 1-2 week trip to Iceland. However, the numbers of tourists have become so large here too that you quickly lose the feeling of being somewhere special. For me, it's not the same when 200 people are making noise next to me while I'm watching a natural spectacle, and I enjoy driving along a coast much more when I have only one passenger instead of 20.
Those who consider this important are well advised to increase their budget somewhat and rent their own car instead of taking bus tours and come in the off-season instead of the high season. From October, tourism calms down noticeably, and until April, you have a bit more peace on the island.
You can also consciously choose destinations that are a bit off the tourist trail. Those who prefer to go to Myvatn instead of the Blue Lagoon will be pleasantly surprised. Those who prefer to dive in Davidsgja or Strytan instead of Silfra will also be rewarded with a bit more peace. Those who prefer to swim in a geothermal river rather than a city pool don't have to travel far and will also surely not be disappointed!
And those who really want peace and quiet can go to the Westfjords or the Westman Islands. Pro-tip!
Seeing Whales and Northern Lights on an Iceland trip
Again and again, I read these questions in forums: I want to see whales and Northern Lights, when do I have to travel to Iceland for that?
Well, that would really be the best time to visit Iceland. A time when the probability of seeing both is high, or higher than usual. Unfortunately, the probability of seeing both is mutually exclusive: while the best time for Northern Lights is in winter, from October to April, the whales, especially on the west coast, are most likely to be seen in summer, from May to September.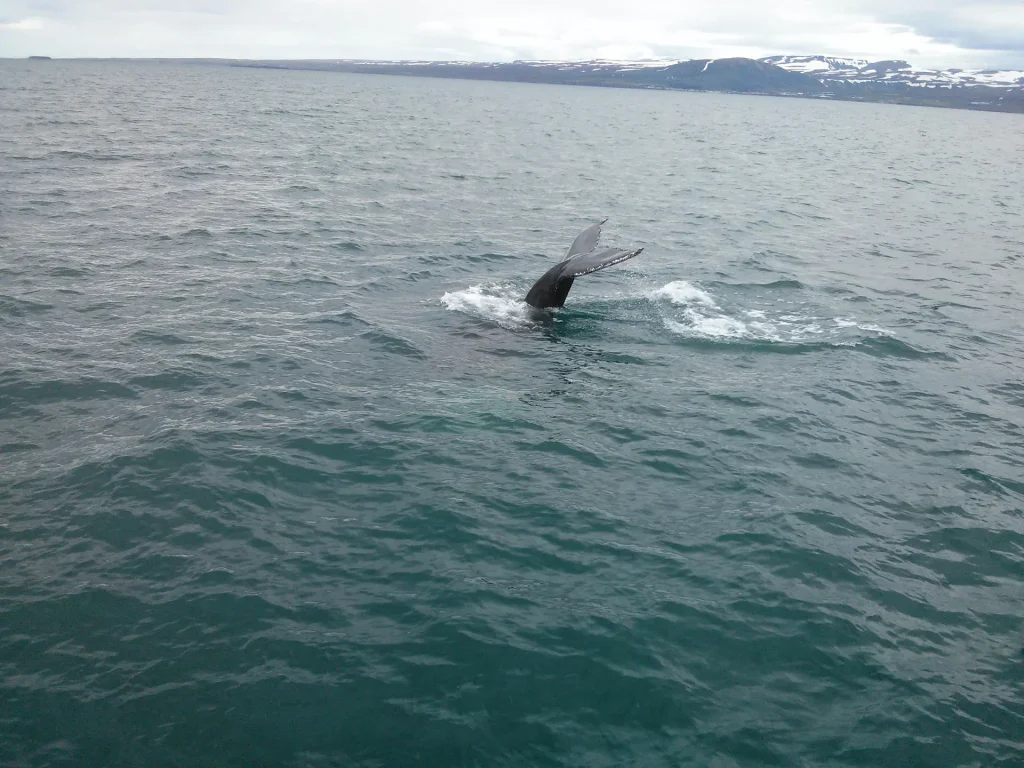 I don't want to say that it's impossible to see both on one trip, but I also wouldn't advise anyone to try. I think it's much more sensible to choose one and then optimize the travel time accordingly or come twice. Anyone who tries to save costs here or simply relies too much on their luck could be frustrated afterwards because neither worked out.
Accidents in the roundabout because no one explained to you how it works here!
They don't tell you this when you pick up your rental car in Iceland, but: in Iceland, the inner lane in the roundabout always has the right of way!
So please take a quick look to the left at each exit to see if anyone wants to get out!
Conclusion
Preparation is key to an Iceland trip. Those who prepare well and travel to Iceland with the right expectations will certainly not be disappointed!
We can help you with your preparation, both with the Iceland e-book and the Iceland app. In the book, you can read everything about Iceland, compactly summarized and for taking with you. In the app, you will find tours with audio commentary, many great sights, and helpful features for your trip!
How was your Iceland vacation? Did anything bother/frustrate you, and how did you deal with it?
I look forward to your comments!