Jökulsárlón, the glacial lagoon in the southeast of Iceland, is probably the most famous tourist attraction in the country and the highlight of many visitors' trips. The journey by car along the Ring Road takes just under five hours, a little longer by bus. The trip takes you past many waterfalls, old farms, and beautiful towns, to a magical place. There is a lot to see, discover, and learn here. In the following article, I would like to give you a comprehensive overview of Jökulsárlón so that you can plan your visit optimally and have lots of fun on site.
To help you with this, we have created a tour around Jökulsárlón in the Iceland App. We explain much of what is described in this article as audio commentary, acting as your personal tour guide on site!
Let's get started…
Jökulsárlón in Iceland: What is a glacier lagoon?
A glacier lagoon, or more precisely, a glacial lake, forms when a glacier begins to melt. Up until this point, it has typically carved its way into the land, for example, because it grew during an ice age. In doing so, it pushes rock and sediment ahead of it, which sometimes grows into a type of dam or dike. In the case of melting, these moraines then serve as a natural boundary and dam the resulting meltwater. A lake is formed. The water usually comes not only from the melting glacier but also from rain and groundwater.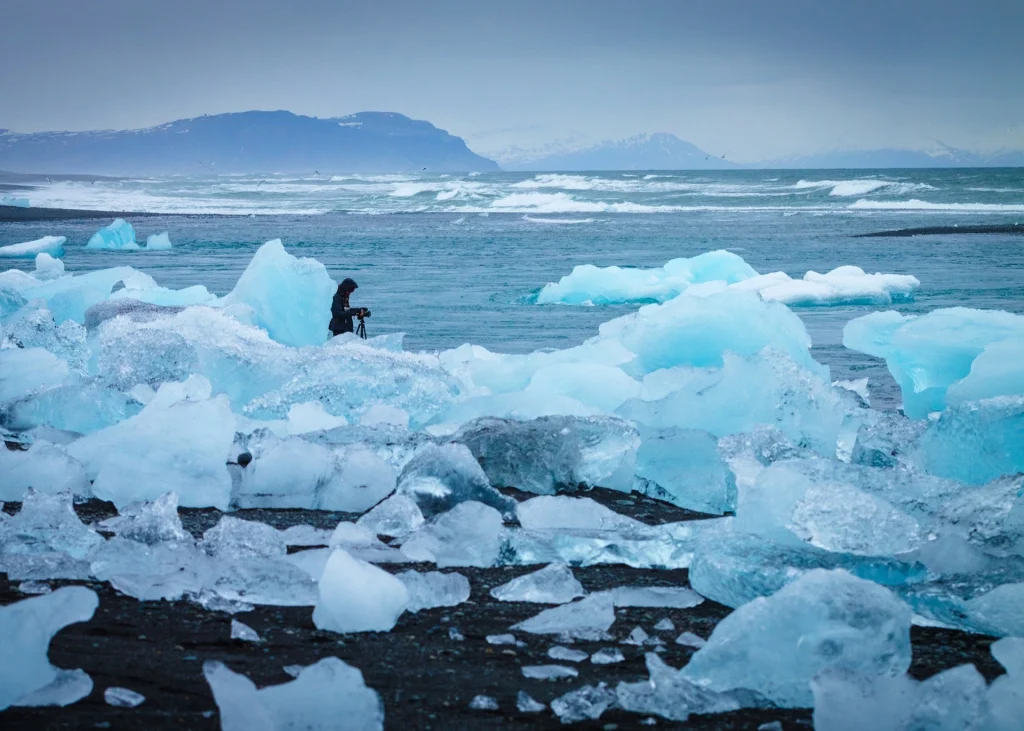 In our regions, we know these bodies of water from the Alps, where there are many small and large glacier lakes.
The glacier lagoon of Jökulsárlón was formed in the early years of the last century, around 1900. During a small ice age between 1600 and 1900, the glacier gained several kilometers of space, but from the 1920s onwards, it retreated massively. The glacier moraines that had formed until then shaped the lagoon as we know it today. The rapidly melting water filled it up, and the icebergs that broke off in rows during the melting process found a nice place in the lake for their last days.
The dimensions of the icebergs, the lake, and the – today hardly visible – glacier are enormous. As you may know, with icebergs in the sea, the vast majority is invisible below the water's surface. It seems to be similar with glaciers. Did you know that the lake is over 240 meters deep at its deepest point? That means that the glacier ice once towered up to this height and displaced the earth masses. It is almost three times as high as the Hallgrímskirkja in Reykjavík!
The icebergs floating in the water can reach a height of 30 meters and more, and due to the rapid melting of the glacier tongue, it can be assumed that there will be a few new records here. The glacier regularly calves, which means icebergs break off, and it shrinks as it enlarges the lagoon.
While in the 1970s, the lagoon was still manageable in size, at about 8 square kilometers, today, with its 23 square kilometers, it has grown into a gigantic body of water. Over the years, scientists have suspected the formation of a fjord. Jökulsárlón itself is several meters below the surface of the Atlantic, and with a slowly rising sea level, it is only a matter of time before the lagoon connects completely with the sea. Although this will probably take a while, people are already thinking about how to deal with this change because the nearby Ring Road is directly affected.
Jökulsárlón Boat Tours: What to Expect?
Numerous tours are offered for Jökulsárlón, from day tours to multi-day trips around the glacier lagoon. Those exploring Iceland on their own with a rental car can put together their own program. Alternatively, those who prefer guided tours can choose from a wide range of options.
Here, I would like to introduce a few tours that I have received good feedback from readers or friends in Iceland. The classic is the simple boat tour, most likely suitable for those traveling by car or with a bus pass. As an alternative to the boat, there is the Zodiac tour, which uses inflatable boats with outboard motors. These small boats are faster, more agile, and smaller, allowing visitors to maneuver between large icebergs.
For those who prefer guided tours because they are traveling alone in Iceland, a day tour with a boat ride is available. Everything is included, and although the journey is long, you are fortunately not driving yourself. For those who want to take a little more time, which I highly recommend, a 2-day tour with a glacier hike and boat tour should be booked. This allows plenty of time for the great waterfalls on the south coast of Iceland, such as Seljalandsfoss and Skógafoss. During the glacier hike, visitors can learn about where the lake originates and much more.
Amphibious vehicle/boat or Zodiac in Jökulsárlón?
There are two different vehicles on the glacier lake, each with its advantages and disadvantages. The normal boat is probably the most comfortable option, but the amphibious vehicle is relatively large and therefore sits quietly on the water. You only need a life jacket and can immediately step onto the boat, which then slowly and carefully drives into the icy water. Due to their size, these boats cannot penetrate all corners and crevices of the lagoon and therefore mostly remain in the front area. The small Zodiacs, or inflatable boats, are more agile and can explore even the remotest corners of the water. They can also get much closer to the icebergs. However, due to their small size, the Zodiacs are more susceptible to waves and are less stable on the water. You have to wear a waterproof suit (provided) since splashing water is almost unavoidable. Therefore, the Zodiac tours are slightly more expensive.
Personally, I would recommend the Zodiac tour and would book it myself, but only if you are comfortable on the water and adventurous. Otherwise, the boat tour is more pleasant and enjoyable!
Wildlife at Jökulsárlón: Seals at the Glacier Lagoon
I usually use the phrase "flora and fauna," but there are no flowers growing here!
However, a few seals have made the lagoon their home and apparently feel very comfortable here. You often see the small and large fur-bearers briefly emerge and immediately dive back down. Sometimes they lazily lie on the floating ice floes.
When it is stormy, fish are sometimes washed into the lagoon, and then the coastal seagulls have a great time catching a few treats. The birds nest in the surrounding areas, so be careful when walking around here.
Otherwise, it is rather quiet in this part of Iceland, and not many animals live in this region.
Diamond Beach: Jökulsárlón's Black Beach with Diamond Embellishments
Directly across from the glacier lagoon, on the other side of the Ring Road, is the Diamond Beach. It is reminiscent of the black beach in Vík, as the sand also shimmers in the darkest of colors. The icebergs that have become small enough to pass through the narrow passage may drift out into the Atlantic, but they are regularly washed back onto the beach where they often remain.
The contrast of this dark ground and the sometimes perfectly clear ice blocks is unique and often allows for breathtaking photos to be taken. Playing with dimensions can make ice cubes look meters high or humans appear tiny. Anyone who comes to Jökulsárlón must also explore the Diamond Beach.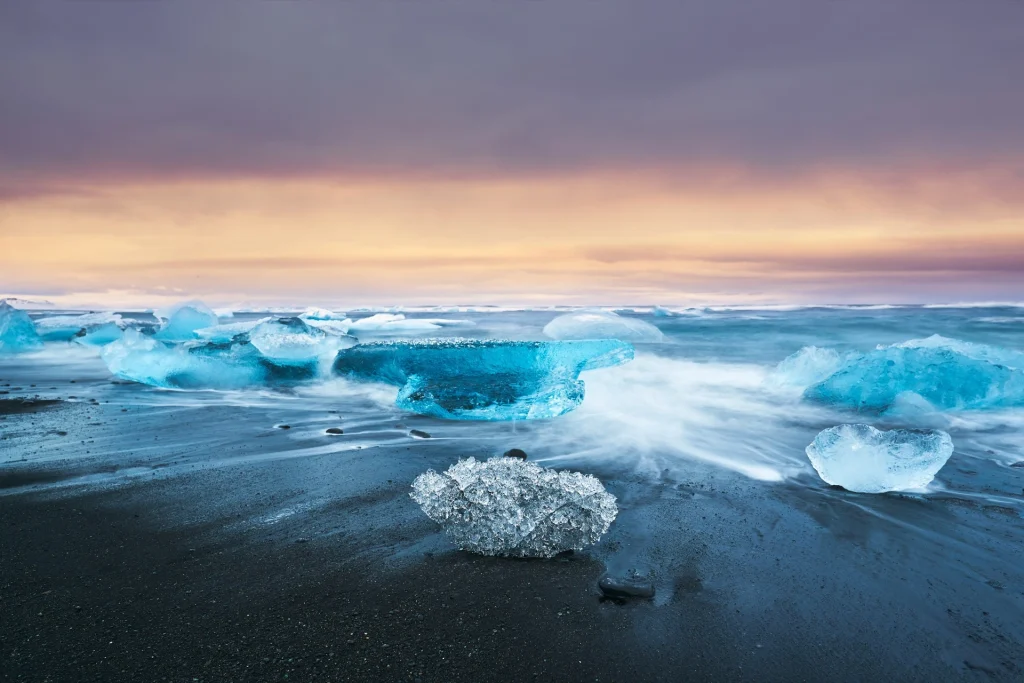 Visit Jökulsárlón in winter or summer?
You don't have to reschedule your trip to Iceland based on Jökulsárlón: it is a place worth visiting in both winter and summer, and there are no restrictions. However, I recommend spring or summer as the ideal time to visit.
During the warm season, you can enjoy some advantages due to the location of the glacier lagoon. Due to its nearly 5-hour distance from the capital city of Reykjavik, Jökulsárlón is not exactly nearby. A trip here can be exhausting even on the best of days, whether in your own car or by bus. Those who come here in winter often have to deal with snow and storms, which can be extremely unpleasant on a journey that takes up 80% of your day. In the worst case, you may not see anything at all and miss the scenic route.
Therefore, if you are visiting Jökulsárlón for the first time, I do not recommend coming in winter. However, for those who have been here before and want to experience Jökulsárlón again, winter can be a great addition to the already gained impressions: in winter, the lagoon is less agitated and quieter. This is not only because there are fewer visitors, but also because the cold temperatures slow down the calving of icebergs.
What brought James Bond to Jökulsárlón?
…or Lara Croft and especially Batman?
Hollywood has discovered the glacier lagoon and film producers have rented the area several times for filming. James Bond actor Roger Moore was the first to come here to shoot scenes for the film "A View to a Kill". Pierce Brosnan came shortly thereafter and played his role in "Die Another Day". Lara Croft, played by Angelina Jolie, was drawn to the icebergs in her search for the "Cradle of Life". Christian Bale came here in his Batman suit to cinematically tell the story of "Batman Begins".
These gigs were very important for the owners of the land around the lagoon, as they brought in important funds for the preservation of the infrastructure. While the influx of tourists has made it financially somewhat easier to maintain, the challenges of preservation have also grown.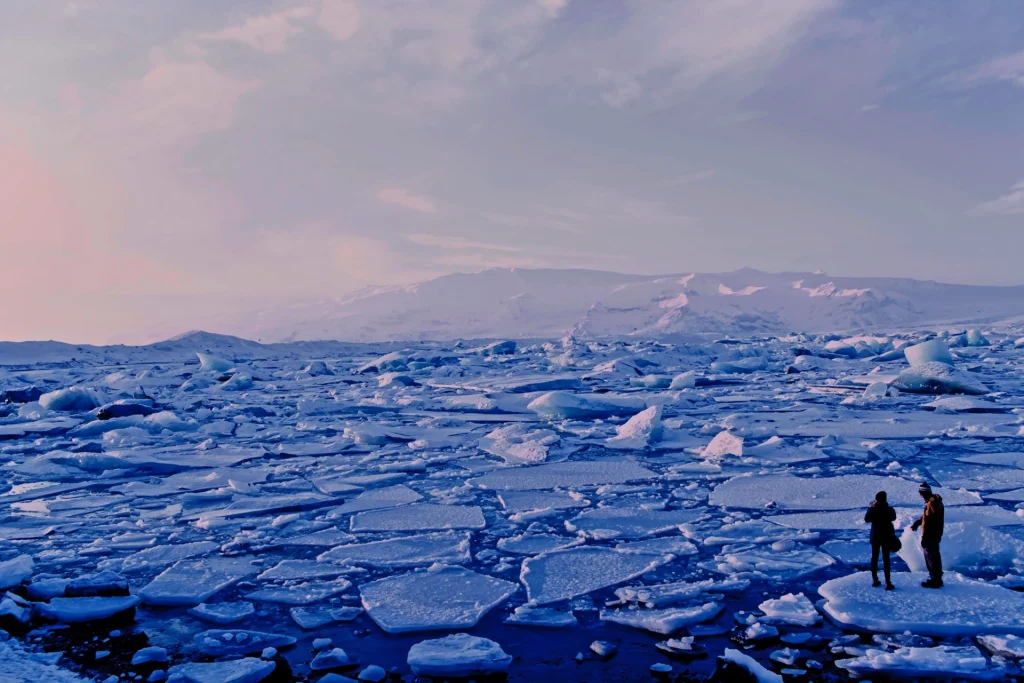 Staying near Jökulsárlón: Hotel, Hostel, or Camping?
At this point, I would like to briefly mention the Iceland app, which I used to research these accommodations: In the app, you can display the closest hotels, supermarkets, gas stations, and many attractions in Iceland for each location, and for bus travelers, also bus stops and campsites.
There is no camping site directly at Jökulsárlón, but there is one to the left and one to the right: In Skaftafell, you can camp from May to the end of September, and in Höfn, from mid-April to the end of September. Both have good reviews on various travel portals and are about a half-hour drive from Jökulsárlón.
If you prefer a more homely atmosphere, you can find accommodations on Airbnb, with most located in Höfn.
The hotel closest to Jökulsárlón is the Hali Country Hotel. Slightly west of the lagoon is the Fosshotel Glacier Lagoon, directly at the Skaftafell National Park. There are many other hotels, guesthouses, and hostels in the towns of Hof and Höfn. I would be happy if you leave me a comment recommending one of them!
Staying overnight here makes sense, especially if you want to see the lagoon in the evening or morning light. The most impressive photos are taken at sunrise or sunset, and then a long journey is less likely. If you don't want to do that, you can save a few euros by choosing accommodations that are a little further away and therefore have less "tourist tax" included in the price. 😉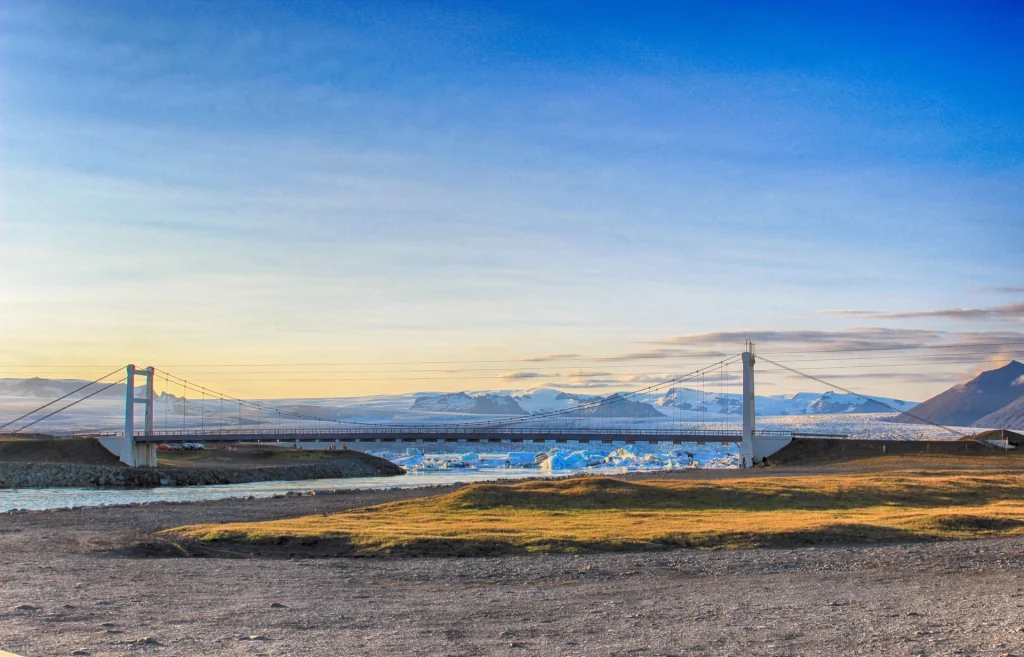 Fjallsárlón and Heinabergslón – Other glacier lagoons in Iceland
Jökulsárlón is popular. So popular that it is overcrowded during the high season. Large numbers of visitors crowd the parking lot, and the boats are packed to the last seat and booked weeks in advance. An alternative is needed, and there are even two. The slightly smaller and less well-known glacier lakes Fjallsárlón and Heinabergslón are not far from Jökulsárlón, but far enough to be able to hide a bit from the many people there.
It should be noted that these are touristically undeveloped areas. This means that there are fewer tourists, but also that those who are here have a great responsibility: I'll just mention the Icelandic oath here and hope you read the words and help preserve these wonders of nature for everyone. In winter, these lakes are often frozen, so a visit in the summer is more worthwhile, depending on what you want to see/experience.
Private ownership? That was before, today Jökulsárlón belongs to all Icelanders!
In November 2016, Iceland exercised its preemptive right and acquired the land on which the glacier lagoon is located. In 2017, it was finally declared a nature reserve and incorporated into Vatnajökull National Park.
We think this is a good and important step in the right direction. It ensures that the interests of preservation are (largely) prioritized over financial exploitation. Of course, the government also needs to make money, and visiting the lagoon may soon become more expensive in some form, but this will be limited, and Icelanders now have a say in these matters through their democratically elected government.
By the way, the area cost 12 million euros, and the investors who wanted to buy the land have already filed a lawsuit. So the interest in the lagoon is extremely high not only among visitors 😉
On the following map, I have marked all the places mentioned in the article and a few more so that you can better orient yourself before and during your trip.
Conclusion on Jökulsárlón: Worth a visit!
Wow, that was a lot of information about the lagoon. I hope it helps you plan your trip and/or navigate the area!
The Iceland App is an ideal companion: not only will I guide you on the Jökulsárlón tour and provide you with important information, but you can also use the app to display nearby places of interest. Many other useful features, such as a currency converter and a northern lights tracker, are the perfect tools for your Iceland trip!
A visit to the glacier lagoon is definitely worth it. If you haven't been here yet, you've missed something. We have also presented a few alternatives, and I hope this helps everyone who is interested.
Please write a few words about this wonderful place in the comments: When were you here, and how was it? Will you come back? Do you have anything else to add?
We always appreciate comments and wish you a lot of fun in Iceland!
(All pictures from Unsplash)