Landmannalaugar is a popular region in Iceland's highlands, known for its unique landscapes and magnificent colors, and is often visited by nature enthusiasts. As the name suggests, there are also hot springs in the area, which are among the most remote in the entire country. Getting there is not possible with a regular rental car; even an all-wheel-drive vehicle must meet certain requirements, and depending on the route, you may even have to cross a river. Fortunately, guided tours are available with experienced guides. Once on site, the area is a paradise for hikers and nature lovers.
In the following, we will summarize everything you need to know about Landmannalaugar, so you can prepare perfectly for your trip there. Let's get started…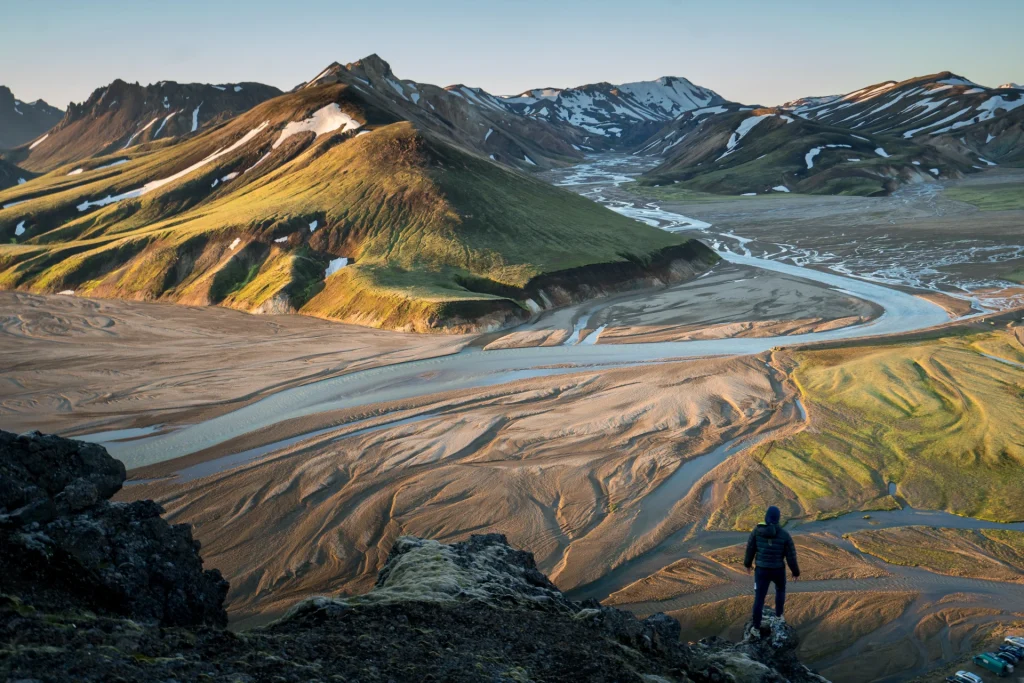 Getting to Landmannalaugar by Car: Directions and Map
The access road to Landmannalaugar is the F208, which is reached by the F225 from the west, the F208 from the north, and the F235 from the east. Anyone who has already dealt with driving in Iceland knows that F-roads are not passable with regular vehicles; an all-wheel-drive vehicle is mandatory. Car rental companies have very strict rules, and those who do not adhere to them not only put themselves and others at risk but also risk high contract penalties and fines.
The driving time from Reykjavík to Landmannalaugar is between 3 and 4 hours, depending on how well you get through, and the weather conditions. In bad weather, such as rain or fog, visibility may be poor. In winter, the highland roads are closed, so there is no need to worry about snow. However, in the fall, there is another problem up here: the water collects in the rivers and makes them bigger. As you have to cross a river to get to the main square, you should either know exactly what you are doing or visit one of the parking lots beforehand and walk from there to the main square.
In the following video, you can see a river crossing under good conditions:
If you are now discouraged: renting a car is not the only option for traveling to Landmannalaugar. Various companies offer tours to and through Landmannalaugar, whether by bus, super jeep, or even on horseback.
For those who have little time but still want to see the highlands, a guided day tour to Landmannalaugar is recommended. You will be taken to the highlands in a large jeep (super jeep), and the guide will show you the most beautiful spots and tell you about the surroundings.
If you are good on foot, you can't go wrong with a guided hiking tour in Landmannalaugar. The tour is similar to the one above, but you will have an additional 2-3 hours on site for hiking and exploring. It's a really long day, because even if you spend a lot of it in the car, you will be pretty tired after 14-15 hours.
Eldhestar offers multi-day horseback riding tours to and around Landmannalaugar. The company specializes in horseback riding tours in Iceland and offers many other horse tours in Iceland, in addition to riding tours to Landmannalaugar.
Hiking in Landmannalaugar
Many people come here because of the unique nature in Landmannalaugar, and what better way to experience it than by hiking. Those who explore the area on foot can gather incredible impressions and absorb the entire diversity of Icelandic nature.
There are various routes available for this purpose. There are both hiking maps and trekking books for Landmannalaugar. I always like to use the GPSies service when hiking, where you can search for hiking routes and upload your own, and you can find over 30 routes for your planning in Landmannalaugar alone. Please note that these routes were set by users and are usually not verified. Therefore, one should not rely blindly on them and use them at best as inspiration for one's own planning.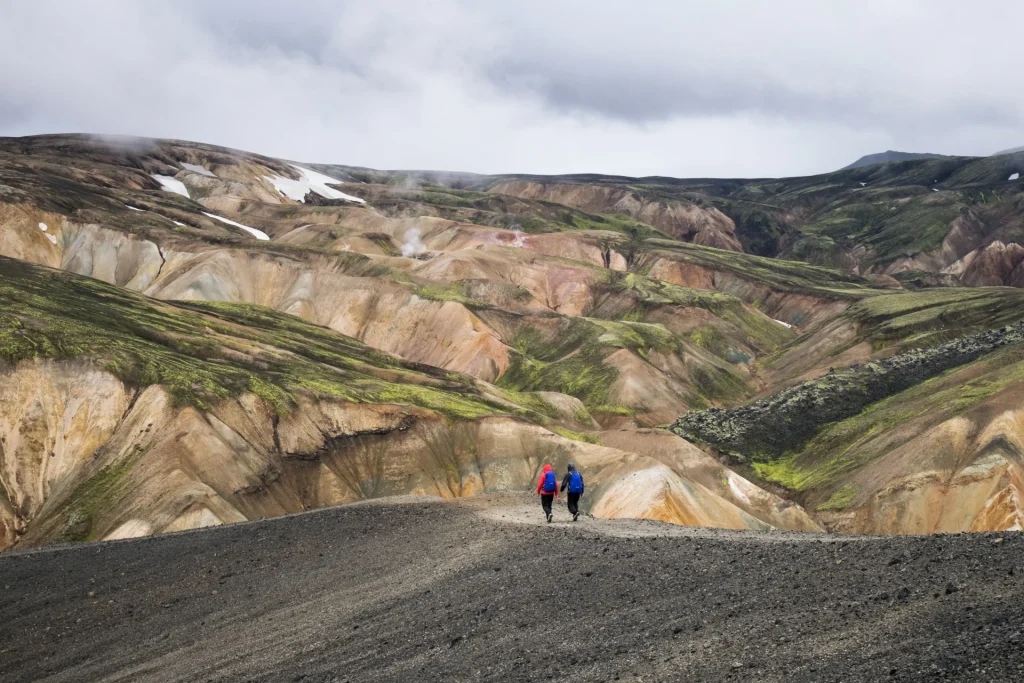 Laugavegur: The hiking trail from Landmannalaugar to Þórsmörk
The most famous hiking trail in Iceland is probably the Laugavegur. Translated as "path of the hot springs," it may derive its name from the fact that it passes by many hot springs. The trail runs over a distance of 50km from Landmannalaugar southwards towards the coast, where it ends directly at the Skógafoss waterfall.
Depending on the pace, one can hike the trail in 3-5 days. Along the way, there are huts at regular intervals of about 12-13km that are well equipped. There are kitchens with all kinds of utensils that you can use. Those who want to stay here overnight have to pay around 60€ per night and book in advance. Since there is basically no low season, it is always advisable to book well in advance, as the huts have only limited sleeping accommodations.
Of course, camping is also allowed, but only at the designated campsites next to the huts to protect the fragile nature. It is advisable to stick to the designated and well-marked trail or to set up your tent only at the campsites next to the huts.
In the Iceland app, you will not only find an overview of campsites but soon also a guided tour of the Laugavegur, where I will present everything worth knowing about the hiking trail, the area, and much more via audio commentary.
As of my last information, there is still no mobile phone reception along the Laugavegur trail. Therefore, while it is recommended to bring your phone, you probably won't be able to do much more than take photos along the way. Unfortunately, an Icelandic SIM card will not help in this case.
Accommodation in Landmannalaugar: Camping & Huts
This will be a short chapter: In Landmannalaugar, you have the choice between the hut and the campsite next to the hut. Those looking for hotels, hostels, or AirBNBs on the map will be disappointed; there is no alternative to the huts with their adjacent campsites.
Along the Laugavegur hiking trail, there are a total of ten huts with sleeping facilities and nearby campsites. Below is a rough overview of the huts:
Laugavegur Hut #1: Landmannalaugar
This hut is the starting point, and here you have the last opportunity to get electricity and food. On the grounds, there are two old buses, one is the info center, and the other is a small store where you can stock up on the essentials for your journey. By the way, you can drink water from the streams.
Laugavegur Hut #2: Hraftinnusker
Laugavegur Hut #3: Álftavatn
This hut is located at the lake of the same name, Álftavatn. There are a total of three huts and a huge campsite overlooking the lake.
Laugavegur Hut #4: Hvanngil
Here, two huts are available, as well as a small campsite. If you're early enough, you can set up your tent protected from the wind.
Laugavegur Hut #5: Emstrur
Several large huts, toilets and showers, as well as electricity from solar panels are available here. Free of charge, you also get an incredible view!
Laugavegur Hut #6: Fremri
Space for about 25 people and more than half of the way is done.
Laugavegur Hut #7: Langidalur
Several small and large huts, electricity from solar panels, and located directly by the water.
Laugavegur Hut #8: Básar
It looks a bit like a forest here, with many tall bushes surrounding the small houses.
Laugavegur Hut #9: Fimmvörðuháls
A single, small but fine hut with breathtaking panoramic views!
Laugavegur Hut #10: Baldvínskáli
The triangular sheet metal huts stand on a gravel field directly next to a small river.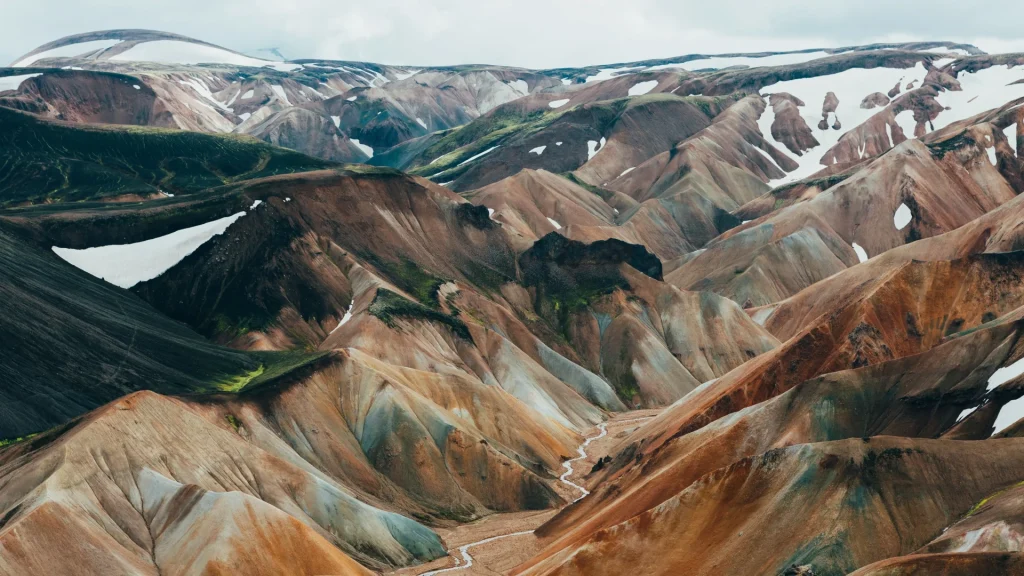 All cabins are equipped with cooking facilities and are located directly on the trail, so you can't miss them. Please do not pitch your tent off the trail and try to stay on the guided route as much as possible: the nature here is fragile and sometimes takes decades to regenerate. With the number of tourists these days, it doesn't have that time, and irreparable long-term damage is being done if you don't follow these guidelines. The Icelandic Pledge also helps to become a sustainable tourist.
Sights and Tips for Landmannalaugar
What makes Landmannalaugar special are its sights, and the area has plenty of them. In addition to the landscape itself, the valleys and hills and their magnificent colors, there are also hot springs, geothermal areas, and lakes.
Ljótipollur is a crater lake located slightly north of Landmannalaugar. It was formed after a volcano explosion that created a depression where groundwater slowly accumulated. The groundwater had previously come into contact with hot magma, which triggered the explosions that led to the formation of the water body. Here, you can also go fishing for trout in the lake.
Another attraction near Landmannalaugar is the Saga Valley, or the area around Gjáin. You'll pass by it on your way to or from Landmannalaugar. It's one of the filming locations for Game of Thrones, and you'll quickly see why. The place is magically beautiful. Blooming landscapes, lush greenery, and many small waterfalls characterize the landscape and take your breath away! In 1104, the nearby Hekla volcano erupted and buried the Stöng settlement under ash and lava. Today, you can still see the ruins, which lie north of the river.
The Hekla volcano is located south of Gjáin and west of Landmannalaugar. Hekla stands for "hood," and that's why it must be called Hekla. It is the central volcano in a chain and is highly active. Large amounts of ash and lava have been released by Hekla in recent years, and it often boils in the volcano and its surrounding areas. Do not confuse it with Bárðarbunga, the latest volcanic eruption that has become active again in recent weeks! Hekla is well known beyond its borders, and some historians even argue that its eruptions are related to famines in ancient Egypt because they likely coincide in time. The high activity and relative proximity to the capital, Reykjavik, make Hekla a major uncertainty for the future.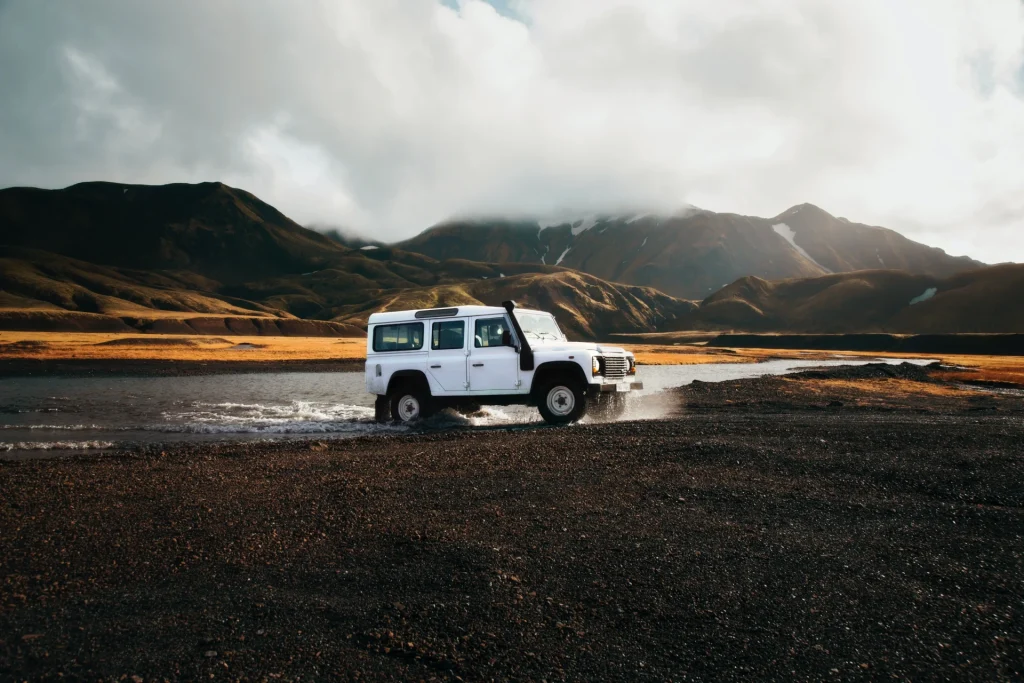 A small packing list for Landmannalaugar
The large packing list for Iceland already includes most of the necessary items, so here is a small daypack list for Landmannalaugar:
Guidebook
Hiking boots
Swimwear
Travel towel
Rainproof jacket
Sleeping bag
Tent
First aid kit
Extra battery/power bank (electricity is only available in the main camp and only when the generators are running)
I'm not an expert on packing for hiking, but I always pack minimally and have done well on hikes and bike rides. I wouldn't go without a first aid kit anymore: in 99% of cases, you won't need it, but that one time it can be more than helpful.
In terms of clothing, it is important to be rainproof. Jacket, pants, and shoes should be able to withstand a lot of water!
Hot springs in Landmannalaugar: bathing in the highlands
An absolute highlight in Landmannalaugar are the hot springs. Directly at the hut, slightly north of it, is Brennisteinsalda. The hot spring at the volcano of the same name supplies the small stream that you may have crossed when entering with hot water. The water is collected in the small basin that has been built and you can float along comfortably.
Another, much less well-known hot spring is Strútslaug. This is located 1-2 day hikes south of Landmannalaugar and can be reached by car (I don't think you can get all the way there) or on foot. The water here quickly turns brown because the fine substrate is easily stirred up. So please be careful when bathing here so that those who come after you will still find clean water. Right next door is an ice-cold river, so if you want to do something for your circulation, you can take a cold dip here.
Conclusion: Landmannalaugar, the gateway to the Icelandic Highlands
For those who want to experience the highland air, I can recommend Landmannalaugar because here you can get a good impression of the rugged nature in the heart of the country. There are even more remote places that you will find if you hike, for example, the Laugavegur trail. There are also remote places in the East and West Fjords, but they are not in the highlands.
In my opinion, those who travel to these lonely and original places in Iceland have a high responsibility to take care of them and nature in general. The Icelandic pledge is a good start for this. In addition, I will be publishing a few articles on sustainability in the coming weeks. To stay up to date, you can either subscribe to our newsletter or install the Iceland app.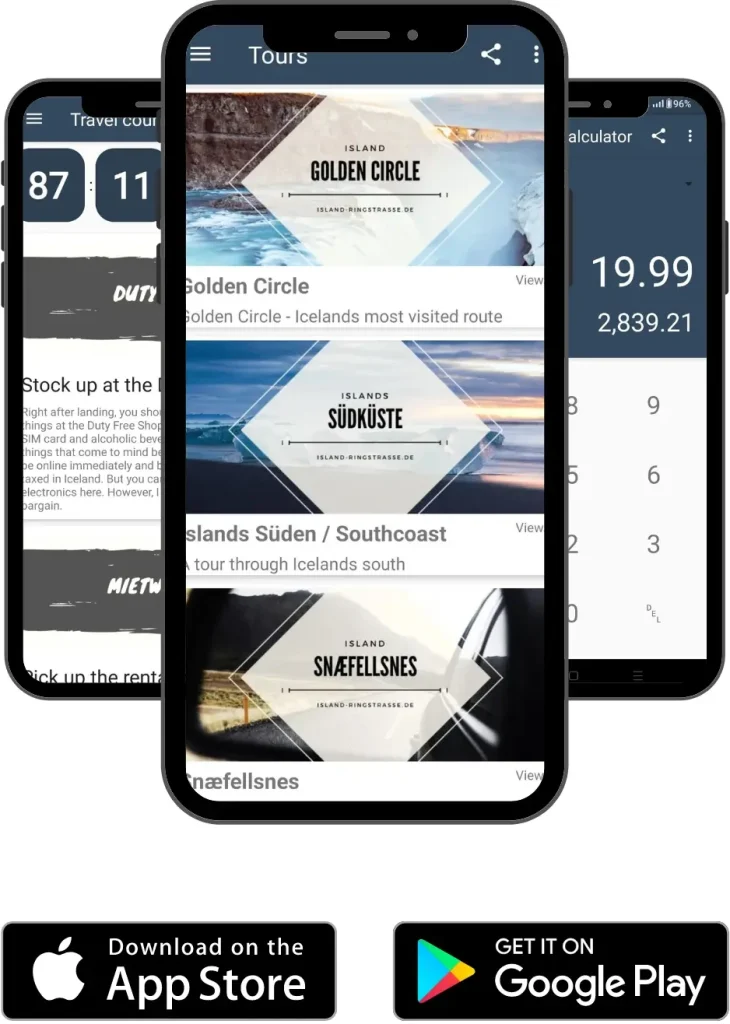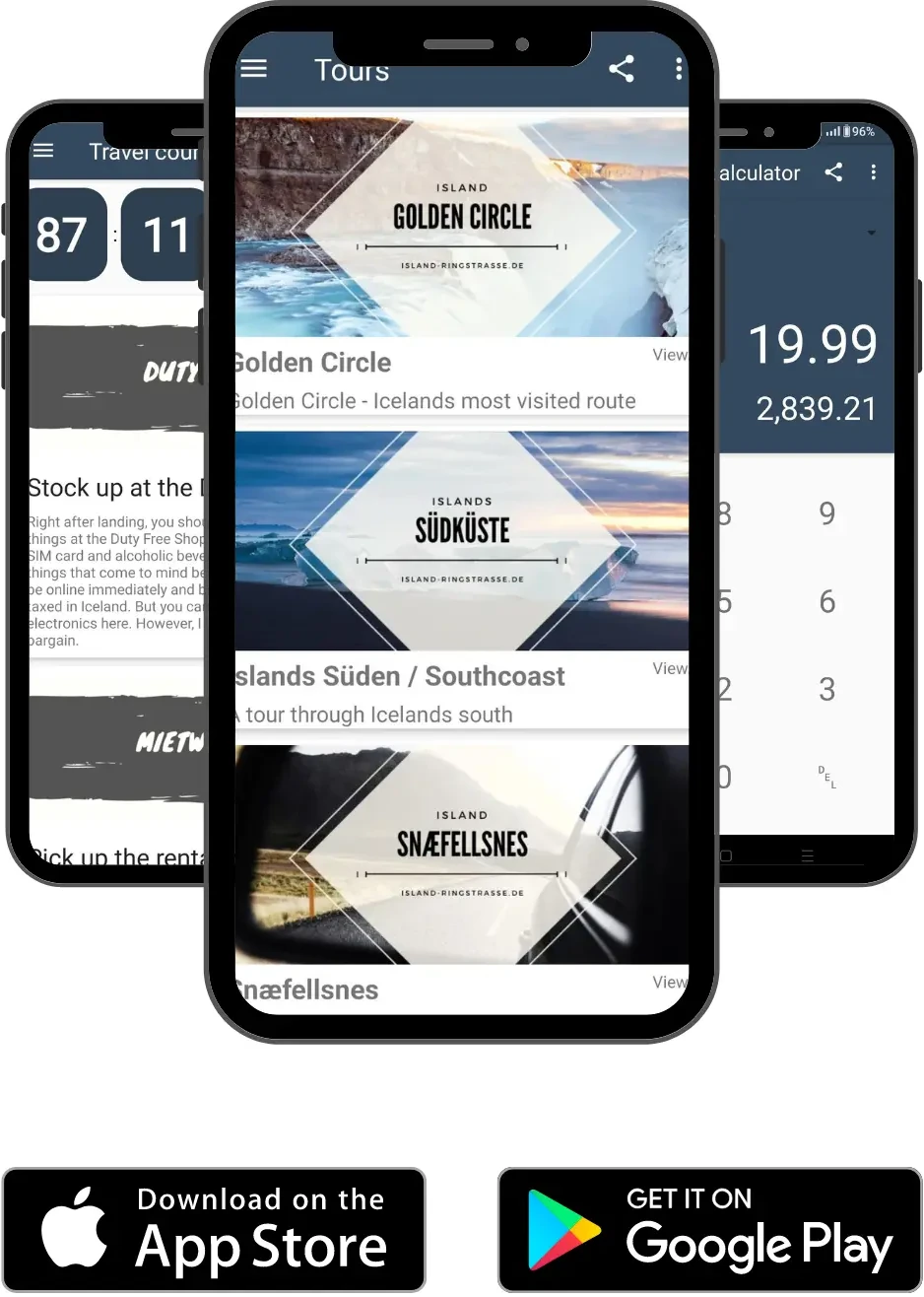 I wish you a lot of fun in Iceland and plenty of wanderlust!