Iceland has vast amounts of natural hot springs, pools and hotpots, swimming pools and spas. The geothermal activity in the country is so high, that most areas in the country can source the hot water directly from the ground and thus it's quite easy to supply pools with hot water as well.
In this article, we want to give you a comprehensive overview on the hot springs that you can find, how to find them and how to behave in them. Icelands nature is fragile and thus it's important to keep some things in mind so these beautiful places remain beautiful.
Let's go…
Bathing culture in Iceland and how to behave
Iceland has a very long and right tradition in bathing and hot potting. Centuries ago, the settlers met in the hot pools to take a dip in the warm waters and relax from the days hard work. A good time to talk about what happened throughout the day, discuss politics and the gods.
Some things never change, and meeting up in hot tubs to hang out and talk about this and that certainly belongs in that category. Everyday you will see hundreds of Icelanders flock to their local swimming pools or hotpots to meet the community and soak a bit together.
This means: This is relax-time! You won't see anyone jump into hotpots usually and you won't find them splashing water around. So unless someone starts a water fights, you probably shouldn't either.
Another thing that ist different here, from most places: The water is usually not chlorinated. That means, you should take a shower before you get in, so you don't drag in the day's sweat and dirt into the pool. Yes, you must get naked and you must use soap to shower, it's polite and actually expected.
Keeping these things in mind, just have a good time. This should be the time of the day to lean back and chill out.
How to find the best hot springs in Iceland? Is there an app with a map for that?
Spoiler alert: Of course there is an app for that!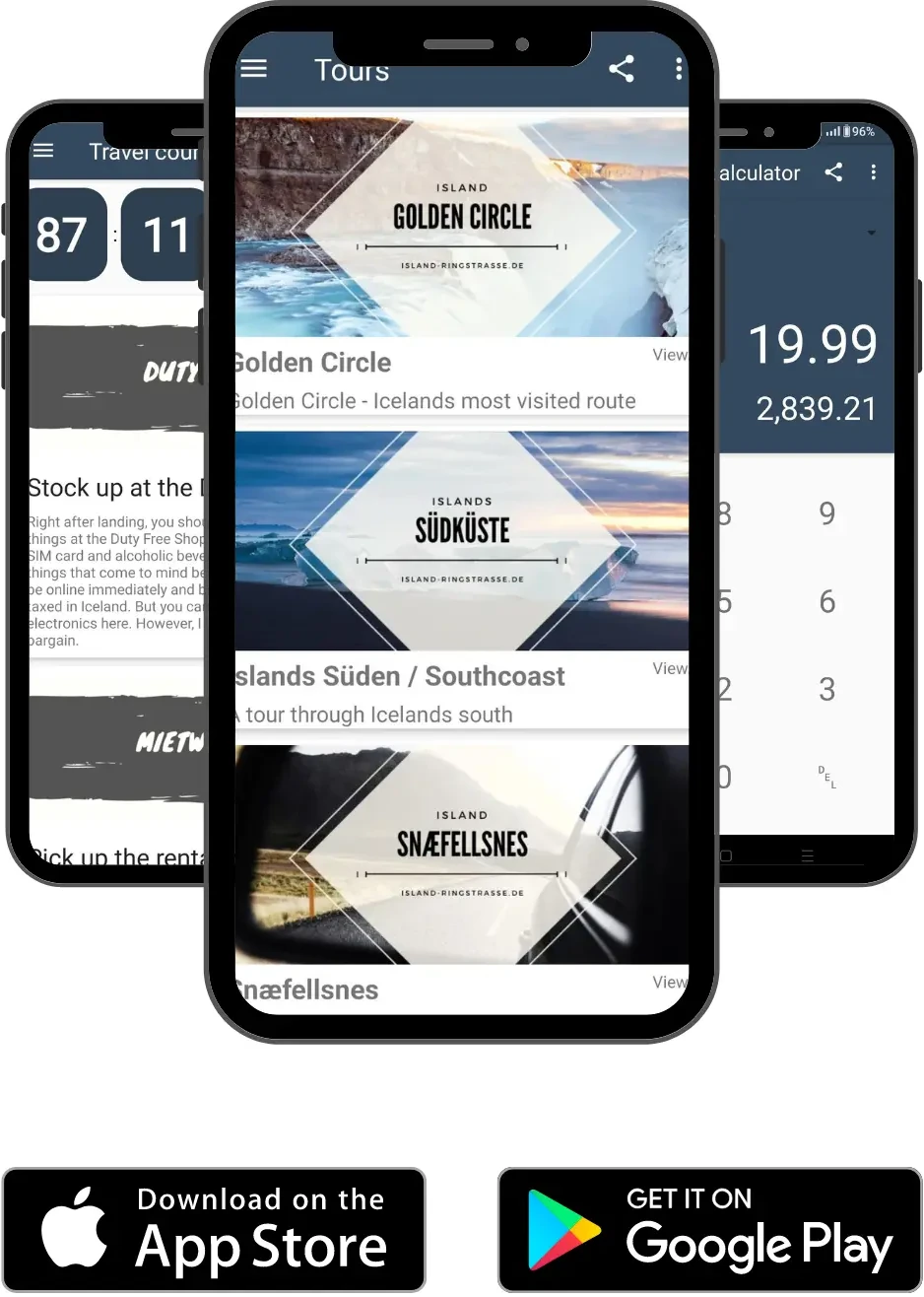 When I travelled in Iceland the first one or two times I actually thought how nice it would be, if there was a nice map with hot springs and other points of interest to navigate me through the country.
Since there wasn't one I decided to create one myself and I really, really hope you like it as much as I do. I used the Iceland App on my recent trips through Iceland pretty heavily and although there are still some features missing and some bugs in there: I loved it. This is very close to the app that I always wanted.
In regards to the hotpots: There is a tour that guides you to all of the hotpots that we know and there are some true gems in there. Tiny hot pots as well as spas and lagoons. Do not underestimate the 'normal' swimming pools in Iceland though, most of them are absolutely magical and well worth a visit!
Hot springs in Iceland
In this list of hot springs, we want to give you a proper overview of what kinds of pools are available, where they are located and what to expect from them.
You can find different sorts of swimming arrangements all over Iceland: Natural hotpots, man-made spas, regular swimming pools and even geothermally heated rivers! You can take your pick, depending on what you want to experience and where you're actually traveling.
So here's a list of our favorite hot springs in Iceland, let's dive right in…
The hot river of Reykjadalur in Iceland
Number one on the list and not without reason: The geothermally heated river in the mountains just above Hveragerði is an absolute gem in the long list of bathing places in Iceland.
You start out in the little town of Hveragerði, where you can get with your rental car or even with a bus. From there, you have to take a bit of a hike up the mountain into the Reykjadalur valley and it wouldn't be Iceland if that hike was in any way normal: You will walk right through a geothermal area and that means steam coming out of the ground everywhere around you, fumaroles and steaming hot mud pots, the smell of sulfur all around you and the feeling of being in another world. The area does not only have these amazing features but breathtaking views over the country in the south and waterfalls all along the path.
After about two hours of hiking, you arrive at a plateau and you can already see the wooden planks all around the little river. It is worth to take another quick hike to get to the top of the mountain, where you can enjoy the views and see the little waterfall that sources the river in which you can soak a little bit later.
A few meters down from the waterfall you will notice holes in the stone, spilling out boiling hot water which runs into the small river. The temperature varies a lot and you might jump up every now and then, because of a hot or cold swirl, but that's the joy of bathing in a hot river. Right?
A once in a lifetime adventure, that should be high up on your Iceland bucket list!
Icelands Blue Lagoon: The mother of all hotpots
The Blue Lagoon in Iceland is a place that, to most people, doesn't even need an introduction. The mother of all hot pots is located very close to the International airport in Keflavik which makes it perfect as a destination for stopover travelers, that need to kill a few hours while they wait for their connecting flight.
The Blue Lagoon is not a hot pot in the traditional sense, but more of a luxury spa that was built around the geothermal power plant right next to it. The hot water from the plant goes into the pools in the lagoon and is mixed with ocean water. The minerals and silicates in this mix have been found to have a goof effect on the skin. You can get mud masks, massages and many more treatments.
Among locals and tourists that want to avoid the tourist path there is a lot of discussion around the Blue Lagoon. In short: If you haven't been there and you like luxury and just want to relax: Don't listen to anyone and book a visit. Even though the place is usually quite crowded and not an insider tipp at all: It is still absolutely worth seeing and it is a people magnet for a reason!
The secret lagoon: More natural than it's Blue counterpart
If you want to see a natural Icelandic hotpot but are aware that most of them haven't been built to sustain the large amount of visitors Iceland is seeing today: The Secret Lagoon is for you.
This place is as natural as it gets, but has been built with large numbers of visitors in mind. The area around the pool is well built and you can get snacks and drinks here too. It is not nearly as fancy as its blue counterpart, but that's what you're looking for after all, right?
The Secret Lagoon is located about 20–30km south of Gullfoss waterfall, so not really on the route of the normal Golden Circle tour but the detour is not a big one either. The area features some geothermal elements and even has a small geyser to see.
Myvatn nature baths: Hot springs in the North
The northern counterpart to the south-western Blue Lagoon is definitely the Myvatn Nature Baths. This rather small spa is located in the Myvatn region, about 2 hours east of Akureyri.
They feel a bit more natural, a bit less fancy than the Blue Lagoon and have a little less space as well. But that's not a big problem, as the North sees a lot less tourists in general. You can take a bath in the two big pools, go for a steam bath or sauna as well.
In the area you will find lots and lots of nice landscapes, geothermal areas and waterfalls. There is a tourist route just like the Golden Circle in the South which is called the Diamond Circle.
Fontana spa: The hotpot on the Golden Circle
If you're on a tour of the Golden Circle to see Gullfoss, Geysir and Þingvellir you might want to pause for a bit some time during the day and there is one place that is quite perfect for that: The Fontana Spa is located directly next to the route of the Golden Circle which makes it perfect for a quick pit stop.
The opening times are from 11am to 10pm, so if you're lucky you just might see some northern lights while soaking in the hot water while you're in the highlands.
You can get lava bread in the cafeteria, which is bread that has been baked in the lava field right next to the baths over night. It has the texture and consistency of ginger bread.
Nauthólsvík, the geothermal beach of Reykjavik, Iceland
This used to be somewhat of a local thing but more and more tourists find they way to the geothermal beach of Nauthólsvík these days. This is where a lot of locals meet in the evening hours to spend an hour or so in the hot pot just to jump into the freezing ocean right next to it.
The experience is really quite fascinating and it helps you adjust to the temperatures and strengthen your immune system a lot. Especially in winter, when you have to walk through the snow to actually get to the water.
The place is quite cheap compared to other hot pots or pools in Reykjavík but is located a bit inconveniently if you're staying somewhere in the center of Reykjavík. If you have a car, it's not a problem at all and you might want to go there after visiting the Perlan Museum which is located just a few hundred meters away.
A map with the best hot springs of Iceland
In this map, we marked all the hot pots in Iceland that we know and that are publicly listed. Please keep in mind, that some or even most of the natural hot pots in Iceland were never meant to sustain the amount of visitors that they are seeing today. You should treat them very carefully and not leave any trash or other things lying around please!
Enjoy Iceland!