You want to travel to Iceland and not forget anything? Then the Iceland packing list is made for you. Especially because I made it just for you! 🙂
On the next pages, I want to put together a comprehensive packing list and give you tips and tricks for your trip to Iceland. Personally, I always like to travel with as little luggage as possible, so I will make the packing list flexible: everything is optional, nothing is mandatory. You can be inspired by it and pack everything that makes sense to you. I will mark the must-haves, and everything else you can pack as you wish.
Let's get started!
Packing List Part 1: Documents for Iceland
Documents that you absolutely need:
Your ID card or passport (best in a case)
A credit card (for example, Number26) or cash (can be exchanged at the airport but is more expensive than withdrawing from an ATM in kroner)
Documents that can be helpful:
Your flight reservation or ticket if you have already checked in online
Papers for your insurances (health insurance, travel insurance, etc.)
Phone number and address of your first accommodation in Iceland
Photos of your most important documents (passport, ID card, credit cards, insurance cards, etc.) on your PC/smartphone/cloud.
Documents that are fun:
A few weeks ago, I discovered this travel journal for Iceland, and I not only find it incredibly beautiful but also a great way to capture memories!
Packing List Part 2: The Right Clothing for Iceland
Clothing you absolutely need:
A good rain jacket for men/women
(You can also buy it in Iceland, e.g., at Cintamani)
Good functional underwear (think of the onion principle)
Good hiking boots (for women and men)
Gloves and hat
(These are actually often forgotten, but I think these things can be bought super in Iceland, e.g., at Icewear)
Swimming trunks or bikini
Here's a little pro tip: Gripfeet – studs to slip on for comfortable walking on ice! You can also buy them on-site and make winter walks more pleasant and safer.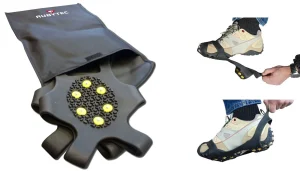 Clothing that can be helpful:
Backpacks, depending on the type of trip:
Daypack
Trekking backpack
Hiking backpack
(I've had a Deuter Alpin 30l for about 6 years and have used it for all my travels so far. Important to me are stable zippers and a built-in rain cover.)
For hand luggage travelers: compression bags. They help you save space and are very practical!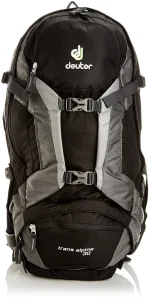 On the Iceland packing list: Deuter Trans Alpine – My travel backpack for Iceland
Deuter Trans Alpine – My travel backpack for Iceland
Don't panic!
EVERYTHING I've listed above can also be bought in Reykjavik if necessary. It's probably a bit more expensive there, but it's also a nice souvenir!
Packing List: Technology for Iceland
You don't necessarily need technology in Iceland, but here are a few practical gadgets that I always have with me when traveling:
To be able to use and charge my phone in the car, I always have a USB charger and a holder with me
A mobile WiFi router for UMTS or LTE (so I can share a local SIM card with friends)
A must-have for me: an external battery. You can charge your smartphone, WiFi router, or camera in case of emergency. It can really be a lifesaver!
For night owls: a headlamp
Always with me on my Iceland trips: My Kindle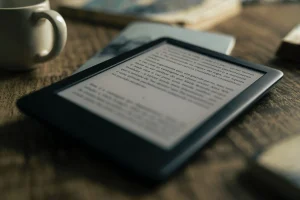 Other things for Iceland
I've learned a few things on my Iceland vacations, so here are some tips:
In winter: Hand cream (I became a big fan of Neutrogena because it absorbs quickly and leaves no residue)
Flip flops (No joke: if you've had to trek through the snow in Reykjadalur to get to a warm river in the winter, you know what I'm talking about)
For the flight: a Tempur sleep mask, and for those who like it quiet, I recommend noise-canceling headphones (blissfully quiet!)
Packing list for Iceland in summer
In summer, you need one thing above all else: layered clothing. While it can be windy and cold outside, it may be very warm in the car and many buildings. Being able to quickly add or remove layers can be helpful.
Sunglasses can be useful when driving in Iceland during the summer.
Depending on where you're sleeping, a sleep mask can help you deal with the early morning sun.
Packing list for Iceland in winter
Thick, warm clothing! In the winter, you can pack everything a level thicker and warmer: sweaters, socks, jackets, hats, and gloves. It gets cold, so be well prepared!
Even in winter, sunglasses can be extremely useful because the snow makes even a little sunlight very bright.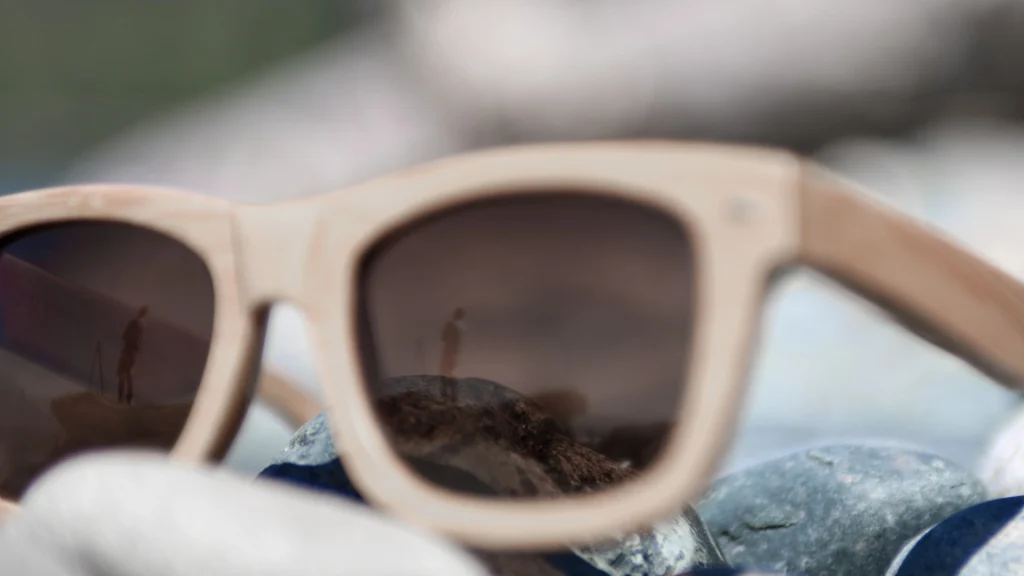 The Anti-Packing List: What you can leave at home
In researching this list, I looked at other packing lists and remembered why I never wanted to write one: I think most things are either common sense or nonsense.
I'm not going to write down that you should bring underwear, pajamas, or your razor. If you can book a flight to Iceland, you can figure that out for yourself… But here are a few things that aren't so obvious, are recommended, and, in my opinion, are just unnecessary baggage (I like to travel light):
Pajamas
(In my opinion, just extra luggage, better to bring an extra t-shirt and underwear and be done with it)
Hat/Cap
Argued as protection from rain. Meh.
Umbrella
I always carry a small travel umbrella in my backpack, but I've never opened it in Iceland because there's usually a strong wind blowing! Invest in proper rain-resistant clothing instead!
Sleeping bag
I wouldn't take one with me because I don't have the space. If you don't want to camp, you don't need one. However, I find this one to be quite practical…
Binoculars
I read this one repeatedly, but I don't understand it: I can only imagine it being useful for birdwatching, a popular hobby here. But you don't need it for a normal vacation.
Conclusion to the Iceland packing list
I like to travel light, so I prefer to take less rather than more. I've never missed anything or had trouble finding something I needed in Reykjavik.
I think the most important thing is weather-resistant clothing, which is absolutely essential, and anyone who travels to Iceland without it will probably not have much fun. A good jacket, warm clothing to wear underneath, and sturdy shoes are half the battle.
I assume you have your smartphone with you anyway, so I would also recommend checking out our Iceland app. In addition to great tours with an audio guide, you'll also find the Iceland e-book and many other helpful features.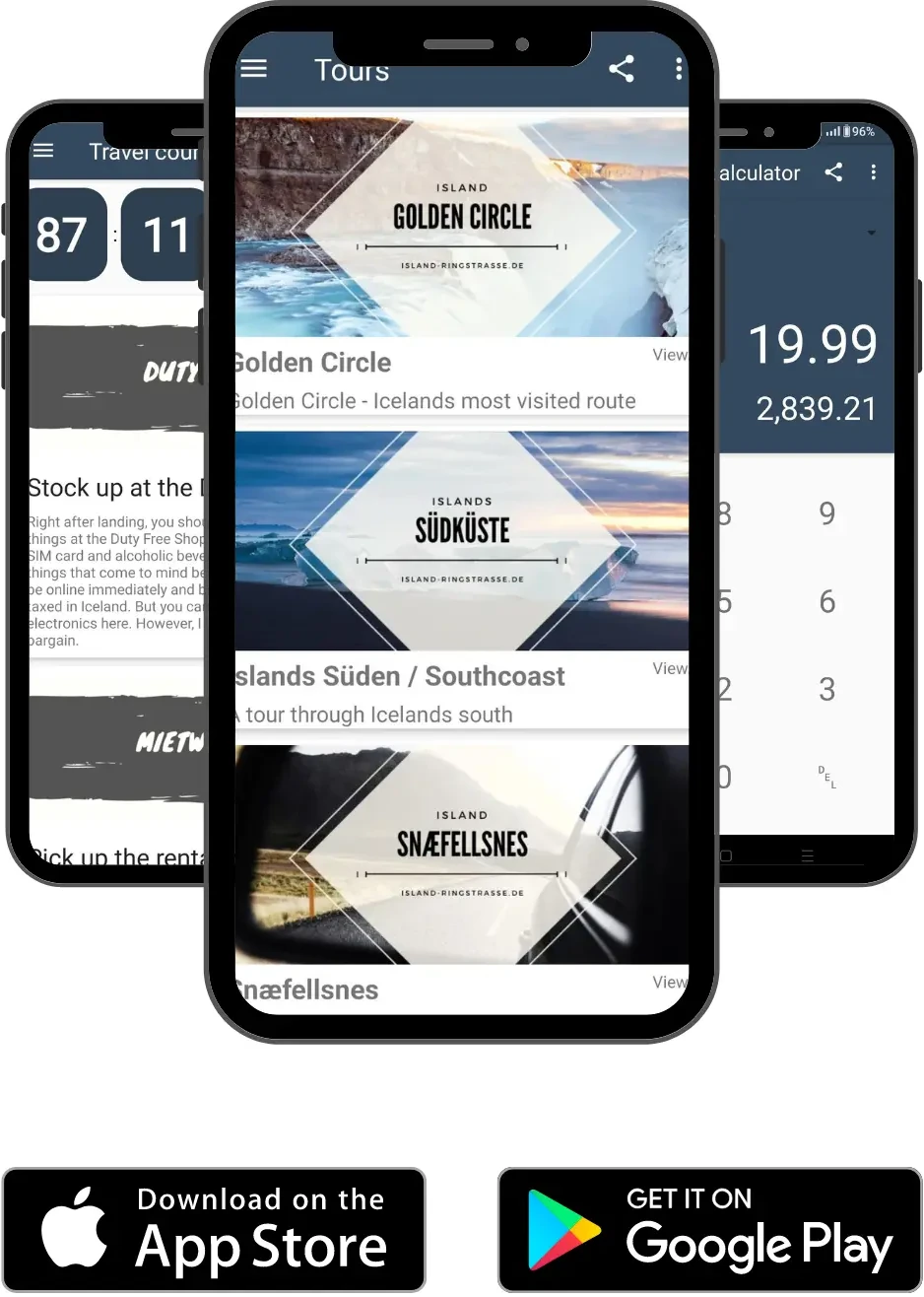 I hope I've given you some good tips beyond the packing list. I look forward to your comments if you feel like something is missing!