Waterfalls in Iceland… If there is something the small country in the north has vast amounts of, it's waterfalls. Wikipedia lists some 50+ of them but I am pretty sure, there are a lot more…
In the following article, we want to give a comprehensive overview of the waterfalls in Iceland to help you make the most of your journey. For many waterfalls you will find the name, a description, height, coordinates, history, fotos and videos ans more. You can find out how to reach the waterfall, what you need to be aware of and where you can stay the night in the area. Please feel free to add comments if you have questions or find something wrong in the article!
You can use the Iceland App to see a guided tour of waterfalls with audio commentary as well. Trying to be your travel buddy… 🙂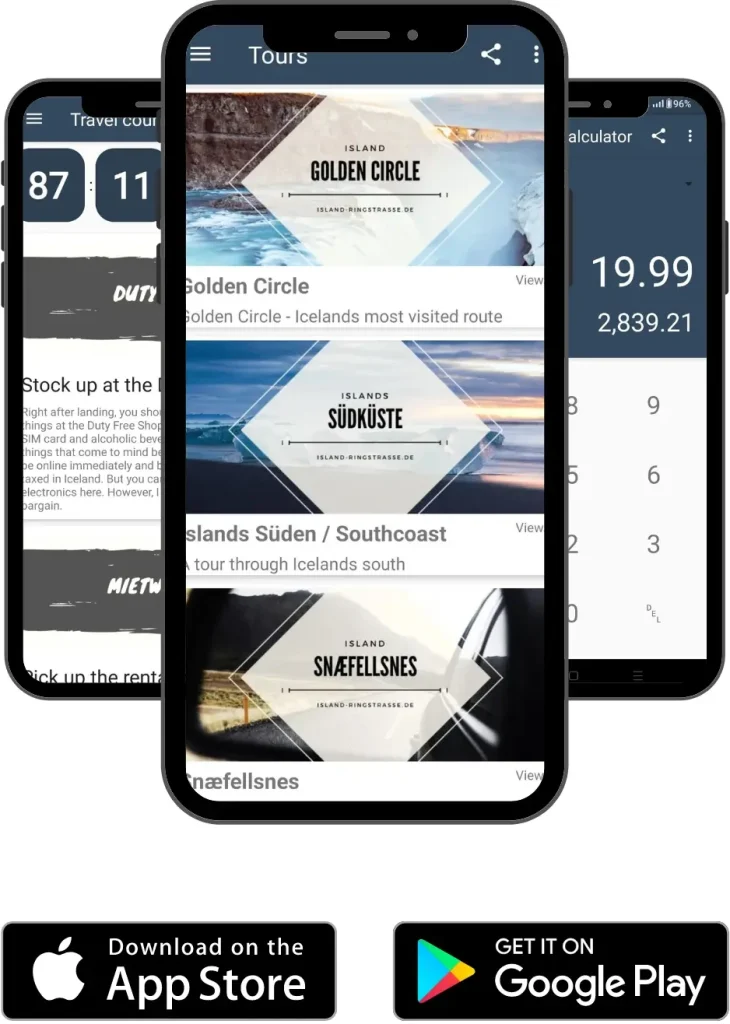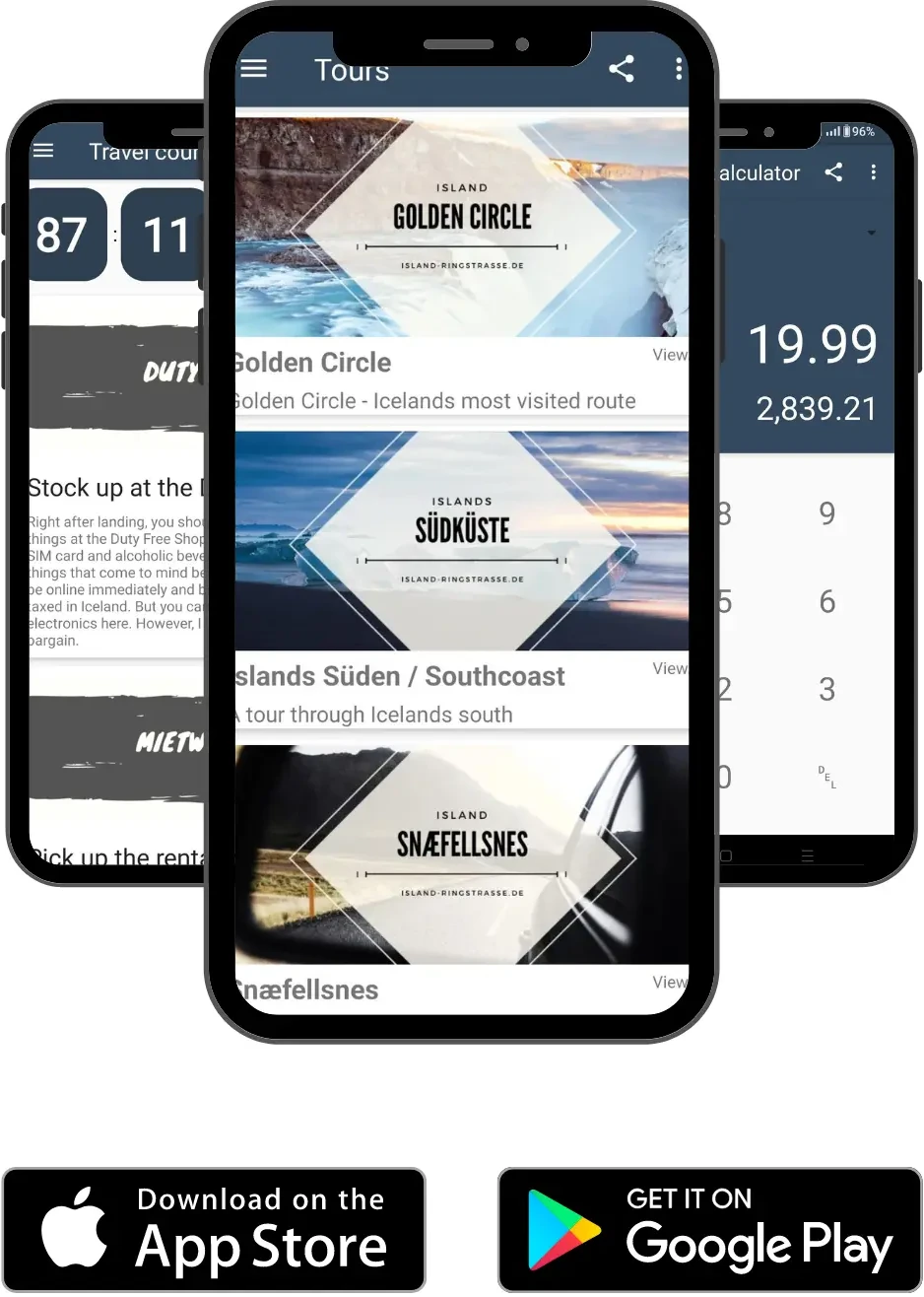 Gullfoss – The most well known waterfall in Iceland
Name: Gullfoss
Height: 11 / 21 Meters
GPS coordinates: 64.327093, -20.119920
Hotels: Hotel Gullfoss, Farm Jaðar, Skjol Hostel
Location: Road 35, Þingvellir Nationalpark, about 1.5 hours east of Reykjavik
Direct access: ✅ Yes
Hike: There are paths along the waterfall, please respect the boundaries!
Reachable without 4×4: ✅ Yes (You should have a 4×4 in winter)
Information about Gullfoss
Gullfoss is probably the most well known waterfall in Iceland. It lies just at the end of the Golden Circle and the water falls down some 32 meters. What is especially impressive is the width of the river and that, depending on where you stand it seems like the water is falling into the big nothing…
Gullfoss means "Golden waterfall" and that might just come from the location or it has something to do with legends or sagas.
The country is protected since 1979, until then many efforts have been made to put power plants here because of the sheer strength of the water.
In 1930 and 1948, the whole gorge was filled with water from the nearby glaciers. If you're here or have been, you just might be able to imagine how much water is needed to fill that ravine. The river usually holds 130 cubic meters of water, back then there were over 2000 flowing down the mountains.
The heroine of Gulfoss is Sigríður Tómasdóttir, who sued the renters of the land in 1920 because they wanted to build a hydrothermal power plant. When chances of winning the case faded, she threatened to throw herself into the floods. Her lawyer became the first president of Iceland in 1944.
A historic place, no question about that.
Seljalandsfoss – The top model of waterfalls in Iceland
Name: Seljalandsfoss
Height: 65 Meters
GPS coordinates: 63.615622, -19.988545
Hotels: Stóra-Mörk, Country House Mið-Mörk, Nicehostel Seljaland
Location: Road 249, at the south coast, about 1.5 hours from Reykjavík
Direct access: ✅ Yes
Hike: Paths along the waterfall and you can walk behind the water as well
Reachable without 4×4: ✅ Yes
Information about Seljalandsfoss
Located directly at the ring road, Seljalandsfoss is the first waterfall most people see in Iceland. This waterfall is famous and only few visitors come to Iceland without seeing it, not without reason. It offers beautiful views, especially during sunrise and sunset. While there are many tourists here in full season, you can get lucky and have the place somewhat to yourself during early morning or late in the evenings. That's when most of the tourist busses are in Reykjavík.
Right next to the waterfall, you can find a camp ground that offers beautiful views at sunrise and sunset. It's right in the middle between Seljalandsfoss and it's little brother Gljúfrafoss.
The place where you park your car used to be pretty wet, not that long ago: This is where the coastline used to be and a few kilometers east of here you can find another waterfall on the same ridge: Skógafoss
Skógafoss – The broad waterfall of Iceland
Name: Skógafoss
Height: 62 Meters
GPS coordinates: 63.532051, -19.511376
Hotels: The Garage, Volcano Hotel
Location: Ring road, southern coast
Direct access: ✅ Yes
Hike: A few paths at the bottom, make sure to climb to the viewing platform if conditions permit
Reachable without 4×4: ✅ Yes
Information about Skógafoss
The river Skóga is about 25m wide and falls down over 60m at this place. Skógafoss is a majestic waterfall, wide and rich in facets. You will see many rainbows here, usually more than one at any given time. The spray from the falling water is all over the place and even when you're standing many meters away you might get wet. The waterfall is located right at the bottom of Eyjafjallajökull glacier, one of the biggest of it's kind in Iceland.
From here, you can hike up to the Fimmvörðuháls plains and up towards Landmannalaugar. The hiking path Laugavegur (not the shopping street in Reykjavík!) leads you through about 50km of highlands and is well worth the struggle. You should plan 4-5 days for the hike and plan it well: You will find huts along the way but they are usually booked: Bringt a tent and be prepared!
Nearby you can find the Skogar museum which features the golden ring of Skogafoss: When a young boy reached for a treasure chest filled with gold, hidden in a cave behind the fall, it just vanished and all he was left with was that ring.
Goðafoss – The godly waterfall of Iceland
Name: Goðafoss
Height: 12 Meters
GPS coordinates: 65.682785, -17.550199
Hotels: North Aurora Guesthouse, Einishus Cottages
Location: Road 841
Direct access: ✅ Yes
Hike: Some paths along the area
Reachable without 4×4: ✅ Yes
Information about Goðafoss
You might be standing in front of the waterfalls of gods right now. About 30m wide and located in the Northern parts of Iceland, this waterfalls plunges some 10 meters into it's riverbed. The combination of strength and calm is what fascinates me most with this waterfall. Hundreds of cubic meters of water fall down into the riverbed here and still the places has something very calm about it.
The name stems from a story: Around a thousand years ago, Iceland converted to christianity and the last pagan statues where tossed into the river here. That happened because of pretty worldly reasons: The king of Norway threatened to stop bringing wood to Iceland, should the continue to follow pagan gods. Because Iceland basically has no trees but needed ships desperately, the parliament (Þing) decided to switch over to christianity.
The god's must be crazy!
Svartifoss – The basalt waterfall of Iceland
Name: Svartifoss
Height: ca. 20 Meters (round about)
GPS coordinates: 64.027530, -16.975309
Location: Ring road plsu a small hike, in Skaftafell national park
Direct access: ❌ No
Hike: Some 30min from the parking area
Reachable without 4×4: ✅ Yes
Information about Svartifoss
The black waterfalls, which is what Svartifoss translates to, lies in the south if Iceland and is one of the first sights that some visitors might never see because most stop around the Skogafoss area. Especially in winter, you might have this place to yourself some days.
The river is usually pretty weak but the waterfall is beautiful nonetheless. The formations of the basalt make for a wonderful picture frame in itself. You can reach the fall by a short hike from the nearby camping ground.
The Hornafjörður are is also home to Icelands highest waterfall, the Morsárfoss and to the glacial lagoons Breiðárlón and Jökulsárlón.
Name: Gljúfrabúi / Gljúfrafoss
Height: ca. 40 Meters
GPS coordinates: 63.620825, -19.986449
Location: Ring road, directly next to Seljalandsfoss
Direct access: ✅ Yes
Hike: Just 5 minutes from Seljalandsfoss
Reachable without 4×4: ✅ Yes
Information about Gljúfrabúi / Gljúfrafoss
Gljúfrafoss lies a bit hidden right next to Seljalandsfoss, and it's name suggests the location: The hidden one. The waterfalls hides in a cave, right in the mountain that Seljalandsfoss drops off of. It's not hard to find and easy to get in to the cave, but it is very, very wet inside because of the spray. Protect yourself and especially your gear like camera and smartphone.
It's next to the camping ground.
Glymur – A waterfall that is hard to reach
Name: Glymur
Height: 196 Meter
GPS coordinates: 64.395533, -21.240767
Location: Road 47 + Hike, about 2 hours north-east of Reakjavík
Direct access: ❌ No
Hike: Pretty long hike, quite some altitude to get to
Reachable without 4×4: ✅ Yes
Information about Glymur
At about 196 meters, Glymur was for a long time listed as Icelands highest waterfall. In 2007, another waterfall was found and since then, Glymur has to be happy being number two on the list. Still, this waterfall is mighty impressive and should not be underestimated. Just to compare: The Hallgrímskirkja is about 75 meters high and can fit almost three times into this waterfall.
Mother Nature likes to put on a show for its creations in Iceland and Glymur is no exception. If you want to come here, please check the weather reports and prepare for a proper hike. You should not come in bad conditions, as the hike can be everything from 2h upwards. You need to cross some rivers too, so it's really not a sunday stroll. Kaelene gives us quite a nice field report here.
Dettifoss – Icelands strongest waterfall
Name: Dettifoss
Height: 44 Meters
GPS coordinates: 65.815132, -16.385627
Location: Road 862 and 864 + Hike, North-East (2-day trip from Reykjavík)
Direct access: ❌ No
Hike:
Reachable without 4×4: ✅ Yes
Information about Dettifoss
It's name translates to "The falling one" and that is precisely what Detifoss does: The strongest waterfall of the country falls about 40m deep but combined with the width of the river, it releases vast amounts of energy. Just a few kilometers further north, the river Jökulsá á Fjöllum falls 10 meter at the Selfoss waterfall.
Producing 85 megawatts, Dettifoss could provide electricity for quite a lot of households in the northern parts of Iceland. You won't find a power plant here though, which is good as it would ruin the view.
Detifoss is part of the diamond circle in Iceland, a route that is not well known as most people never make it past the Reykjavík are then they are in Iceland. Part of this tour are also Goðafoss and the Myvatn Nature Baths as an alternative to the Blue Lagoon. Further more, you will find the Ásbyrgi gorge nearby, as well as the geothermal area Námafjall. You can easily spend a few days here without getting bored, is what I am trying to say.
Háifoss – Icelands most fishy waterfall
Name: Háifoss
Height: 122 Meters
GPS coordinates: 64.208014, -19.688145
Location: Road 32 / 332 + Hike
Direct access: ❌ No
Hike:
Reachable without 4×4: ❌ No (At least it is very much not recommended!)
Information about Háifoss
Embedded in the beautiful Þjórsárdalur valley, Háifoss is quite a sight with it's height of over 120 meters. A lot of Icelanders love this waterfall, mostly because it is far away from all tourist routes and pretty hard to reach. This way, you can have to yourself quite often.
A hiking path goes from the historic Stöng Farm through the magical valley of Gjáin and up to the waterfall. The hike is not short, it can easily take up more than 6 hours. Thus, it's not an option if you're not an experienced hiker and in good shape. If you have the time and stamina, you should really consider doing it though as it's well worth the struggle!
Going along the roads 32 and 332, you can get to the waterfall almost directly though, but it's again not that simple: You should have a proper 4×4. The roads are not nice. Best to come in the summer months, in wintertime you must check the weather conditions very carefully and be well prepared!
As a bonus, you will get two waterfalls: Háifoss and Granni (Icelandic for "Neighbour") plus an amazing view!
Morsárfoss – The newest of the waterfalls in Iceland
Name: Morsárfoss
Height: 227 Meter
GPS coordinates: 64.112405, -16.884806
Location: Ring road + extended hike
Direct access: ❌ No
Hike:
Reachable without 4×4: ❌ No
Information about Morsárfoss
It has not been on the map for long, but it came with a bang: Morsárfoss became Icelands highest waterfall as soon as it was discovered. Dethroning Glymur in a heartbeat.
You can't find a lot of information about this one yet, barely any footage. Around 227 meters high and embedded into the highlands of the Vatnajökull national park, Morsárfoss spends it's days well hidden and lonely. People think it might be a s high as 240 meters but the tip is still hidden within the glacier. It's not riskless to be here either, big chunks of ice break off from the mountain and come crashing down. Even the researchers had a hard time doing their thing.
To come here, you have to do a bit of a hike and you need to cross a glacier. Needles to say, you should not do it on your own or if you're unsure of what you are doing. You will walk past Svartifoss and cross the Morsárjökull glacier before you get to this gem.
Kirkjufellsfoss – The most photographed waterfall in Iceland
Name: Kirkjufellsfoss
Height: 2-3 Meters
GPS coordinates: 64.926030, -23.311408
Hotels: Búlandshöfdi
Location: Road 54, up north on Snæfellsnes
Direct access: ✅ Yes
Hike:
Reachable without 4×4: ✅ Yes
Information about Kirkjufellsfoss
Up in the north of Snæfelsness you will find one of the prettiest waterfalls of Iceland: Kirkjufellsfoss
It resides right in front of the beautiful Kirkjufell mountain and next to the ocean, providing an amazing background for photographers. You will find tons of fotos of this place on the internet and you will also find many, many people here at any given time. Sunrise and sunset are popular times, so even then you will have to share the place. They are still your best bet to have some solitude though.
Brúarfoss – Icelands bluest waterfall
Name: Brúarfoss
Height: ca. 10 Meters
GPS coordinates: 64.264256, -20.515792
Location: Road 37
Direct access: ✅ Yes
Hike:
Reachable without 4×4: ✅ Yes
Information about Brúarfoss
Last but not least is pretty fitting here: Brúarfoss should not be as far down on your list as it is on this. Especially if you're on the Golden Circle, this one should be on your list of things to see.
The colors of this place are absolutely stunning and the small detour from the usual Golden Circle route is well worth it. You will find this waterfall right in the middle between Gullfoss and Strokkur and you don't need much more than an hour.
You will find plenty of pictures and videos of this waterfall around. With it's beautiful blue colors and whitewash it is quite a sight. Please be aware that you can't fly a drone here.
Hengifoss & Litlanesfoss – Waterfalls in Icelands east come in two
Name: Hengifoss and Litlanesfoss
Height: 118 Meters
GPS coordinates: 65.094167, -14.891389
Location: From the ring road take the 931, add a small hike
Direct access: ❌ No
Hike: About an hour, up the mountain
Reachable without 4×4: ❌ No
Information about Hengifoss und Litlanesfoss
Hengifoss used to be Icelands third largest waterfall, which is not true anymore. But losing the bronze medal wasn't to bad. Being the fourth largest waterfall in Iceland is still pretty good. At around 118 meters, Hengifoss ist still huge and the view from the riverbed is absolutely stunning. The name translates to "Hanging waterfalls" and it is surrounded by geological highlights. You can find sediment layers from different epochs and material everywhere.
The detour off the ring road is about 60km, depending on where you are coming from.
Coming here, you will drive past Litlanesfoss which hides in a gorge and is surrounded by basalt just like Svartifoss. This one is only 30m high but falls over two steps.
Dynjandi – That waterfall in Icelands westfjords
Name: Dynjandi
Height: 100 Meters
GPS coordinates: 65.732849, -23.199853
Hotels: Hótel Flókalundur
Location: Take road 60 from the ring road (250km of gravel road!)
Direct access: ❌ No
Hike: A few minutes up the mountain if you want
Reachable without 4×4: ❌ No (A normal car will suffer a lot!)
Information about Dynjandi
After a long journey through the west fjords, coming from the ring road, you will end up in a parking lot right in front of the waterfall. It's just another few meters up the hill to get to Dynjandi.
You will usually not see loads of tourists here, at least not nearly as many as in the south. It's just too remote for that and you need more than a day to get here.
If you come anyways, you'll be rewarded with one of the biggest, meanest and loudest waterfalls: The name translates to "The thundering one" and that is what Dynjandi does: You can hear it from miles away.
There are many small waterfalls in the area and you can find an abandoned farm nearby too.
Aldeyjarfoss – An adventorous waterfall in the North of Iceland
Name: Aldeyjarfoss
Height: 20 Meters
GPS coordinates: 65.3666,-17.337
Hotels:
Location: Coming from the north you can take road 842, from the south you need a 4×4 to use road F26
Direct access: ✅ Yes (From F26 it's just a few meters)
Hike: ❌ No (Unless you need to park your car at the end of 842)
Reachable without 4×4: ❌ No (Better don't risk it)
Information about Aldeyjarfoss
Aldeyjarfoss is an adventurous waterfall in Iceland, located up in the highlands in the north. You can get within 4-5km of it with a normal car by following route 842 but I'd advise you to not take the risk and do the few km of F26: You won't be insured. Either get the correct vehicle or go for a small hike.
Aldeyjarfoss, just like Svartifoss, is surrounded by basalt but offers an amazing sight combined with the baby blue waters with lots of whitewash. Great for long term exposures.
You will sometimes find whitewater rafters here as well, the pros can drop down the waterfall for extra kicks.
A bit further north the river Skjálfandafljót sources the much better known Goðafoss and in the area you can also find the Myvatn Nature baths and geothermal areas.
Name: Kvernufoss
Height: 40 Meters
GPS coordinates: 63.528157, -19.480944
Hotels:
Location: Right behind the museum of Skogar
Direct access: ✅ Yes (A few hundred meters)
Hike: ❌ No
Reachable without 4×4: ✅ Yes
Information about Kvernufoss
Kvernufoss is one of the last hidden gems when it comes to waterfalls in Iceland. Located right behind the museum in the little town Skogar, it isn't as well known as most of the waterfalls in the south are. About a year ago it was added to Google Maps which is why I don't feel bad to list it here now, but please try to keep it the gem that it is.
The waterfall is located just a few kilometers east of it's bigger brother Skógafoss. The best thing to do is to visit the Skogar museum and ask nicely how to get to this one. They are happy about customers and happy to show you the way too.
You can walk behind the waterfall here too, just like at Seljalandsfoss. Bring good boots and waterproof clothes!
Þjófafoss – The waterfall of Icelands thieves
Name: Þjófafoss
Height: 12 Meters
GPS coordinates: 64.056555, -19.866266
Hotels:
Location: South of Gullfoss and north of Hekla, at road 26
Direct access: ✅ Yes
Hike: ✅ Yes (A few hundred meters)
Reachable without 4×4: ✅ Yes
Information about Þjófafoss
Þjófafoss is very pittoresk and often reminds me of Kirkjufelsfoss: Mountain in the back, a wonderful blue and white embedded in black basalt stone.
Centuries ago, this was the place where thieves got their punishment as they were tossed into the waters of the Þjórsá river.
Today, it is way to weak to work as a punishment for thieves because a hydrothermal power plant was built just a few kilometers up the river. This leads to strange color plays as well, because in normal times you will have light blue and clear waters but when the snow melts in the end of winter, the river carries a lot more water which is dirty and milky.
Waterfalls in Icelands South
The south of Iceland is the region of waterfalls. You will finde the most iconic and beautiful ones right here.
For beginners, we can definitely recommend guided tours along the south coast. They usually lead you to Seljalandsfoss & Gljúfrabúi, Skógafoss and some of them go as Far East as Svartifoss. On these tours, you get a lot of beautiful waterfalls but also landscapes and usually a bit of background info on everything related. The tours usually start in Reykjavík in the morning go as far east as Jökulsárlón glacial lagoon.
You can find these tours here. If you want to explore on your own, you can easily find a rental car in Iceland. You can go about your journey a bit more relaxed that way and spend a night somewhere along the road for example.
Waterfalls around Icelands Golden Circle
Around the Golden Circle you will find Gullfoss, which is located right at the end of the route after about 2 hours of travel. There are many tours along the Golden Circle that you can book.
You can do a self driving tour here as well and this will give you even more opportunities to stop at some of the other waterfalls along the route like Haifoss and Bruarfoss. Both of them are usually not part of the trip when going with guided tours.
Waterfalls in the North of Iceland
Waterfalls are a bit more rare in the north of Iceland but you still habe more than enough of them. I might just mean that you can drive more than an hour without seeing one.
The best known waterfalls in the North are Dettifoss and Godafoss, which are both located in the Myvatn area. Guided tours from Reykjavík are available but since the drive is more than a day tour, they usually come as more of a travel package for the whole country. Again, the option to rent your own car might be interesting.
Kirkjufellsfoss is located in the west, but because it's ver popular I'd like to mention it here as well.
A map with all the waterfalls in Iceland
Sources and more information about waterfalls in Iceland
Most of the infos here come from personal experience and traveling in Iceland but some of it also came from Wikipedia, thanks to everyone who wrote an article there. Some of the pictures where taken by me but most of them come from platforms like Unsplash and Flickr, if they provide pictures under the Creative Commons license. Thank you to the photographers who share their pictures, so do I by the way.
You can find great information on waterfwalls in the World Waterfall Database.
We are very happy about feedback regarding these places: Just drop us a comment.