Exploring Iceland with a Campervan, one of the most popular ways to travel and stay in Iceland is by using a campervan. I had never really considered it before, but as often happens through this blog, I was asked about it so often that I wanted to try it out myself to be able to report back to you.
For this, I worked with Happy Campers who provided me with a discounted campervan in Iceland for two weeks. I want to make it clear that this is an advertisement so that it's transparent for you. I have done that 🙂 However, there were no requirements, and Happy Campers was genuinely interested in my honest feedback. I thought that was great.
So, in the following, I want to share everything I researched and my own personal experiences with you.
Let's get started…
Why rent a campervan in Iceland?
I also asked myself that question because van life was never really a topic for me, and I had never tried this form of travel before. So, before my trip, I talked to some people and they gave me the following reasons:
A campervan is cheap.
With a campervan, you have flexibility.
The vibe of camping is just great.
I could understand all of these points, and that was one of the reasons why I started looking for a suitable campervan in Iceland.
During my trip, I put all these points to the test, and I can say the following from my own experience…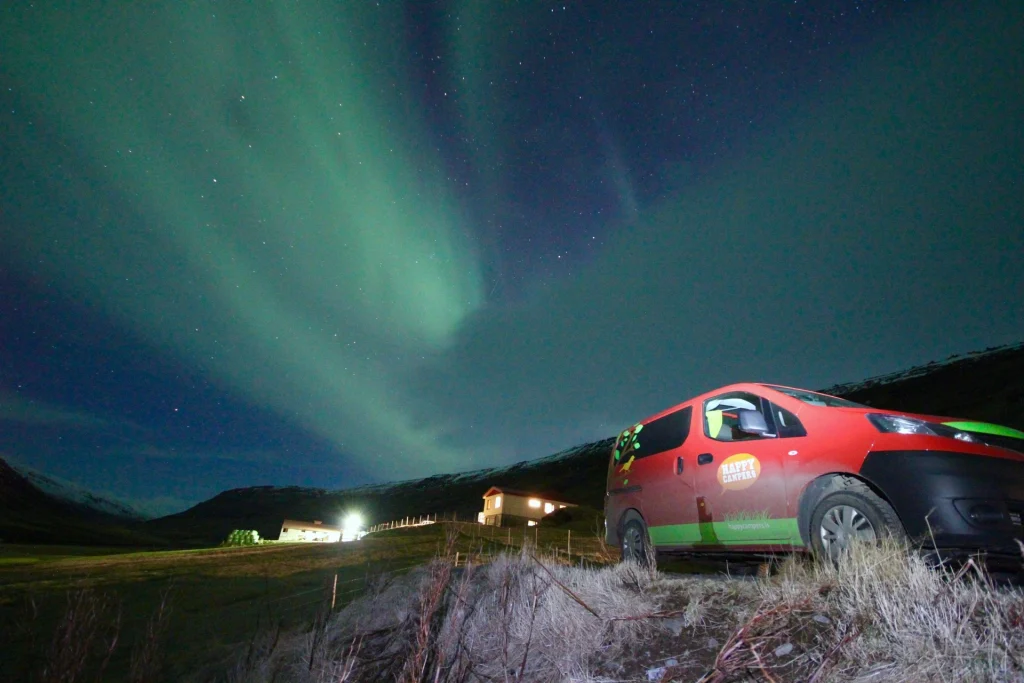 Is a campervan cheaper than renting a car and staying in hotels in Iceland?
Yes and no: In my opinion, it depends on various factors. During my research, I saw the following costs:
A campervan costs €1764 for two weeks during the low season and €2520 for two weeks during the high season. I used this as a basis to compare the trip to renting a car. A rental car (VW Golf) for two weeks in the low season costs around €400, leaving €1364 (approx. €98 per night) for hotels. In the high season, it costs around €800, leaving €1720 (approx. €122 per night).
With the money left over from renting a car for accommodation, it is possible to get by, but it mainly depends on how early you book. During the high season, a night at a hotel can easily cost twice as much if you show up spontaneously. This is where I see the great advantage of a campervan: absolute flexibility and freedom. Therefore, anyone who chooses a campervan purely for cost reasons may quickly become disappointed. Personal preferences are much more important.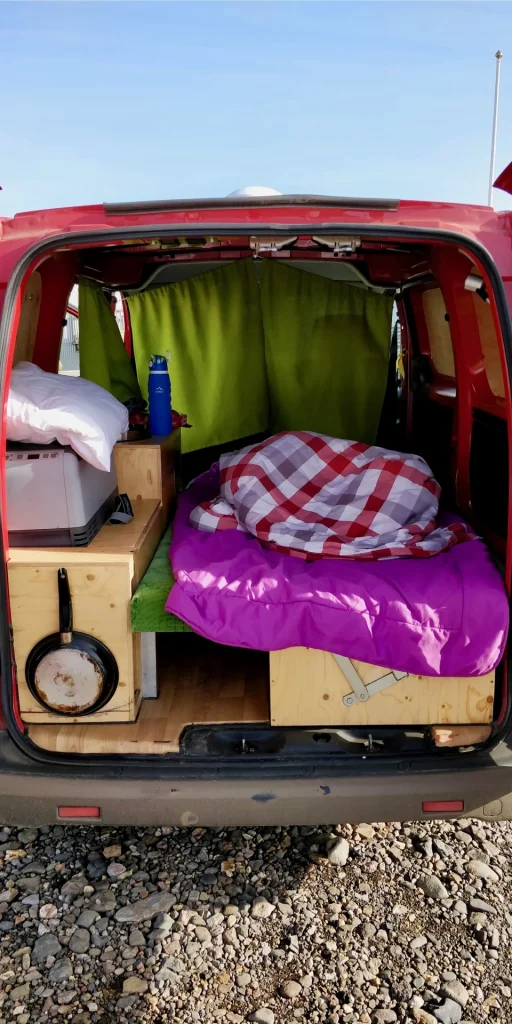 Is using a campervan in Iceland really more flexible?
Yes. Especially in the summer when you can practically drive to every campsite in Iceland and park there, the selection of potential sleeping places is enormous. Hotels are often completely booked during the high season, so you either have to book in advance and be completely bound to the accommodation location or you have to look for a free place to stay during the evening. This can quickly become expensive.
Happy Campers has put together a very good map of campsites, which you can view here (winter) or here (summer). The map shows all known campsites and whether they are only open during the high season or also in the winter.
By the way, you are not allowed to park on the side of the road in Iceland: Due to the many campervans, this has been prohibited, so you are only allowed to stay overnight in designated campsites. This is also occasionally checked, and the fines can be quite high. Apart from that, you may also become a burden to the environment and the Icelanders.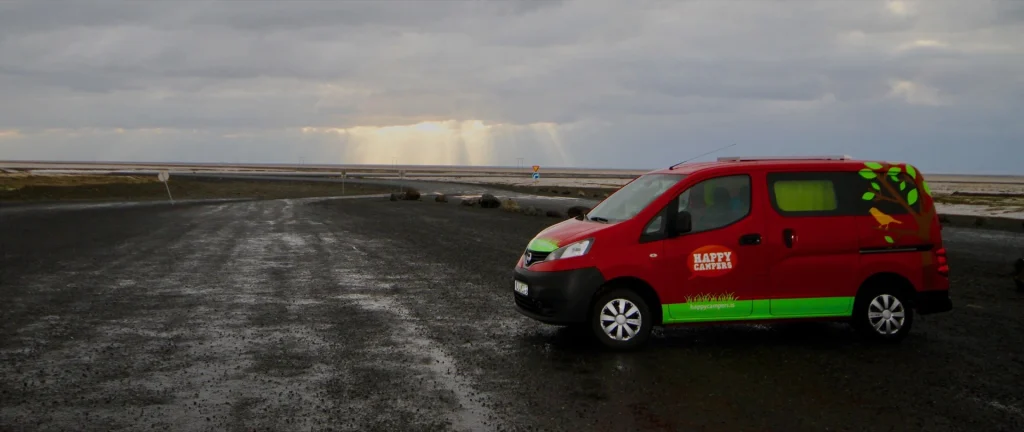 Did I like the feeling of life in a campervan?
Yes and no, more no 😉 However, my trip was still great because I did not try to change myself: everyone talks about van life, everyone wants a VW Bulli to drive to Mongolia or South America and live in the van forever.
Not me: I didn't like the first night because it was too cold (I didn't operate the heating properly). I didn't like the fourth night because almost all my clothes were unwashed, my swimwear and towel were damp, and because it was too cold to ventilate and dry properly.
I stayed in huts in Þórsmörk on the second night and in a hotel in the Eastfjords on the fifth night. The heating in the former worked as well as at home, and in the latter, I could wash my clothes and let them dry in peace. On other days, I enjoyed camping directly at the Skaftafell National Park, from where I hiked to the Svartifoss. Or spending a night directly at the Seljalandsfoss, where I could admire the unique Icelandic starry sky all night long. So, I just picked out the best bits and for me personally, that was just right.
I hope this honest answer shows that while I was supported by Happy Campers, they were primarily interested in my honest opinion and did not want to "buy" it. Thanks again for the great cooperation!
Experience report on using a campervan in Iceland
My personal experience report will hopefully be helpful for some of you who, like me, are traveling this way for the first time and are wondering if it is right for them, how to prepare for it, and where to rent a camper in Iceland.
What was good about traveling in a campervan in Iceland…
The flexibility was by far the best! I absolutely loved being able to drive the van wherever I wanted and to stay wherever I felt comfortable. One evening, I had booked a hotel and had to reach it by a certain time: pure stress! On the way, I often longed to just park on one of the many campsites I passed by. The combination of vehicle and apartment is really comfortable, and you feel like you have everything you need to live right there with you.
In this particular case, I thought the technical implementation of the campervan was really good: you can tell that Happy Campers has experience in converting vehicles into small, mobile apartments. Everything is thought out to the smallest detail, easy to use, and idiot-proof. Every tiny space in the camper is perfectly used, and the ventilation and heating are perfectly coordinated, and everything stays in place while driving. Hats off to this engineering!
Vanlife is communicative: At all campsites, I immediately got into conversations with my neighbors, which is a great thing as a solo traveler. In hotels, you usually keep to yourself. You don't want to disturb others while eating in the restaurant. It's different among campers: you share stories from the day, exchange travel tips, and occasionally share a can of ravioli.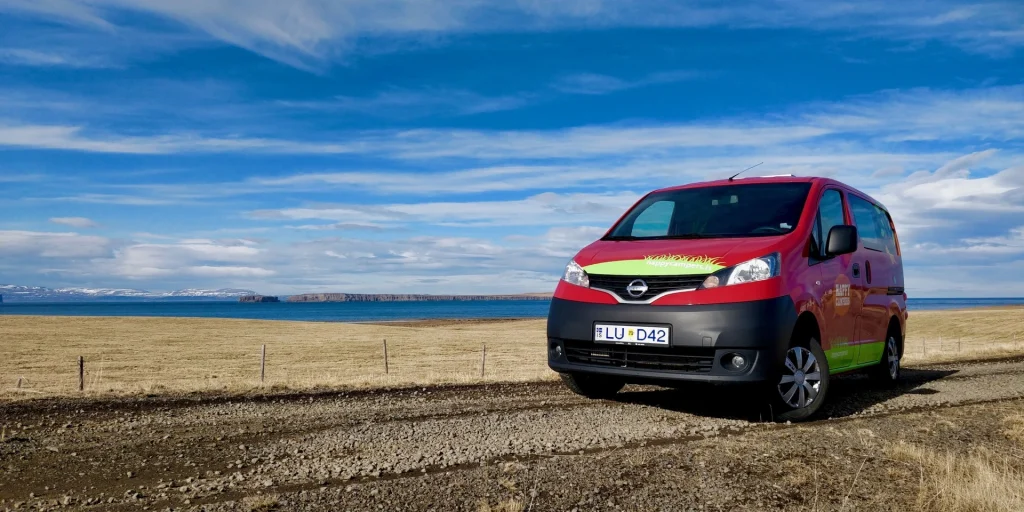 What I didn't like about traveling in a campervan…
Not much, but a few things: The first night was cold because I let the van cool down. It stood in the shade at -7°C for several hours, and after that, even the heating couldn't really provide a comfortable temperature. My own mistake from which you can learn! 🙂
I like order, very much indeed: That's why I had to constantly rearrange everything and kept forgetting things or had placed them somewhere where I had to get out again to get them, etc. My inner Monk was getting in the way a bit 😉
I talked to other campers at almost all campsites, and most of them didn't have these problems: Apparently, van life becomes more comfortable with experience. So, I also learned a few small, useful tricks that made my trip more comfortable.
On the topic of sustainability when living in a campervan in Iceland
For me, sustainability is important. Not excessively, but I try to leave a footprint that is acceptable to myself, or to do more good than harm, especially for nature.
Campervans in Iceland do not necessarily have the best reputation: Many see them simply as a cheap way to travel, are poorly prepared, and then behave anything but sustainably: garbage ends up on parking or camping sites. They park where it costs nothing, even if it's the entrance to a field or in the middle of a meadow. Because there is no toilet in the van, the nearby lava field is transformed into one. Icelanders are annoyed, and I can understand why.
That is why I think it is important, as mentioned above, to consider the entire package when renting a campervan, including the challenges or difficult aspects: You have to collect the garbage in the van until you can dispose of it somewhere, e.g. at gas stations or campsites. You have to use the showers and toilets of public facilities, even if they cost something and also with regard to their opening hours. Campsites usually have showers and toilets, as do public swimming pools. Icelandic hot springs, by the way, usually do not: Please do not misuse them as bathtubs, or do you want to bathe in the germs of your fellow travelers?
My packing list for a vacation in a campervan
On Instagram, I asked for questions about van life throughout my trip. One question was about what I would bring if I were to travel by van again. So here's a little packing list for van life in Iceland:
Carabiners and cords: It may sound silly, but they're super helpful for organizing and creating space. Especially for wet things like my travel towel or swimsuit, which were never in the way or on the van's cushions during the drive.
I had an inverter that provided a regular outlet, but it wasn't enough for all my gadgets, so I brought a compact power strip.
For public showers and swimming pools, but also generally helpful in Iceland: flip flops.
Always with me when I travel: my sunglasses, a pocket knife, and a thermos cup. The latter was great because Happycampers collaborates with almost all gas stations in Iceland, where you can get free coffee.
My van had internet included, and up to 5 devices could be connected via Wi-Fi. Very convenient. If you don't have or want that, I can recommend a mobile Wi-Fi router and a local SIM card.
Traveling to Iceland with your own campervan or motorhome
Unfortunately, I can't provide a personal experience report on this as I rented a camper in Iceland. Generally, though, the best way to get to Iceland with your own campervan or motorhome is via ferry from Denmark. The Smyril Line goes from Hirtshals in Denmark, via the Faroe Islands, to Iceland. You'll arrive in Seyðisfjörður, in the east of the country. You'll be at sea for just under two days and make a stopover in Tórshavn.
The crossing with a small bus, like the campervan I had, costs around 2000€ per person, including a 4-person room and the return journey, during peak season. It's a steep price, in my opinion: for the same money, I could book flights (250€) and the campervan.
A crossing as a single person, without a car, costs 410€ in October. I think this is actually an interesting alternative to flying because the price is comparable, and you can visit the Faroe Islands during the stopover.
Perhaps I'll be able to say more about this soon… 😉
In 2014, Ute from Bravebird traveled to Iceland with her VW Bulli and wrote a few lines about it (German).
Traveling through Iceland in the winter with a campervan?
My van trip was not in the depths of winter, more like in the spring. But a few nights were quite challenging, so I can at least say a little about the topic. Why travel to Iceland in the winter with a campervan?
There are fewer people around, you have more places to yourself, and the season is somewhat cheaper than in the summer. For the same amount of time, my campervan would have cost over 40% more in the summer than in the offseason. That's far more than I spent on fuel during the two weeks and nearly 3000km. Many people also want to see the Northern Lights in Iceland, which is not a good time to do so in the summer 😉
The disadvantages are obvious: cold, snow, and short days. An important note: I was incredibly grateful that the campers from Happycampers had spiked tires! Although I only encountered real snow once on the road, I'm pretty sure I couldn't have driven through the Öxi Pass without these special tires. Even when a strong wind came up, the good traction helped me. Wherever you rent, do not accept a campervan without studded tires in the winter!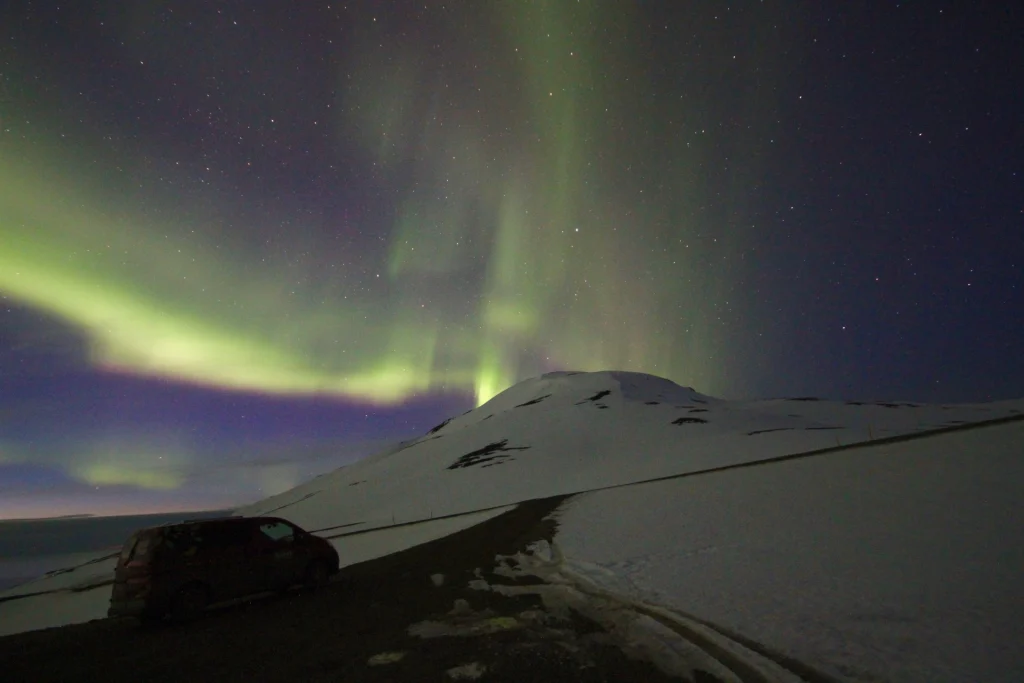 What do I need to consider when traveling in a campervan in Iceland during the winter?
First and foremost: your own safety! Drive slowly, carefully, and leave the van behind if your gut feeling tells you it's not safe. Don't put yourself under pressure, whether it's the photo you want to take from a certain place or the waterfall you absolutely must reach on a certain day: In stress, we make wrong and often fatal decisions. No photo or waterfall is worth putting yourself in danger.
Check the weather at Vedur.is and road conditions at Road.is every day, really every day. If roads are closed, there's a reason for it: often it's not obvious, and often you'll see other cars continuing anyway: maybe the drivers are ignorant, maybe they'll get stuck in a snowdrift 2km later for hours that they couldn't see in a curve… I've experienced all of this by now, and the affected people have never said, "It was still worth it!"
When the most important thing is under control, the second most important thing comes: heating cleverly and ahead of time! 😉 The van should be warm even while driving. As an indicator, I always took off all layers before I started driving, so I was almost always in a t-shirt behind the wheel. If you park the van like that, the parking heater doesn't have to do much anymore, except to keep the van at temperature. When you turn off the van, turn on the parking heater immediately. In Skaftafell National Park, I parked the van and wanted to go up to Svartifoss and was very happy when I returned to the warm camper. If the parking heater had been turned off during the 4-hour hike, it would have been a cold night!
Not winter-specific, but perhaps slightly more important in the cold season: park into the wind. So that the wind blows onto your windshield. This has the advantage that open doors are not blown open by the wind and damaged, and also a quieter sleeping place, because if the wind hits the van from the side, you could mistake the van for a ship at sea at night.
Always try to have enough fuel in the tank. I always filled up when the tank was less than 50% full: if the parking heater fails, you can heat with the normal heater of the camper. Even if you missed a gas station or got stuck somewhere longer, having enough fuel on board helps you stay relaxed. Here you can find a list of gas stations in Iceland, and you can also find gas stations in the Iceland app.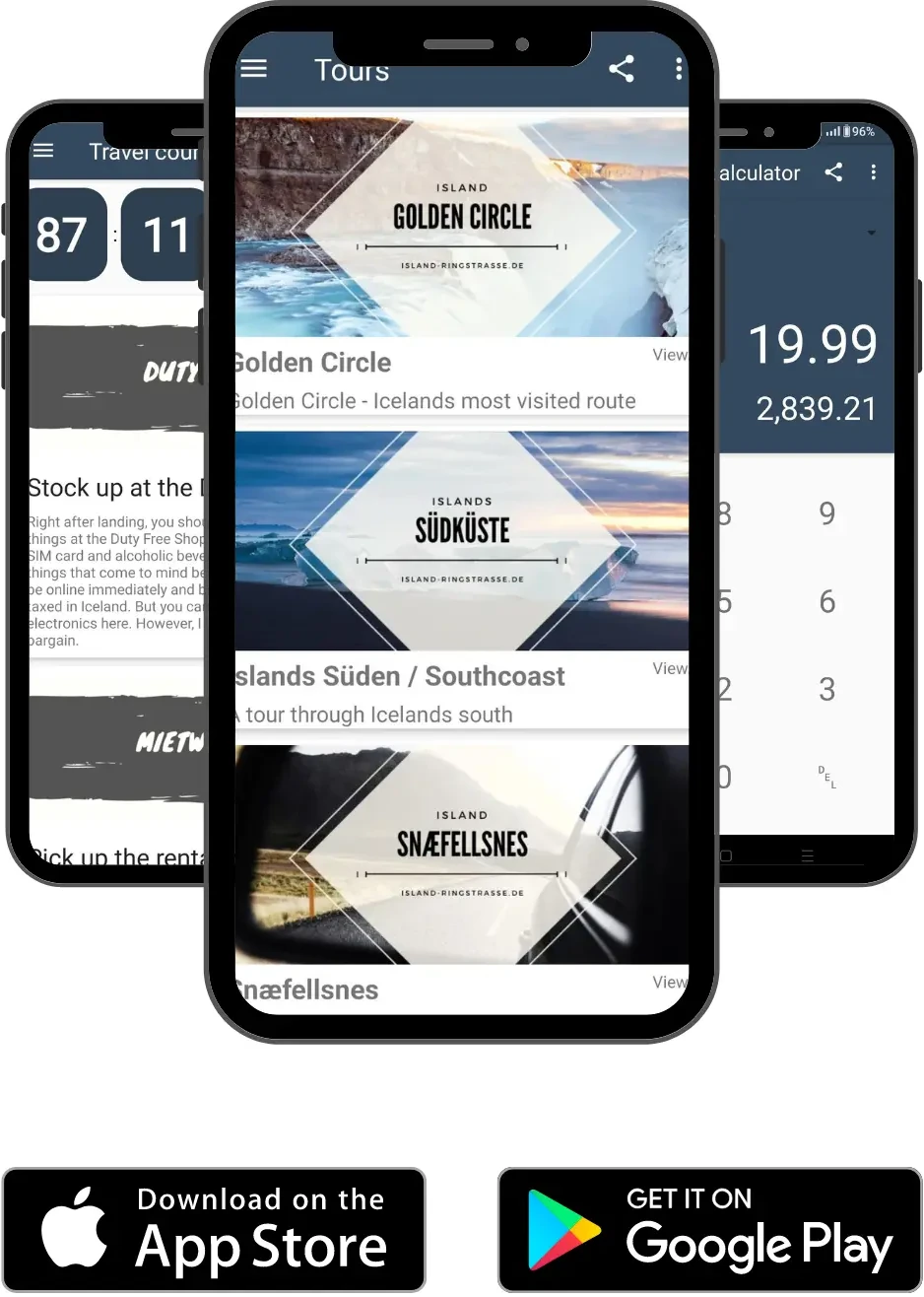 Do I need a 4WD campervan in the winter?
This question doesn't arise for me: if a regular camper isn't sufficient, I wouldn't want to be on the road with a 4×4 campervan either. For me, the limit of what makes sense is exceeded there. There are companies that provide 4×4 campers, and if that is conducive to the sense of security, that's okay. But in conditions that overwhelm a campervan, it should not be used. In other words: park securely against the wind and wait for the weather to improve, possibly spending a night or two in a hotel.
Iceland can be beautiful in the winter and a great experience. But if you're not careful, it can be just as quickly uncomfortable or even life-threatening. Better safe than sorry!
Traveling through Iceland in the summer with a campervan?
Most of my trip had fantastic weather, ranging from -7°C to 15°C: So I think I can say a sentence or two about it being the summer season.
Is summer the best time of year for a campervan trip in Iceland?
From my perspective, yes, but you can't say that in general. Winter certainly has its advantages: Northern Lights, beautiful snowscapes, few other tourists, and much more.
But summer also offers several advantages for a van trip: the weather is more pleasant for living in the car, not only because it's warmer, but also because you can be outside more often. As long as it's not raining, you can use the space around the camper and set up your own little oasis with camping chairs, a small table, and voila!
What are the advantages of traveling with a camper in Iceland in the summer?
Most notably, warmer temperatures and less precipitation in the peak summer months, as well as more open campsites. This means one thing above all: even more flexibility.
When it's snowing, raining, or just freezing cold, you don't want to leave the camper at all. Having breakfast or a picnic on the grass in front of the camper? No thanks. Waking up at night and needing to use the toilet? Horrible. In the summer, none of that is a problem because if it's warm enough, you can unfold the camping chairs, store a few things outside, and even walk to the campground toilet in a t-shirt.
You can also dry wet clothes outside: for this, you should bring carabiners and cords. Many campsites also have washing machines, so you can do laundry while on the road.
Do I need a 4WD campervan in the summer?
Even in the summer, I don't think it's a good idea: the moment you have so little traction that a 4WD camper is necessary, the rest of the travel conditions are already so poor that it doesn't make sense to me to continue driving a camper. I would constantly be afraid that something would break: the sink, the bed frame, other structures… In the east, I met a couple who had been to Iceland several times with their own campers: according to their own statements, they "destroyed" two VW buses here in the 80s and 90s, meaning they could no longer be repaired and were dismantled in Germany.
The photographer Anja Robanke travels with her Land Rover in the highlands for several months in the summer, and I assume she will use huts and a tent. I think that's the better option and will closely follow her journey.
Sights that can be particularly well experienced with a campervan
If traveling by campervan has a big advantage, it's that you can set up camp (almost) anywhere and spend the night there. This includes especially campsites in Iceland, and there are several that are either near or directly at some of the most beautiful sights in Iceland.
My two absolute favorites and must-see campsites in Iceland are located at Seljalandsfoss and Skaftafell National Park. Both are located on the south coast, and in the case of Seljalandsfoss, you can park your camper almost directly at the waterfalls and take a short walk behind the water masses in the evening. In Skaftafell, the campsite is located at the foot of the Vatnajökull glacier, and from here you can take dozens of beautiful hikes, including to Svartifoss, which is located about an hour north of the campsite. Ideal for a short evening stroll, and then you can take a hot shower, light up the grill, and enjoy the beautiful view.
Another waterfall that is often recommended as a hot tip for campers is the Godafoss in the north.
Also very popular: camping at or near hot pots in Iceland: please do not do this! Most hot springs have little to no circulation, so the water here is not constantly exchanged like in swimming pools. In Iceland, chlorine is largely unknown or used only rarely because water is so cheap that it can be constantly replaced. This is not possible in natural hot springs, and accordingly, water quality is poor when many people enter without washing. After that is said, if you come freshly showered, have a shower in your camper, or can otherwise avoid this problem, camping at hot springs is of course possible, provided it is a designated camping area or you have the permission of the landowner. There are a few hot springs where this is possible, and showers are usually available there. I don't want to provide a list here, I hope you understand.
In general, all sights that are particularly beautiful at sunrise or sunset and have a nearby camping area are recommended. It doesn't have to be right next to it: you can enjoy the place for a while and then drive your mobile home to a nearby camping area to sleep.
A few words on traffic and driving in Iceland
I have already written a few words about driving in Iceland before, so here is just a brief summary and a few things that are specific to driving a campervan.
You are only allowed to park the campervan for overnight stays in designated campsites or if the landowner explicitly allows it. Parking on the side of the road, in parking lots, or similar is not allowed and can result in high fines: You wouldn't want someone to park in front of your house and sleep in their car, would you? 😉
Regarding roundabouts: In Iceland, the inner lane in a roundabout has the right of way. You should only drive on the outer lane if you want to exit the roundabout immediately at the first exit. If you don't want to do that, you must check if someone inside the roundabout wants to exit and give way accordingly.
F-roads are the roads that lead into the highlands, mountain roads. They are clearly marked and taboo for you in the campervan: Here you need four-wheel drive and a high clearance. Most rental companies can track your route, and a hefty fine will be levied if you still drive on an F-road, regardless of whether something breaks or not.
In Iceland, it is mandatory to wear a seatbelt and have your headlights on at all times while driving. There is only one toll road in Iceland, the tunnel just north of Reykjavík. The toll is 1000 ISK and can be paid in cash or with a credit card.
The speed limit is 90km/h on paved roads, 80km/h on gravel roads, and 50km/h in cities. As long as no other signs are posted, these limits apply. There are some speed cameras in Iceland, and the fines can be hefty. However, it is advisable to stick to these limits because you should get to know the roads first: potholes, snow, and sheep are the order of the day here. Just drive calmly with plenty of time, then everything will be fine 🙂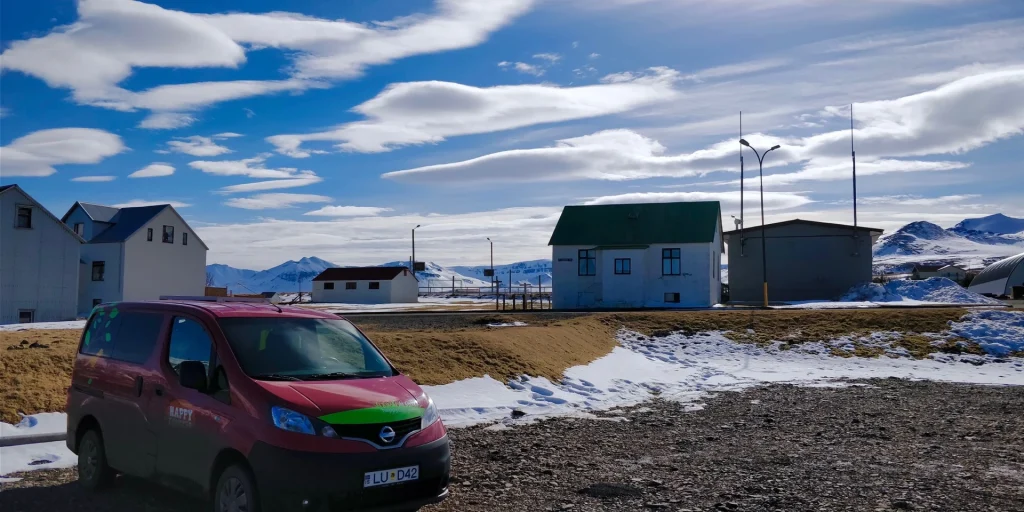 FAQ: Your Questions about Campervan Life in Iceland
I asked on Facebook and Instagram what questions you have about vanlife in Iceland, and here is a selection of questions and answers:
Can you sleep comfortably in a campervan?
I'm 1.80m tall and I slept well in the van. I couldn't stretch out completely, but I always sleep with bent legs, and if you lie diagonally, it's also possible to stretch out completely. I think larger campervans have longer beds.
Do you have to dismantle the bed during the day or can it remain in place?
I always folded it up to be able to cook breakfast, brush my teeth, etc. You could probably leave the bed down permanently, though. I did drive a few hundred meters with the bed down, and the van didn't explode 😉
What about moisture from sleeping in the van?
Moisture isn't an issue. The van is actively ventilated, and there's a heater. Even my travel towel and wet swimsuit were usually stored in the back of the van without any problems with moisture. If the items are very wet, it's best to let them air-dry before storing them.
Is there enough storage space?
I traveled with a large suitcase and could have easily transferred the contents to the storage compartments. I didn't do that because it was easier to slide everything out of the van when I had visitors.
For two people, it could be a bit tight. In the summer, you can simply take everything out when you arrive at the campsite, but in the winter, it's more difficult, depending on how cold it is outside. Minimalism is key to comfort!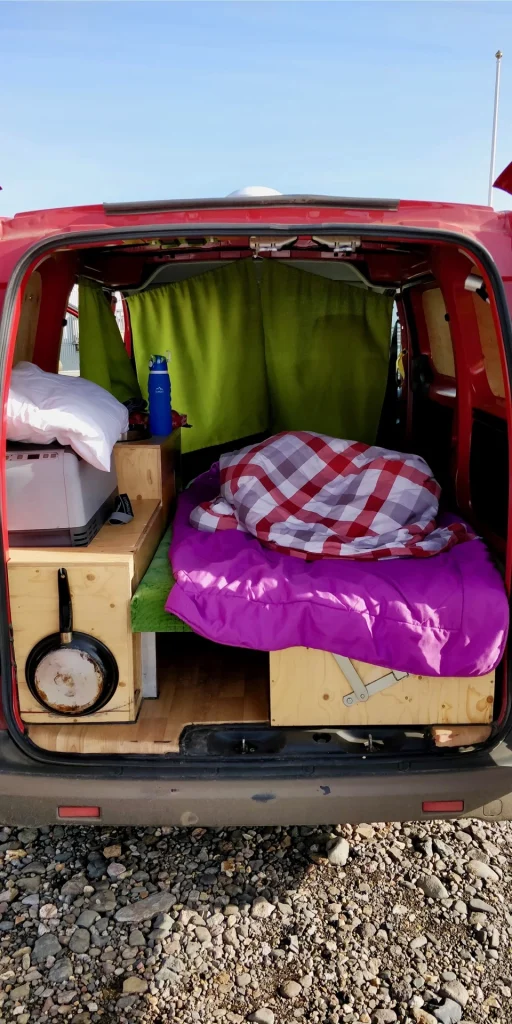 Can you drive a campervan in the highlands of Iceland?
No, you cannot. This type of camper is not allowed to drive in the highlands, and the use of F-roads is prohibited. All-wheel drive and a high ground clearance are required for such roads, which these vehicles do not have. Moreover, it would be very uncomfortable since the small kitchen has many loose parts that would probably fly around at some point. I went on a day trip to Þórsmörk and switched to a jeep, staying overnight in the Volcano Huts.
Conclusion: Campervan in Iceland
My conclusion on van life in Iceland is very personal: I myself am simply not the type for it. Probably just too old 😉
Apart from that, I found it great and can very well understand why this type of travel is so popular. The biggest advantage, I found, was the great flexibility: You are not tied to hotel bookings, restaurant or cafe opening hours. You can watch the Northern Lights from special places while lying under the warm covers. With the remote in hand 😉
I think there is also a big difference between traveling with a camper in Iceland in summer or winter. On the first night, it was -7°C in Reykjavík, and I didn't know how strong the heating was: A learning experience that I probably would have avoided in summer. Also, the many still closed campsites, where you could sleep but couldn't shower. Therefore: For newcomers, it may not be the best idea to start with a van trip in winter.
I would recommend taking a short test trip with a van to gather experience before embarking on a longer journey. With the insights gained from this trip, I would be confident in undertaking a multi-week camping trip in Iceland, for example.
I have definitely become more interested in this topic and will probably start another trip with a camper when I am in my third home, South Africa.