Iceland is the perfect country for a road trip. Most of the questions I receive are about renting a car in Iceland and everything related to driving in Iceland.
So, at this point, I would like to summarize some of the answers I have given individually by email in recent days and share them with you.
As always, I am very happy to receive feedback, preferably in the form of comments, because then everyone benefits! 🙂
Here we go…
Never book the rental car on-site / just in time!
I like to travel very spontaneously. Often, I just packed my bag in the evening, booked a flight, and left the next day. That works if you are flexible, and sometimes it can be cheaper than vacations planned well in advance.
For me, this has never worked when booking cars. Last-minute rental cars don't seem to be a thing: A gap in the market? 😉
Every time I wanted or had to book a car at short notice and spontaneously, it was expensive. Really expensive. In South Africa, I had to accept a surcharge of over 100% once because I wanted to rent a car at Johannesburg airport. That hurts the wallet, but fortunately, rental cars are still relatively cheap down there compared to Iceland. So I learned and later, out of pure interest, looked a few times at what it would cost me to rent a car spontaneously in Iceland: Similar surcharges are not uncommon there, as everywhere in the world, and the double of 'very expensive' is quickly 'impossible'.
Exceptions may perhaps confirm the rule, but it has never happened to me: Your rental car will not become cheaper over time. It makes no sense to watch the price and book later.
So, the first thing I regularly book is the rental car: As soon as I know when I am traveling and on which days I want to have the car, I start researching and book as early as possible.
Trust your gut, not your wallet!
First question regarding the suitable rental car for Iceland: Do I need a four-wheel-drive vehicle?
Second question: What insurance do I need / Does the XYZ insurance make sense?
I answer both questions in detail in the linked article above, but at this point, I would like to answer a question that I find at least as important: How do I decide which rental car to book where and with which insurance?
My simple answer: Trust your gut feeling!
I know many people who exclusively book with a single company. Always with the same group, never through portals, prices and services are not questioned or compared. And that's completely okay!
Others use comparison portals to find the smallest local provider, then book directly with them to save on the agency fee and choose the smallest possible insurance package: also okay!
If the decision maker is your gut and not your wallet!
Because whether you feel comfortable with the booked vehicle depends only on whether your gut feeling is right, and in turn, you drive relaxed and safely only when you feel comfortable in the car with the services you have booked.
Whenever, for some reason, I booked a smaller car than the one I wanted or a smaller insurance package than the one I would have felt comfortable with, my trips were less relaxed, and often my tense attitude led to more tricky situations.
A Smart car in the guardrail is ultimately more expensive than a Jeep on the road. The €100 for the stone chip insurance is definitely cheaper than replacing a windshield in Iceland. However, a relaxed vacation instead of a tense atmosphere with every mile is almost priceless.
Nowadays, I actually always feel comfortable when I'm on the road with rental cars: whether left or right-hand traffic, gravel road, or snow, small or off-road vehicles. Because I either rent the suitable car for the trip or leave it.
I wouldn't rent a car without stone chip insurance anymore because I wouldn't feel comfortable with it. I have always foregone sand and ash insurance and have no qualms about it. However, this only applies to me, and I have now covered tens of thousands of kilometers in rental cars on four continents. During my first trips to Scotland, I always took the all-inclusive package, and my Smart car cost more for one week than a C-Class in Cape Town for one month. But in both cases, my gut feeling was right.
If you want to save: Compare car rental providers in Iceland!
If you want to save on your car rental, there are two options:
A. Get the best possible car for my budget.
B. Get a specific car for the least amount of money possible.
Many try to book the best car for the lowest amount: difficult to impossible!
But regardless of whether you choose option A or B, the best way to achieve an optimal result is by comparing different providers. For trips to Iceland, I use the following three providers:
Billiger Mietwagen
Guide to Iceland
Check24
Car rentals in Iceland
I also always look at the local companies where I have already rented a car (through the portals mentioned above):
Lotus Car rental
Sixt
Avis
Advertisement: At this point, I would like to point out that I am listed as a partner on the comparison portals and receive a small commission if you book your car through them: This supports this blog, and you may even pay a little less thanks to my tips: Thank you for that!
Lotus has provided me with a discounted car on two trips. I would also highly recommend the company if they hadn't done that! 🙂
When comparing, you can spend days looking for the best deal and get lost in the jungle of offers. The above-mentioned options A and B simplify the process somewhat, and exclusion criteria such as "I absolutely want free kilometers" or "The provider must be an international company" help narrow it down.
I try to book locally now to support Icelanders directly. I book SUVs for larger trips simply because it is more comfortable and safer on gravel roads. Free kilometers are important to me, and a simple insurance package (no complicated additional insurance). But as always, it is a personal preference.
If you work for a large corporation, find out if they work with a car rental company: there are often discounts available.
Check if your credit card includes an insurance package and, if necessary, get written confirmation that it is also valid for your trip.
Collect points/miles if you regularly book rental cars: I am now in the frequent driver program with two companies and get some amenities like free upgrades and the occasional weekend rental for free, even though I don't rent cars that often!
Be kind and grateful!
I often hear people at the counter asking for an upgrade in a demanding tone, as if it is a necessity for their well-being as a customer.
That's not how it works: if you book a Smart car and then get a Smart car, the service is fulfilled, and that's it.
But that doesn't mean you can't ask nicely. I don't always do that because I know how annoyed the employees are by it, and I'm not offended if it doesn't work. But sometimes it does work: "I was wondering if you have a few cars with a larger trunk available: I just like having more space, and if you have one available, I would be very happy!". It was about a one-week rental where I had rented a Golf, and ended up driving around the island with a large Chevrolet Cruz station wagon. If the young lady had said "no," I would still have given a 5-star rating.
Common sense, but how often have I seen people at the counter who, annoyed by the queue, took their frustration out on the employees and even asked for a free extra service: how would you react yourself?
So: always be nice and friendly. Then good karma comes back, sometimes not immediately, but certainly at some point! 🙂
Book your rental car in Reykjavik instead of at Keflavik Airport!
This tip applies to almost every airport: rental car companies often charge a surcharge here. It is not listed separately, like with taxis, but if you compare, you can easily see it.
Almost all rental car companies in Iceland have an office in Keflavik, but some also have offices in Reykjavík or other small towns: here, the costs for parking and offices are lower, and this is usually passed on to customers. So, you can easily save 50€ or more when renting a car.
But I only use this "trick" if it fits my travel plans. For example, if I plan to spend the first 2-3 days in Reykjavik anyway, I usually do without the rental car during that time and only book it on the fourth day of the trip, and then in the city. In Reykjavik, you don't necessarily need a car, you can reach many places on foot, by bike, or by bus.
On the last day of the trip, I always return the car at the airport, because many flights leave in the early morning hours, and I don't want to have to hobble to the bus stop. The small surcharge is then well-invested money for me 🙂
Drive cautiously, carefully, and slowly!
I admit it: I'm a typical German and I like to drive "fast" cars. Almost everywhere abroad, there are speed limits in the range of 90 to 120 km/h: This is not a comfortable traveling speed for me and – kids, please look away – I often drive faster…
But this could eventually cost me dearly: A friend was caught driving 20 km/h over the speed limit in the north and had to pay almost €400 in fines. Compared to that, traffic tickets in Germany are a bargain!
Aside from that, roads in Iceland are different: There are often potholes, large rocks, and occasionally huge boulders that can fall from the slopes onto the road and become dangerous for you. In many areas, various animals are also on the road, which do not wait for a zebra crossing: Sheep, horses, reindeer, and occasionally arctic foxes. I will address a particularly specific type of tourist who often park in the middle of the road for photos in the next point.
But your speed is not the only thing you should pay attention to: Drive proactively and pay attention to the road surface ahead of you. Especially in snow, on gravel roads, or even in the highlands, it is important to think about your next few meters: Even if you can drive through a pothole on the way there, can you still do it in the other direction? If you can't meet your schedule until the end of the gravel road, what does that mean for your return trip? Do you have enough fuel in the tank to safely reach the next gas station in Iceland?
By the way, I think about most of these points before my trip, so I don't have to constantly think about them during the tour. I check beforehand in the Iceland app where the gas stations are that I might want to go to and check the map if the routes are gravel roads or not.
Don't be a tourist and only park where you don't obstruct traffic!
My last tip and I hope you all will follow it: Please don't be a "typical tourist" and just stop in the middle of the road.
Yes, I have been guilty of this before. No buts: I vow to do better! 🙂
It's just extremely dangerous to stop in the middle of the road in Iceland, even if the sometimes long and lonely roads seem to invite it. You often can't estimate whether a bump behind you might mean that the following traffic can't see you until less than a hundred meters ahead. It's even worse on curves.
It's best to continue driving calmly, stop at the next exit, and walk a few meters. No one is angry if they have to drive around a parked car at an exit. But a car that blocks the road in such a way that it becomes dangerous to drive around it is more than unpleasant!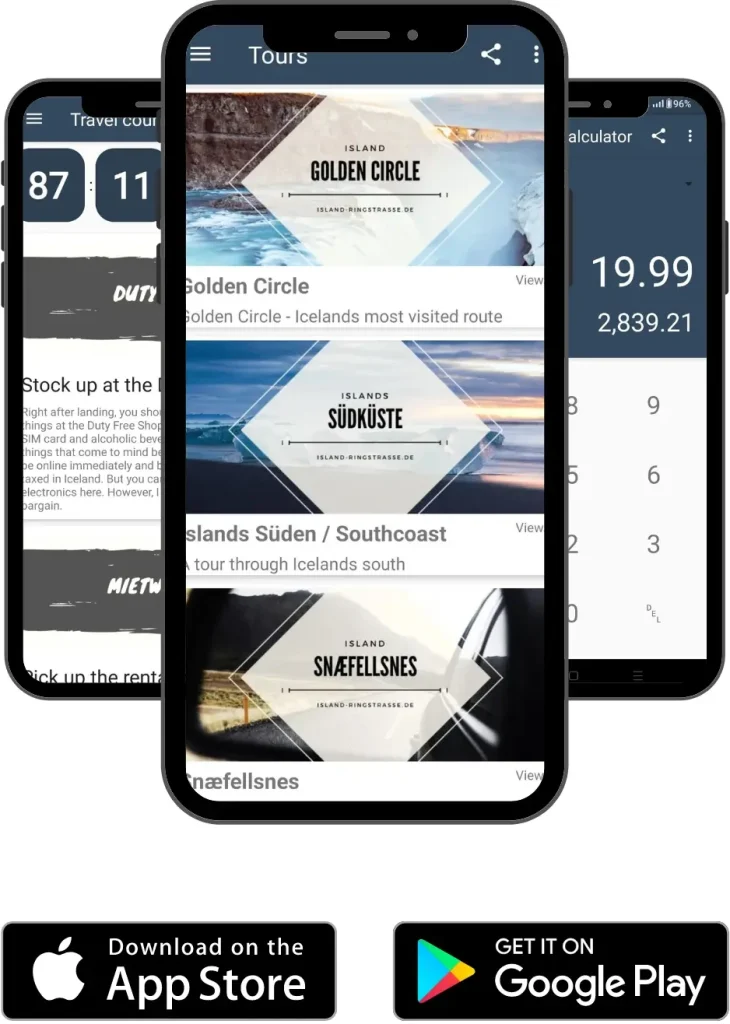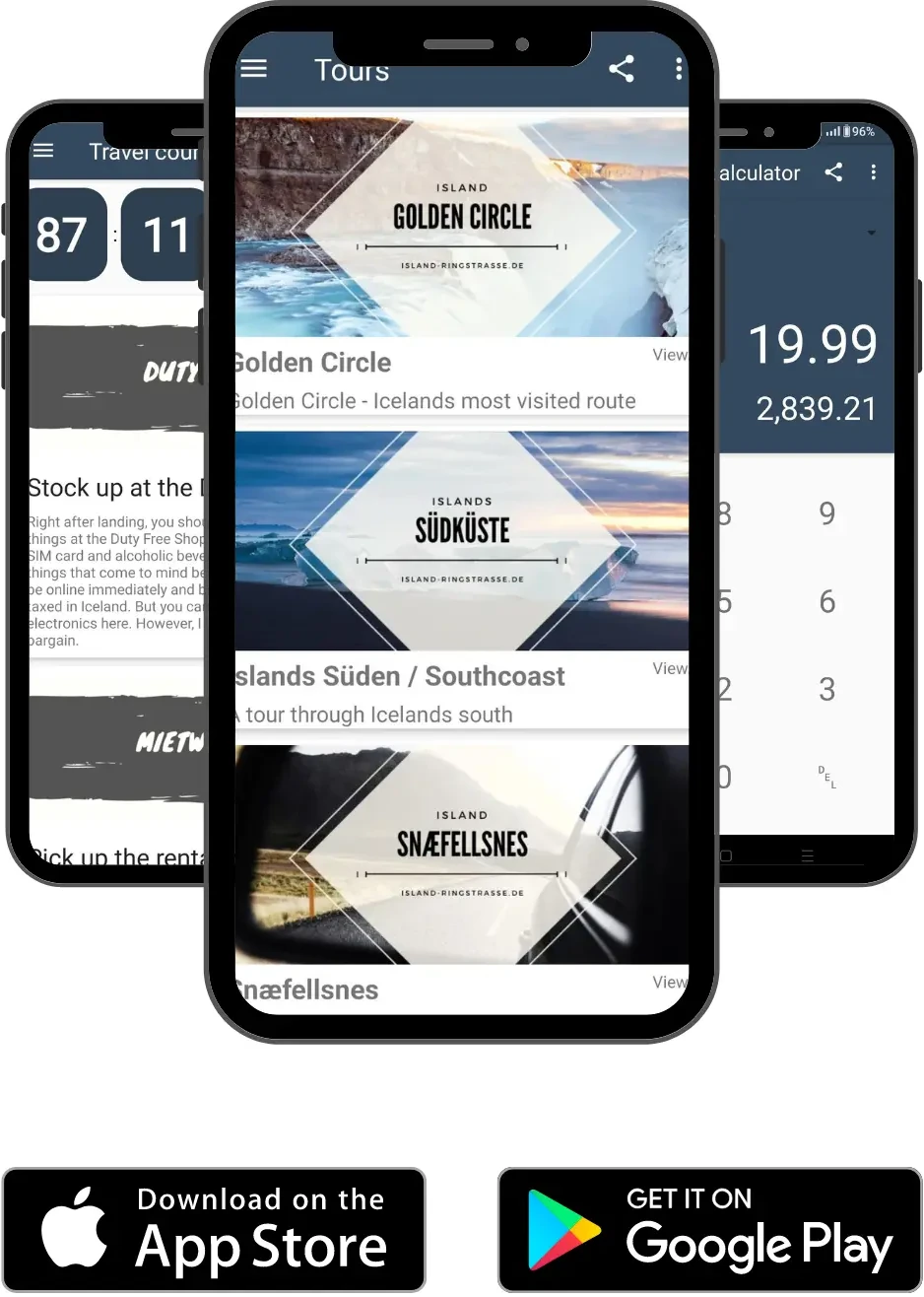 Conclusion: Tips for renting and driving a car in Iceland
So, those are the eight questions I've answered about driving in Iceland in recent days. I hope there are some tips in there that will help you find a suitable rental car for Iceland, travel with a good feeling in Iceland, and maybe even save a few crowns along the way.