Amidst the breathtaking landscape of Iceland lies a hidden gem that even the most experienced travelers marvel at. We are talking about Stuðlagil, one of the most spectacular basalt canyons in the country. In recent years, the location has gained dubious fame, like so many places that eventually appear on an Instagram profile with a lot of reach. However, this does not make Stuðlagil any less worth seeing!
The discovery of Stuðlagil
The Stuðlagil canyon was a well-kept secret for a long time. It was only in recent years that it became known to a wider audience. The main reason for this was the diversion of the Jökla River, which flows through the canyon. This measure was taken in 2016 to enable the construction of hydroelectric power plants, which lowered the water level of the canyon and revealed the impressive basalt columns.
The geological beauty of Stuðlagil
Stuðlagil is an impressive example of the geological wonders that Iceland has to offer. The canyon is surrounded by massive basalt columns that rise on both sides of the riverbank. These columns were formed by the slow cooling of lava flows that flowed over the Icelandic landscape many millennia ago. This process created hexagonal columns that now shape the breathtaking panorama of Stuðlagil.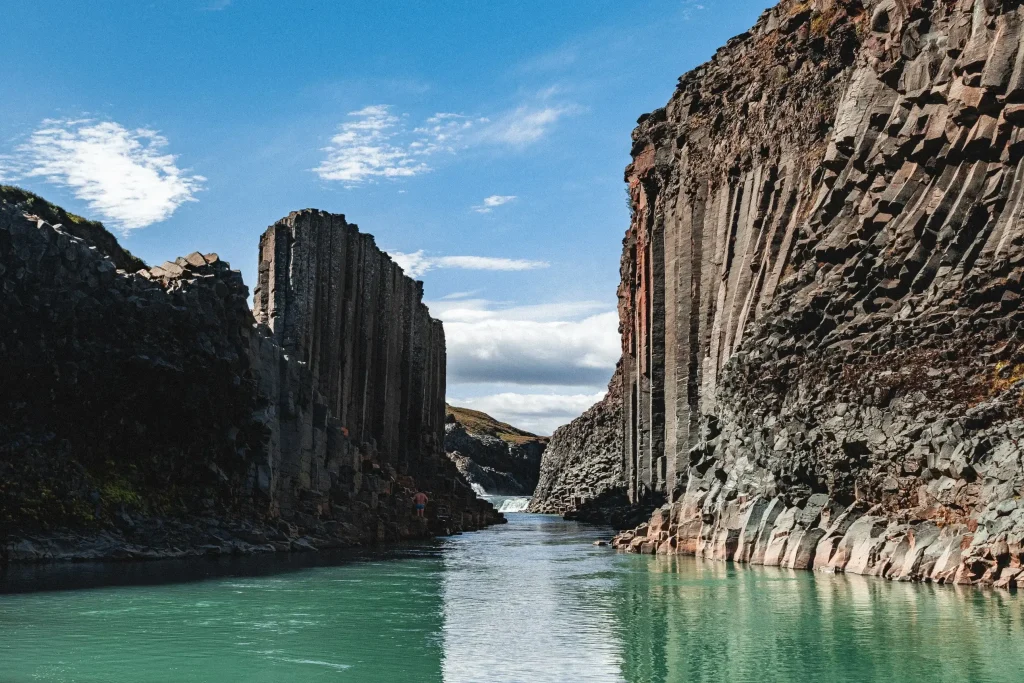 How to reach Stuðlagil?
Stuðlagil is located in northeastern Iceland, about 30 kilometers from the town of Egilsstaðir. The easiest way to reach the canyon is by car. You can follow Route 1 east from Egilsstaðir and then turn onto Route 923. From there, a well-signposted hiking trail leads directly to the canyon. The entire drive from Egilsstaðir to Stuðlagil takes about 45 minutes, while the hiking trail can take 30 to 60 minutes depending on your pace and weather conditions.
Tips for visiting Stuðlagil
Wear appropriate clothing and shoes: Icelandic weather can be very unpredictable, and that applies to the region around Stuðlagil as well. Make sure you are prepared for all weather conditions – wear warm, waterproof clothing and sturdy shoes.
Bring a camera: The landscape of Stuðlagil is unique and offers countless photo opportunities. So don't forget to pack your camera to capture the stunning beauty of the canyon.
Respect the nature: Iceland is proud of its untouched nature, and it is important to preserve it. Please stay on the designated trails.